Fino
Published on January 30th, 2022 | by Ruben
0
Fino Camborio En Rama (2018 vs 2021)
This is a two-part article in which I will review three wines named Camborio. They're not quite the same wines though – also read my review of the Fino Camborio bottled in 1968 by Bodegas de Terry.
We now know Camborio as an aged Fino from Bodegas Juan Piñero. I have documented the provenance of this wine a couple of times already, so let's just go over some of the most important elements. It originated at a small almacenista Ángel Zamorano Corrales, who had been elaborating it as a young white-label Fino (2-3 years) which he used to sell to bigger bodegas. In 2006 Juan Piñero acquired the bodega and stocks and employed Ramiro Ibáñez as his consultant.
Fino Camborio is maintained in a traditional, artisan way, reviving the style of lost almacenistas
He suggested to split the Zamorano solera into two separate systems. The largest part was kept as an almacenista solera with more or less the same age. However the smallest system (65 casks) was hardly refreshed and quickly gained age. Since 2015 this wine was sold as Fino Camborio (already 7-8 years of age back then). I reviewed this classic Fino Camborio a few years ago.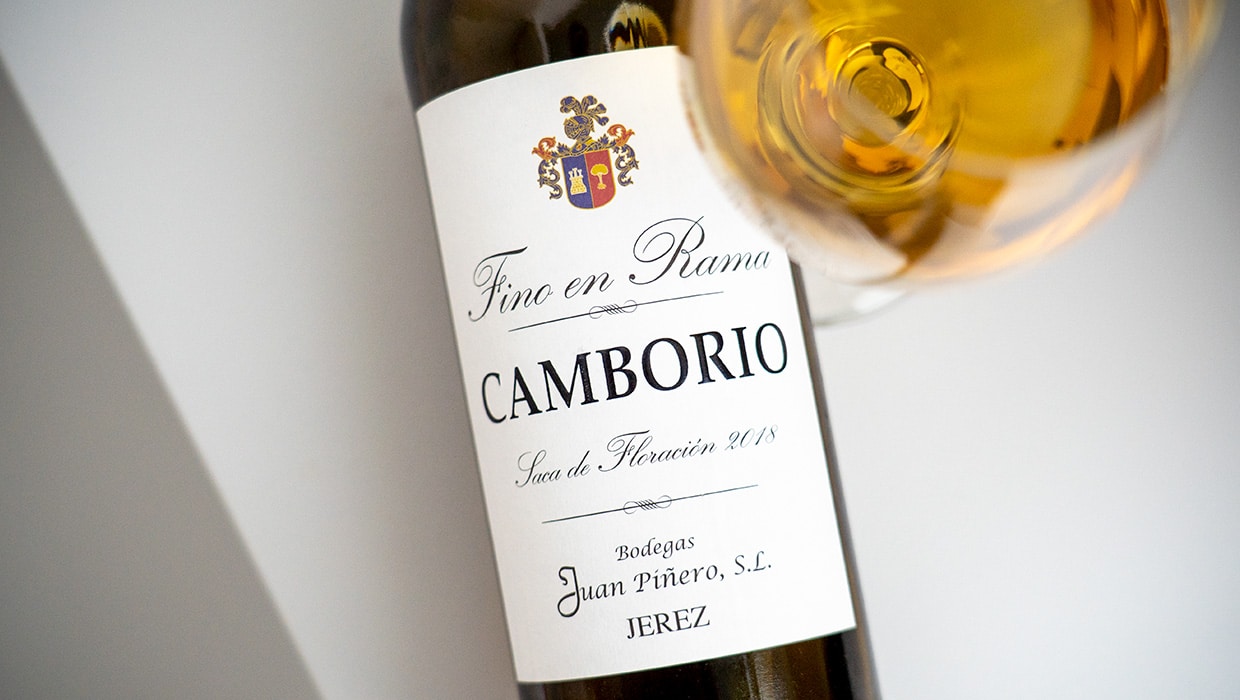 Camborio Fino En Rama Seleccionado
In 2017 the bodega released an En Rama version for the first time, bottled at the height of the flor development (late springtime) from just 12 cherry-picked casks among the entire solera. The average age at that point would be around 10 years. In hindsight this was a unique release: at the end of 2017 Juan Piñero sells the entire bodega (including two soleras) to Peter Sisseck and Carlos del Rio González-Gordon for their Bodega San Francisco Javier (see Viña Corrales).
However Piñero also had an agreement to keep 10.000 liters of wine to himself, from a selection of the oldest casks. This wine was transferred to his winery in Sanlúcar where it now forms a small solera. Since that moment the wine is bottled as Camborio Fino En Rama Seleccionado, having the profile an Amontillado-Fino or entrefino (16% ABV). It is meant to be a Fino like in the old days, looking for depth and intensity above all, and allowing a little more oxidation rather than focusing on a strong influence of flor. This style is rarely seen on the market today, with a few notable exceptions like La Panesa (Hidalgo), the Fino La Honda (Osborne) or the Fino Perdido (Romate).
More recently it was given a makeover with clear glass 50 cl bottles, stressing the premium character and limited availability. There is only one saca per year, with just 2000 bottles, and the wine is now around 12 years old.
Under the upcoming new regulations of the D.O. Jerez-Xérès-Sherry, moving the wine to Sanlúcar means it would have to be renamed to a Manzanilla. However there is a transition period and once the time arrives the wine will have evolved to a proper Amontillado Camborio.
So here we go: we try Camborio bottled in 2018 (around 10 years of age) and compare it to the latest version bottled in 2021 (around 12 years of age). In a next article we go back in time and try the original Fino Camborio from Bodegas Terry.
Fino En Rama Camborio (16%, Juan Piñero, L18)
Nose: a warm, intense profile that shouts the mature influence of montuliensis. A lot of hay and dried seaweed with bitter almonds and toasted hazelnuts. Hints of buttered toast. Subtle green olive tapenade and dried flowers. Also a gentle whiff of exotic spice, like dried ginger.
Mouth: toasted and spicy intensity again, underpinned by a firm, coastal salinity. Dry grassy notes, bitter almonds and herbal tea, as well as a fatty note. The acidity is fairly low yet the bitterness and deep umami note makes your mouth water and simply want another sip.
Availability: this was limited at the time and I'm afraid it's now almost impossible to find a bottle. Xpertvinum is still selling magnum bottles though – perfect for cellaring.
Fino En Rama Seleccionado Camborio (16%, Juan Piñero, L21)
Nose: obviously not that different. It has the same warmth and dry, almondy profile. However there is an increased waxy note, as if the buttery side evolved towards pastry notes as well as subtle hints of polished oak. For me the previous Camborio was still within Fino territory but now Amontillado is in sight. Spices come out more, at the expense of the characteristic flor notes like hay and olives.
Mouth: same thoughts, slightly more polished and clean than the previous version. I would say it lost a tiny bit of complexity and nervous power along the way but found its true character at the same time. Dry and definitely spicier (ginger, crushed peppercorns) with plenty of volume. Tremendous depth now, constantly referring to its coastal origins but already taken the exit towards Amontillado.
Availability: equally limited with only 2000 small bottles each year.
Summary: Fino Camborio is all about depth and intensity. It's a mature Fino with plenty of character and punch. Personally I prefer the Seleccionado version which has moved a little further towards Amontillado. A top class Fino.