Fino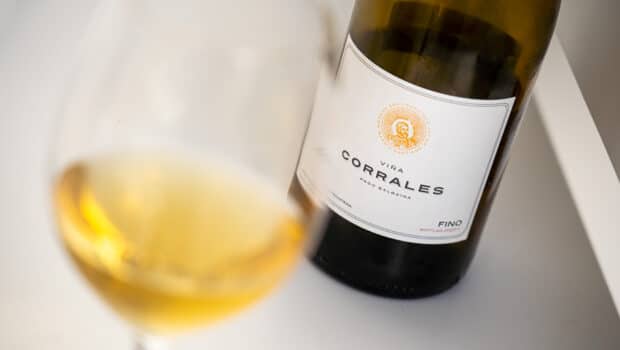 Published on May 11th, 2021 | by Ruben
0
Fino Viña Corrales (San Francisco Javier)
In November 2017 the news of Peter Sisseck venturing into sherry production caused a small shockwave. The winemaker behind world-class wines like Pingus and Hacienda Monasterio acquired a bodega in Jerez, a Fino solera and vineyards. While presenting the Bodega San Francisco Javier project, for which he's partnering with Carlos del Rio González-Gordon again (of the González Byass family), Sisseck also claimed Fino sherry is Spain's greatest white wine. A great compliment.
When Peter Sisseck and Carlos del Rio got the idea of producing sherry wine, I suppose they had two options: starting from stratch, with young wines that could be used to build up a solera (taking at least a decade), or buying an existing solera and slowly shape its personality according to Sisseck's vision. They took the second path, so let's trace back the origins of this wine.
Ángel Zamorano and the Fino Camborio
The story behind their sherry begins with Ángel Zamorano Corrales, who started from scratch as an almacenista in 1974, acquiring an empty warehouse in the Calle San Francisco Javier in Jerez and filling it with excellent casks taken over from different bodegas in the area (the now lost Bodegas Cuvillo for instance, as well as young wines from Domecq and Osborne among others). Zamorano never marketed wine himself but supplied Fino to other bodegas. In 2006 he decided to quit the sherry business and to sell his bodega to Juan Piñero, a businessman from Sanlúcar.
A total of around 450 butts of young Fino (merely 2-3 years) were resting in the bodega, distributed over two buildings but operated as one solera system. Consulting oenologist Ramiro Ibáñez decided to let 65 butts (the smallest building) age further. The solera was refreshed only occasionally and once the wine got to 7-8 years of age, it was brought to the market and baptized Fino Camborio, the name of another well-known wine from the lost bodegas Fernando A de Terry. Piñero had acquired the legal rights to this brand years before, but except for the name the wines have nothing in common.
To learn more about the further path of this wine, read my article about the renewed Fino Camborio En Rama from Juan Piñero.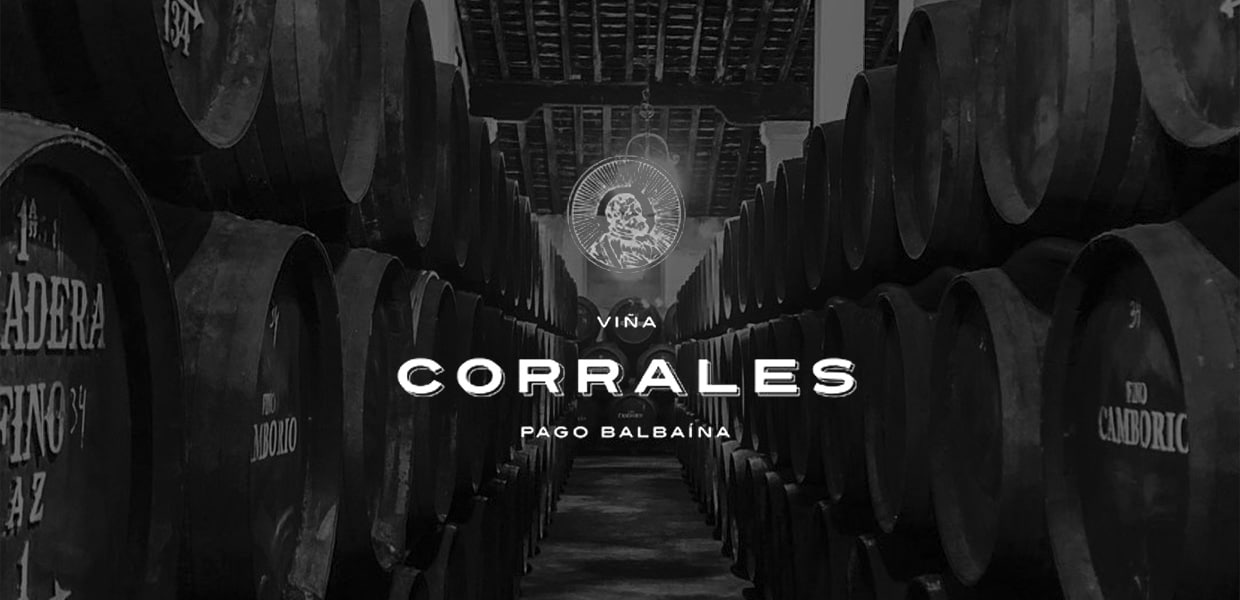 Camborio divided into two soleras: AZ and PS
Fast forward to 2017 when Sisseck and del Rio start their project and take over the Camborio solera from Juan Piñero. Not entirely though: Piñero also had an agreement to keep some of the oldest barrels to himself, about 20 botas. These were transferred to his winery in Sanlúcar and in 2020 this wine was bottled as Fino Camborio En Rama Seleccionado, then already a Fino-Amontillado of around 12 years.
Peter Sisseck took the rest of the wine and started marking some barrels in his part of the Zamorano soleras, breaking it up into two separate soleras:
Solera AZ (74 butts in the solera row +  244 in the criaderas) named Viña Corrales, refreshed with the elegant mosto from Balbaína. This solera is highly influenced by Saccharomyces Cerevisiae Montuliensis.
Solera PS (21 butts + 99 butts in the criaderas) named Viña La Cruz, refreshed with more intense mosto from Macharnudo. This is allowed to mature further towards Amontillado.
These two soleras also correspond to a total of 10ha of vineyards acquired in 2017:
8 ha in the pago Balbaína: high elevation, tosca de barajuela, 30-35 years old vines, cultivated organically while working on certification
2 hectares of vines in the pago Macharnudo Alto: more inland, grapes tend to ripen more, resulting in fuller bodied wines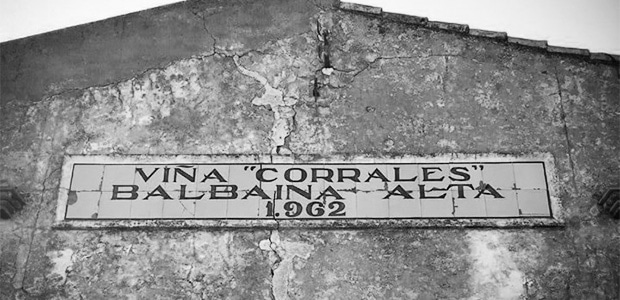 Peter Sisseck & Bodega San Francisco Javier
About 1 ha is planted with Palomino de Jerez, an old clone with lower yields than the standard Palomino Fino. Vinification has been done at González Byass and the Cooperativa Albarizas so far, but fermentation will take place next-door to the bodega in the near future. For the daily management of the wine, they took in Miguel Calvo, the former capataz at Valdespino, and his assistant José Luis Blandino, son of Pepe Blandino who managed the soleras at Bodegas Tradición.
They added a few criaderas on top of the existing solera Camborio (now solera + 5 criaderas) – the two layers at the top only contain sobretablas from their own vineyards. Gradually this will be blended into the existing Fino and the wine will start to shift away. In this process the two sibling soleras will also grow further apart and form two Finos de pago, but after two or three harvests we can only assume it is still quite close to Camborio.
Peter Sisseck is really after the Saccharomyces Cerevisiae Montuliensis, the typical strain of flor yeast which is present in about 75% of his casks (the other 25% is Beticus, which is generally more common, especially in younger wines). Montuliensis gives a wine the typical warm Fino de Jerez style, with a lot of acetaldehyde and added complexity.
Another remark we have to make is the fact that the Zamorano wines have come from so many different sources and terroirs throughout the years. Although they seem to claim Balbaína has been part of the mix from the beginning, the current indication pago Balbaína seems a little rash in my opinion, especially since Piñero refreshed the solera with mosto from Macharnudo and Añina for over 10 years, as far as I know. In my opinion they're cutting corners a little when claiming a certain terroir after just a few "pure" harvests.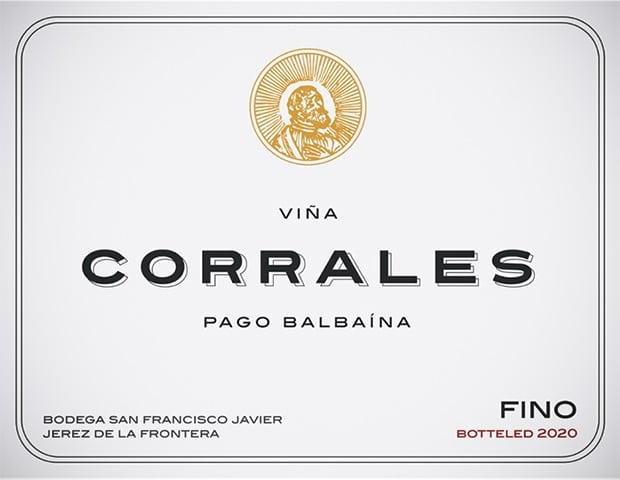 Fino Viña Corrales
In 2020 the first wine was released, called Viña Corrales "Pago Balbaína", a Fino of around 8-9 years of age, bottled en rama. It is presented in an atypical Burgundy bottle. The idea is to stress the connection with fine white wine rather than sherry, with a very clean and minimal label. It is hardly recognizable as a fortified wine, if not for the seal of the D.O. on the back label.
A first release in April was just 1200 bottles and a second saca in November yielded around 4000 bottles. The wine already gained 96 points from Robert Parker (up 5 points compared to the Piñero bottling, with minimal interventions in just two years…?). From 2021 there will be a yearly bottling in springtime of around 10.000 bottles. The Viña Cruz, which will be more limited and more towards Amontillado, is expected in 2021 (or later…) with a smaller saca in autumn.
Viña Corrales Fino (15%, San Francisco Javier, Bottled 2020 Saca II)
Nose: dry and intensely mineral, with a lot of dried seaweed and dried Mediterranean herbs on the nose, as well as some subtle farmy hints in the background (horse stable, haybales, some earth). Plenty of flor notes considering the higher age. Wet chalk and iodine. Light vegetal notes. Dried yellow flowers. Almonds as well as a hint of bouquet garni. A lemony touch adds extra freshness, but overall this is a gentle, mature style of Fino.
Mouth: dry, with an above-average body but the also the elegance and sapidity that we associate with the pago Balbaína. It's vinous style which appears to start light-footed, mostly on lemon peel, but once you swallow it bursts open into big saline notes, a whole lot of flor, hay and soft hints of olive brine. There's a warm, savoury backbone and even a faint animal side to it as well. Long finish with the bitter herbs standing out. A serious Fino.
Availability: around € 40-45. Sold out in Spain as far as I can tell, but distributors in other countries still have some.
Summary: This is a top class mature Fino in the classic style, not that far from the original Camborio bottlings. On the other hand I can't say there is much 'Sisseck Magick' to be found just yet - the difference is probably more in the presentation than in the wine itself. It's an excellent starting point and I'm excited to see how it evolves, but it's clear that they're going for a highly biological, elegant (and slightly safe) style of wine.