Background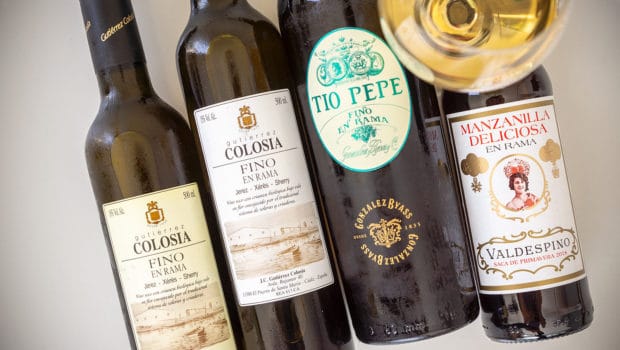 Published on June 28th, 2018 | by Ruben
0
Why this is the time to drink En Rama sherry
I wrote this article as a guest writer for the official sherry.wine website. Although the real En Rama momentum is around May, it's still a good time to look for some of these fresh bottlings!
Each year in May there is some excitement in the sherry world. A lot of fresh wines are released and they all have 'en rama' on the label. What is en rama and why are sherry lovers specifically looking for these versions this time of the year?
En Rama = minimal filtering
One of the crucial characteristics of biologically aged sherry (Fino and Manzanilla) is flor. This naturally occurring layer of yeast cells lives on the surface of the wine, inside the barrels. It consumes sugars, alcohol and other components of the wine and adds nutty, saline and yeasty aromas. It also blocks oxygen contact, resulting in a bone-dry and pale style of sherry.
Although intense flor was considered beneficial for the flavour profile of a good Fino, in the 1970s and 1980s an industrial mindset of consistency, as well as consumer demand for light wines, led to a custom of heavy filtration, in an attempt to create a clear and stable product, with easy aromas and no cloudiness or sediments. The downside is that by filtering out the yeast residues and impurities, you're also stripping a lot of richness, colour and flavour.
Increased richness and flavour
Anyone who tried Fino or Manzanilla straight from the cask can tell you it is generally more intense and dynamic than the ones you drink from a bottle, with a wider array of flavours and a very lively profile. That's why in the past ten years or so we've seen the sherry world move away from aggressive filtration. This is called en rama sherry: the freshest, most alive, most immediate expression of the wine, with just a very, very light fining to take out the biggest clots of yeast and wood dust. En rama sherry has a deeper colour and more intense flavours than its filtered counterparts.
Barrel selection
Barrel selection also plays a role. A common Fino or Manzanilla will often be a mix of wines from dozens or hundreds of casks. En Rama versions are often a special selection of barrels: the cellarmaster selects those barrels in which the flor is most active. That's also why these bottlings arrive each year around May: springtime has the perfect environmental conditions for flor (rather humid, not too hot) and the layer grows thicker than in other seasons.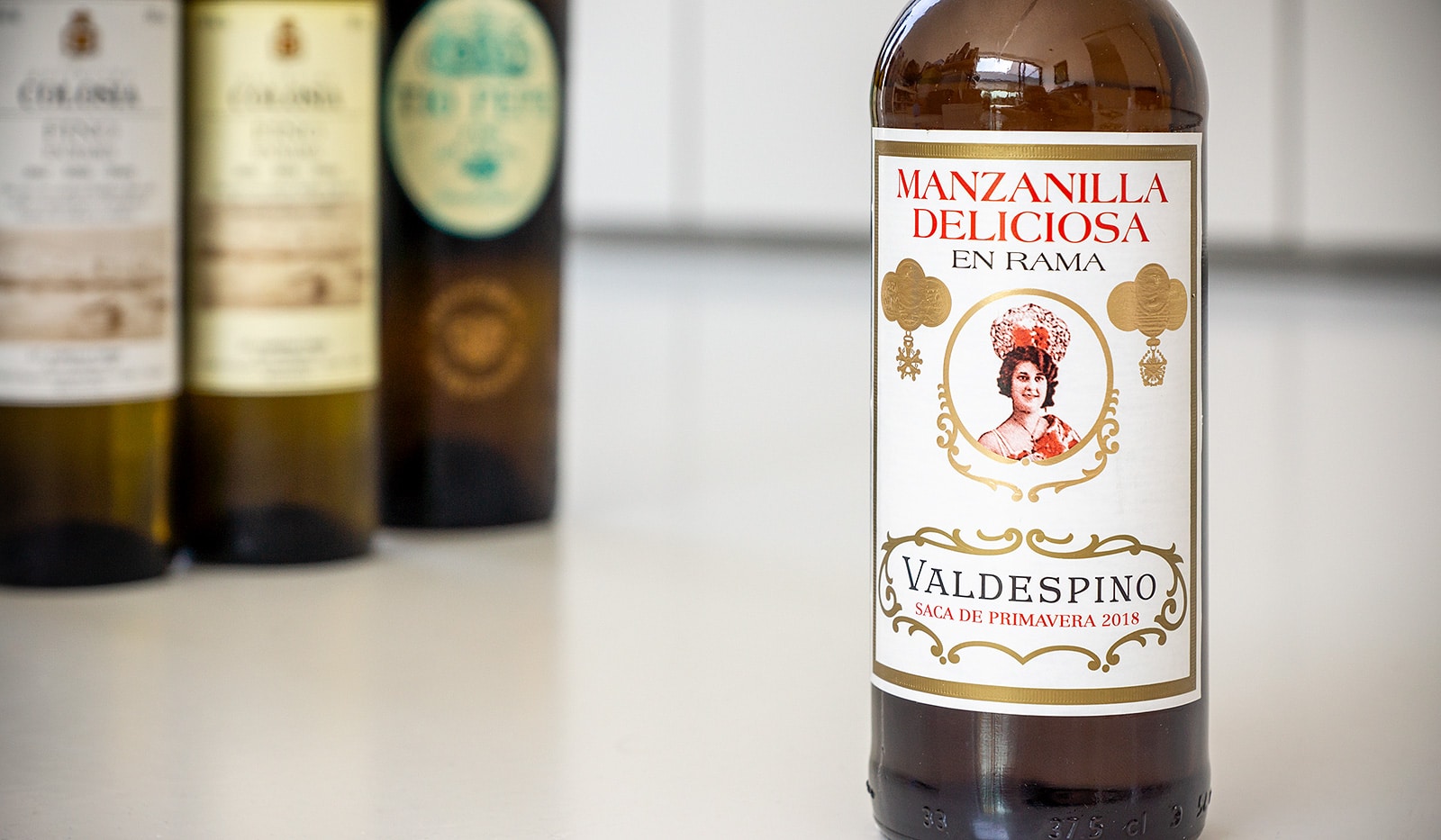 A fairly recent concept
The en rama category was pioneered in 1999 by the Manzanilla Solear En Rama from Bodegas Barbadillo. This wine has four sacas or releases each year, allowing you to compare the seasonal influences. This is still a great series and a reference for older, unfiltered Manzanilla.
It wasn't until 2010 that the first Fino En Rama was released by González Byass, the yearly Tio Pepe En Rama. Nowadays a lot of classic Finos / Manzanillas that exist in a filtered expression also have an en rama version, for instance La Gitana En Rama (Bodegas Hidalgo), La Guita En Rama (Rainera Pérez Marín), Deliciosa En Rama (Valdespino), Barbiana En Rama or La Goya XL (Delgado Zuleta), etc.
At the same time, we're seeing a broader tendency towards gentle filtration. Amontillado, Oloroso and Palo Cortado wines are also bottled en rama and even wines that don't specifically mention it on their labels are using starting to use coarser filters. It's a welcome evolution towards more authentic, more 'raw' sherries that haven't been modified by a series of bottling manipulations.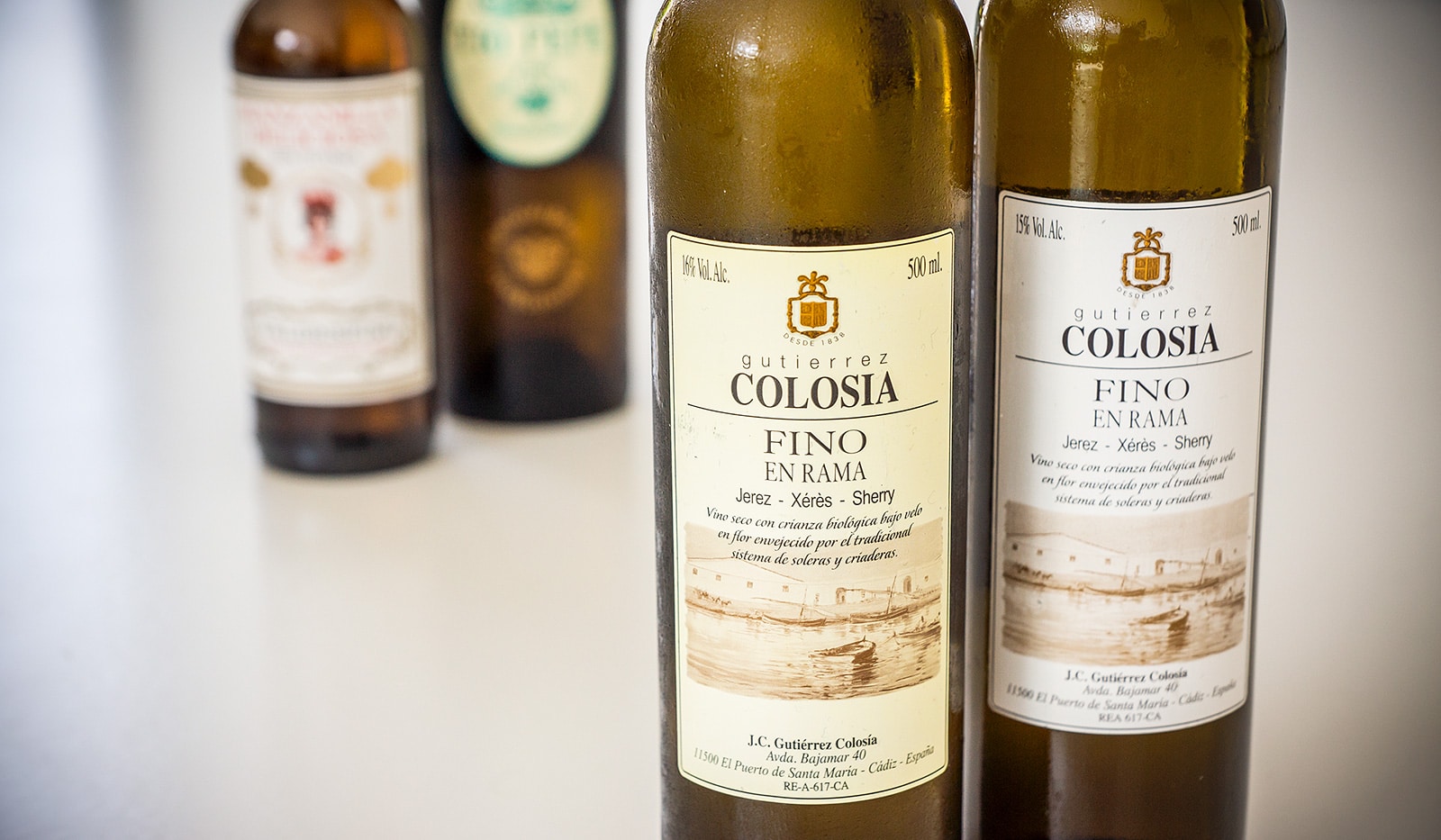 En Rama sherry and bottle ageing?
While the interest in en rama sherry is growing, there's an element that is still often overlooked. Having a wine that's more alive also means there's more room for evolution in the bottle. Traditionally consumers were advised to drink Fino or Manzanilla within a few months after bottling. The back label of the first Tio Pepe En Rama bottlings mentioned a mere three months!
A valid point if you're trying to replicate the experience of tasting directly from the barrel, but we have sufficient proof that good quality, lightly filtered Finos and Manzanillas evolve nicely when cellared for five, ten or even more years. The raw flor power will diminish and you'll get a rounder profile with slight traces of Amontillado, more herbs, more richness altogether. Certainly not bad, just a difference experience.
I believe bodegas are starting to realize the potential of bottle ageing. The 2018 release of Tio Pepe En Rama is the first to be offered in magnum bottles, even better suited for cellaring. Notice that the 'best before' mention is also gone on the new label. So this year, why not buy an extra bottle and store it in the cellar?
A few En Rama suggestions
Here are a few suggestions of brand-new 2018 En Rama bottlings from three bodegas worth checking out. While I'm writing this article some of them have been bottled just a few days ago. Ultimate freshness, I'm instantly being catapulted to wonderful cellars of Jerez.
Manzanilla Deliciosa – Primavera 2018 (15%, Valdespino)Quite a vertical Manzanilla, with tense saline notes and plenty of mineral hints and Mediterranean herbs on the nose. Yeasty freshness on the palate, with a light waxy edge. More sapid and a little sharper than most other Manzanillas. It's great to try this head-to-head with La Guita En Rama, another Manzanilla from the same group.
Fino En Rama – May 2018 (15%, Gutiérrez Colosía)Fairly light and delicate compared to other Finos En Rama. A lot of citrus and dried flowers on the nose, with overripe apples and savoury notes. Dry on the palate, with low acidity and hints of fruits. Soft mineral notes and stronger flor notes towards the end.
There's also a second Fino En Rama (cream label) matured at a slightly higher 16%, from a different solera. This is five years old and much bigger, more intense, with spiky herbal notes and zingy minerality. Difficult to find though.
Tio Pepe En Rama 2018 (15%, González Byass)Fresh as ever, with an emphasis on cellar notes (chalk, sandy floors) as well as bread dough, hay and a light heady top note. A tad less wild on the palate, more citrus freshness, coastal brine en lightly bitter herbs. A very harmonious edition this year.