Fino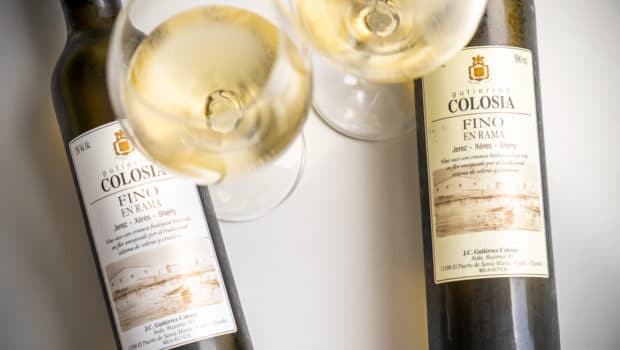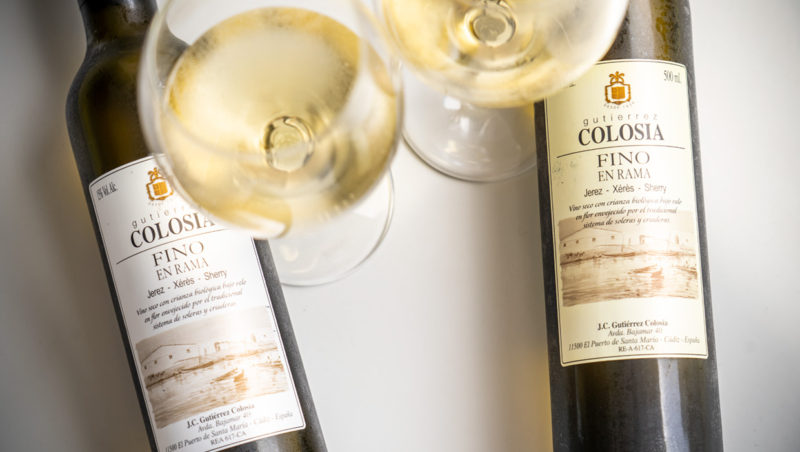 Published on June 14th, 2018 | by Ruben
0
Fino En Rama (Gutiérrez Colosía)
Two Finos from different soleras, matured at different strengths and with their own character
When it comes to artisan production, Gutiérrez Colosía is a small bodega that should get your attention. They are still producing sherry in the old way, mostly with manual labour.
They literally siphon this from the barrel into a large pitcher (straining it only through a mesh kitchen strainer) and then pour that into bottles. Label it, seal it, and done. Here's a nice collage made by the bodega to illustrate the simplicity of the whole process.
Besides their standard Fino, Gutiérrez Colosía has two En Rama bottlings. The white label (bottled at 15%) is around 3 years old on average – this is the unfiltered version of their standard Colosía Fino.
The cream label on the other hand (bottled at 16%) is from a separate solera (contrary to what some other sites are saying: it is not an older stage of the same solera). The cream label is around 5 years of age and it is aged at 16% ABV right from the start (other higher strength Finos undergo a second fortification right before bottling, not this one). This is quite a unique situation which requires specific conditions and constant monitoring.
The high ABV Fino started as an experiment of just five casks, but it turns out the flor yeast is viable at 16 degrees. However it develops differently, leading to a different aromatic profile.
We'll have them side-by-side, freshly taken out of the barrel merely two weeks ago.
Fino En Rama (15%, Gutiérrez Colosía, May 2018)
Nose: fairly light and delicate, En Rama but without the wild yeasty notes. Citrus at first, lemon peels, hints of dried flowers and herbs. Overripe apples, almonds. Savoury notes in the background (light broth).
Mouth: again quite a light, young style, slightly narrow. This is not an 'in your face' Fino and not radically different from the regular (filtered) version. Dry, with a low acidity and still a touch of fruitiness. Soft minerals, now a stronger impression of flor notes, including a herbal bitterness. Juicy lemons and yeasty dough.
Availability: around € 18 for a 50cl bottle. TWE offers international shipping.
Fino En Rama (16%, Gutiérrez Colosía, May 2018)
Nose: more intense, simply older and more complex. There's also the typical volatile petrol-like note, not uncommon for a Fino from El Puerto. Still a trace of apricot sweetness in the background but nicely paired to coastal notes, seaweed and a great waxy / oily side. Sour dough and salted almonds. Dried meadow flowers. Similar savoury hints here (even a light touch of soy sauce, which fades over time). This one expresses its location better and it's simply more generous.
Mouth: even though it's just one degree of alcohol, this one is much wider and more intense again. Full-bodied with a rather oily texture. Slightly higher acidity, with spiky herbal notes and zingy minerality. Vegetal notes, like straw and leafy hints.
Availability: while most distributors will be stocking the white label, this one is only bottled on request. It's almost impossible to find outside of the sherry region.
Summary: The white label version (***) is light and young and I feel the added value of the en rama bottling is slightly less noticeable here. The cream label (****) is much wider and more intense and shows how big of an asset the minimal treatment (and higher age) can be. A wine that expresses its environment well and the best Fino of the house for me.