Fino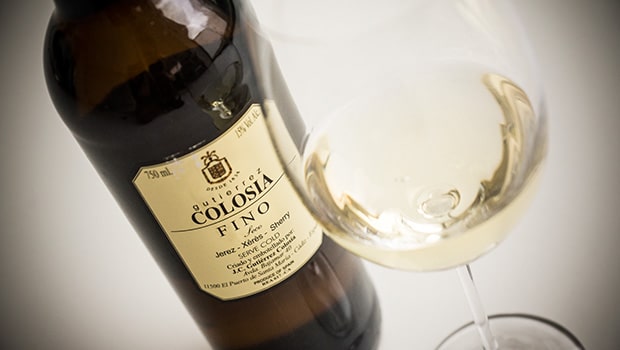 Published on February 17th, 2014 | by Ruben
0
Colosia Fino (Gutiérrez Colosía)
You can't get any closer to the sea than Bodegas Gutiérrez Colosía
Bodegas Gutiérrez Colosía offer three Fino expressions:
Campo de Guía, a young entry-level Fino
Elcano which is a 4 year-old Fino
Colosia Fino which sits in between the other two. It averages around 3 years old.
The first two are hard to get around here, I've never had a bottle in my hands. The Colosia Fino is certainly the most widely available.
Gutiérrez Colosía is located in a prime location of El Puerto de Santa María, right on the banks of the Guadalete river and very close to the Atlantic Ocean. This gives them excellent access to sea winds which help develop the maritime character of their wines. It should come as no surprise that the flor thrives around there.
Colosia Fino (15%, Gutiérrez Colosía)
Nose: one of the more maritime Finos, with hints of seashells. Quite youthful, with light hints of flor as well as some hay. Light pear aromas. Also subtle notes of chamomile, not unlike some Manzanillas.
Mouth: very fresh and round, with an intense citrusy palate, though a little on the gentle side overall. Salted almonds. Crisp apple flavours. A little bread crust and yeast. A firm bitterness in the finish.
Availability: reasonably good. I paid around € 9 for a full bottle or € 6 for a 37,5 cl botle.
Summary: Being made in El Puerto de Santa Maria, this sits in between a Manzanilla and a Fino from Jerez. It's polished and light, with lots of citrus and maritime notes.