Manzanilla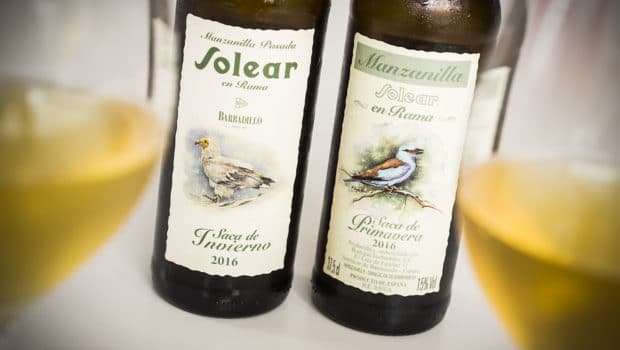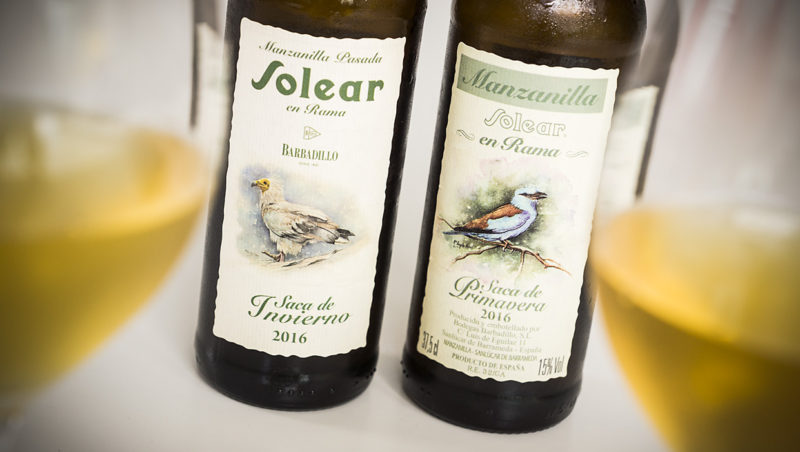 Published on June 8th, 2017 | by Ruben
0
Solear En Rama Primavera / Invierno 2016 (Barbadillo)
Two versions of Solear En Rama, the classic unfiltered Manzanilla from Bodegas Barbadillo. It was the first Manzanilla ever to be bottled En Rama – this wine invented the concept in 1999. Only a light egg-white filtering is used to take out the biggest clots of flor.
Solear En Rama is around 8 to 9 years of age upon bottling. It is selected from the 550 butts in Bodega El Potro where Barbadillo stores its 'intermediate' soleras: the best barrels of the regular Solear are moved there and stay there until either being bottled or else moved to the La Pastora solera or the Amontillado Principe. For every release they select some 10-15 barrels. The grapes for this wine come from the pagos Santa Lucía and Gibalbín.
European roller or Egyptian vulture? Two birds that live in the Parque Doñana near Sanlúcar de Barrameda
Comparing these wines means comparing different bottlings moments as well as 9 months of extra bottle ageing. Spring (March 2016) should give us a more intense flor influence, especially after the cold winter of 2015/2016. However after almost a year in the bottle, this extra punch could be toned down a little.
Solear En Rama – Saca de Primavera 2016 (15%, Barbadillo)
Nose: I've tried this many times but I'm always impressed. Full of salty sea air and dried flowers. Truckloads of straw. Brine, hints of dough, something of a leathery touch as well. Toasted almond and hazelnut. Soft aldehydes. Dried Mediterranean herbs.
Mouth: intense again, full of mineral zing, lemon and shrubland. A firm salty profile, serious but entirely classic. Bone dry, long finish which picks up a bit of herbal bitterness. After it's gone, it leaves some toasted echoes.
Solear En Rama – Saca de Invierno 2016 (15%, Barbadillo)
This one features the new label design and also says Manzanilla Pasada for the first time. Of course it has always been a Manzanilla Pasada but they simply referred to it as Manzanilla.
Nose: little difference here I'm afraid. It's just as intense and if anything perhaps a little drier, with a slightly bigger animal note to it. Wet dogs, or a sheep stable. I love that. There's also a slightly brighter lemony note, as well as a light waxy touch. Both excellent, but here and now I would say this Winter version is my favourite.
Mouth: more difference now, this is one is definitely more intense and radiant, with a bigger herbal bitterness and a roaring saline zing. Then a spicy body, hints of iodine and dried flowers again. Olive brine. Very wide and very juicy right until the end.
Availability: as always, limited to around 2000-2500 half bottles. Around € 12-18 for a half bottle.
Summary: Conclusion? Somehow I seem to have a sweet spot for Winter bottlings of Solear En Rama. That said, it also pays off to get a fresh bottle of this if you want to experience the real power this wine can express. Still one of my references when it comes to Manzanilla.