Manzanilla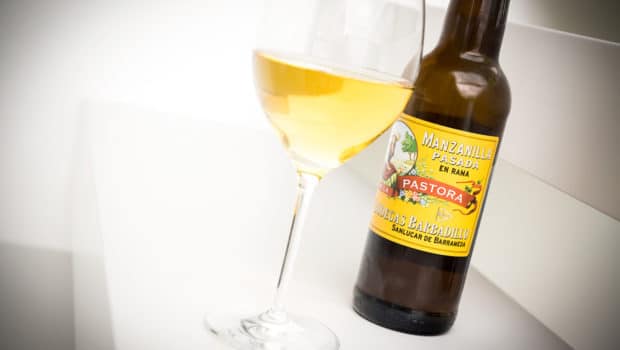 Published on December 13th, 2016 | by Ruben
0
Pastora Manzanilla Pasada En Rama (Barbadillo)
An old Manzanilla that replicates the 19th century style
Pastora was the first Manzanilla ever to appear on the market in a bottled form, at a time when Manzanilla was mostly a local wine that was sold directly to consumers in bars (by the glass or in their own container). We're talking 1827, actually the same year in which the first mention of the word Manzanilla appeared in shipping documents. The old brand Pastora, or Divina Pastora as it was then called, was recently resurrected by Bodegas Barbadillo.
Pastora is a true Manzanilla Pasada, rooted in the solera system of the already well aged Manzanilla Solear but even older. Pastora spends six years in the Solear solera (bodega El Potro) until a selection of barrels is moved some fifty meters down the road, to the bodega La Pastora, where the wine spends an additional three years. It is around 9 years old at the time of bottling and brings back a style that was in vogue in the 19th century and slowly disappeared in recent times.
Pastora – Manzanilla Pasada En Rama (15%, Barbadillo 2016, 37,5 cl)
Nose: intense, with some sharp briney notes and piercing, almost acetatic green apple notes. Punchy yeast as well, including a hint of bitterness, but also mellow notes like hay and butter. Becomes a little rounder over time, with yellow apple and chamomile, as well as a subtle sweet touch.
Mouth: a really smooth entry, but with a lot of complexity, gradually growing wider, with more intense saline and savoury notes. Touches of herbal bitterness and mineral notes. Toasted hazelnuts. Very yeasty but at the same time some fruity notes before moving into a long, salty and warming finish.
Availability: recently launched, so mostly available in Spain for now. Around € 13 for a half bottle.
Summary: A very interesting and rewarding Manzanilla, with a lot of intensity and complexity. Less savoury than Solear, I'd say, and a little more towards balance but with a little more depth and a remarkable balance of smoothness and character. Certainly worth tracking down.