Fino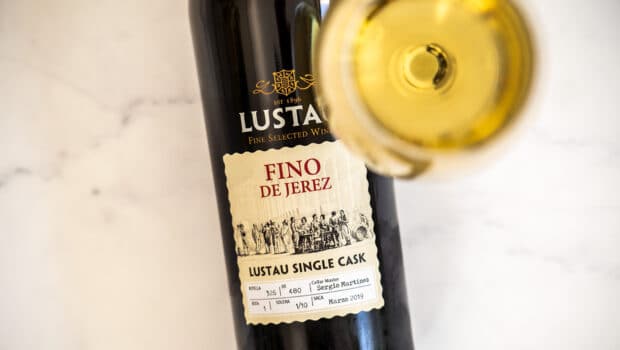 Published on August 15th, 2023 | by Ruben
0
Fino de Jerez Single Cask 2019 (Lustau)
Lustau has a very limited series of single cask bottlings. I believe they were originally exclusive to the well-known Spanish retailer Vila Viniteca, but nowadays they can be found in multiple places. The series includes different types of sherry (Moscatel, Pedro Ximénez…) but today we're looking at the Fino de Jerez Single Cask.
For this expression, they selected a single tonél (larger than a bota) that was used to refresh the second criadera of the Fino Jarana for many years. However at some point it was left untouched, ageing statically for a couple of years. The specific conditions of the bodega Las Cruces provided a compact and thick veil of flor. The wine should be similar to the Fino 3 En Rama.
Fino de Jerez – Single Cask – Bota 1/10 (15%, Lustau 2019, 480 btl.)
Nose: plenty of yeasty and mineral notes. A lot of toasted almonds, biscuity notes and dried herbs like chamomile as well. This is quite a warm Fino, with a hint of warm sandy beaches. A subtle cheesy hint as well, which evaporates quickly. Then hazelnuts and leafy notes, green apple and a hint of brioche. Light oxidative hints.
Mouth: quite dry and savoury now, with a low acidity and a certain glyceric side. It really dries your mouth, leaving a chalky sensation and making you want another sip. I imagine some of the acidity that Lustau refers to on the back label got lost with bottle ageing. Later it gets rather salty. Bitter almond, more biscuity hints and dried herbs. Green walnuts and olives. Straw and pungency from the flor. It is intense but it also feels refined and lower in alcohol.
Availability: limited of course. Check Vila Viniteca, or Gourmet Hunters for instance.
Summary: This comes close to some of the '3 En Rama' Fino bottlings from the same solera. Overall really good, but maybe not worth the premium. The wine may have been mellowed a little by spending a few years in the cellar.