Amontillado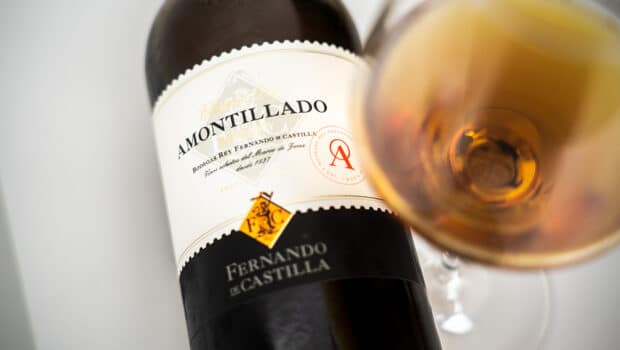 Published on February 24th, 2023 | by Ruben
0
Amontillado Classic (Fernando de Castilla)
The Classic range is the entry-level series from Bodegas Fernando de Castilla. It contains affordable middle-aged examples of all major styles of sherry. Today we focus on this dry Amontillado of around 8 years of age.
It follows the traditional methods, so it starts life as a Fino sherry. After 3 years under flor yeasts at 15%, it is re-fortified to 17% abv and introduced to the Amontillado solera. The flor disappears and the wine is exposed to air. It spends approximately 5 years in this solera. Fernando de Castilla also have an Antique Amontillado, which is around 20 years of age.
Amontillado Classic (17%, Fernando de Castilla, L22243)
Nose: it tends towards the oxidative side, with a lot of toffee and hazelnut aromas. Hints of mushrooms. Burnt caramel. Then brighter golden raisins and orange peels. A subtle trace of yeast and salty air but the biological side is in the background. A light coppery touch as well.
Mouth: dry with a nice acidity and a citrusy sparkle. Then almonds and hazelnuts come out, as well as a hint of roasted coffee beans and old wood. A few drops of olive brine give it a light coastal edge. Otherwise it is rather on the 'brown' side of the spectrum.
Availability: the Classic sherry range is usually easier to find. Around € 18-20, check Decántalo or The Whisky Exchange for instance.
Summary: A solid but rather unspectacular example of a middle-aged Amontillado sherry. It shows a rich profile on the more oxidative side of the spectrum, towards Oloroso. Good value for money but the Antique range is where this bodega really shines.