Oloroso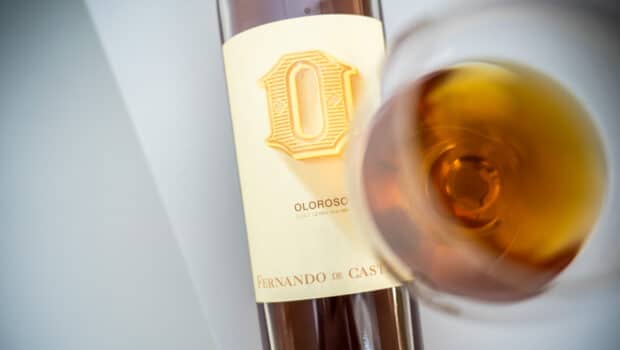 Published on January 14th, 2022 | by Ruben
0
Oloroso Antique (Fernando de Castilla)
This is a rounded, glyceric style of Oloroso in the premium Antique range
The Antique series contains the higher end wines in the portfolio of Fernando de Castilla, most of which are around 20 years of age. These include some of the best wines of the house: a gorgeous old Fino made in a specific style, a great Palo Cortado as well as an old Amontillado and Pedro Ximénez.
The Antique range was rather unique for having clear glass bottles (stressing the colour and age) and a 50cl format (stressing the value). It was one of the things that placed Fernando de Castilla on the map as one of the first outsider "boutique" bodegas.
In the case of this Oloroso the clear glass immediately exposes a dark auburn colour with iodine hints.
Oloroso Antique (20%, Fernando de Castilla, L20)
Nose: highly aromatic. Exotic spice, fragrant leather and polished wood at first, with roasted walnuts in the background. There's a sweet touch, showing toffee, brown sugar, raisins and toast with fruit jam. Even a whiff of popcorn.
Mouth: dry, full-bodied and rather velvety. A strong attack, but the glyceric and slightly buttery side stands out with a generous hint of fruit to be found. Plums and dark jammy notes. Tobacco, walnuts and hazelnuts, leather and a lively citrusy hint to lift it. Subtle smoky notes, baked bread and a salty edge in the end. Long finish.
Availability: around € 35-40 for a 50 cl bottle. You can get it from The Whisky Exchange or Bodeboca for instance, as well as different local retailers.
Summary: This Oloroso clearly shows a well-aged profile but also manages to keep a fresh and vibrant character. It's complex, with a nice glyceric touch and a mouthwatering acidity. Good value for money.