Palo Cortado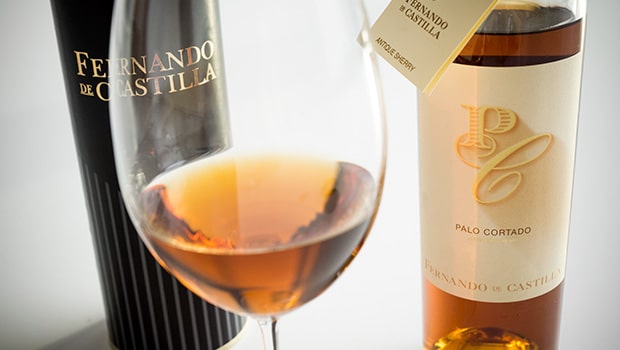 Published on December 20th, 2013 | by Ruben
0
Antique Palo Cortado (Fernando de Castilla)
The Antique Palo Cortado is a V.O.R.S. wine, although it doesn't want to carry the label
The Antique Palo Cortado is among the oldest wines available from this bodega. It averages over 30 years in age, making it a V.O.R.S. wine although Rey Fernando de Castilla refuses to label their wines as such.
It is produced with grapes from older vines on a vineyard in the highly regarded Pago Balbaina, to the West of Jerez de la Frontera.
The Antique range holds the premium wines of the house. All of these wines are single-solera, which means they're matured in one solera system, rather than being a blend of different soleras that have aged separately. Note that despite its age and considering the awards it has won, it's still a relatively affordable sherry.
Antique Palo Cortado (20%, Bodegas Rey Fernando de Castilla)
Nose: highly aromatic and very elegant, with orange marmalade and bright hints of lime juice. Some roasted almonds and hazelnuts. Marzipan and caramel. It also shows a delicately exotic spicy side, with rose pepper, aniseed and hints of incense. Soft coastal notes as well.
Mouth: full flavoured, very balanced. Not too dry actually, but with a nice salty tang and good acidity. Burnt toast and hints of dried figs. Walnuts and hazelnuts. Hints of eucalyptus. Ponzu and citrus, a little juniper. Some waxy / resinous notes too. Long finish.
Availability: exported to +/- 50 countries. Around € 45 for a 50 cl. bottle, check The Whisky Exchange for international shipping.
Summary: Complex yet immensely elegant Palo Cortado that presents all its flavours in a lovely balance. Like an old Amontillado, but smoother and with more body. A perfect example of the high standards of this bodega.