Palo Cortado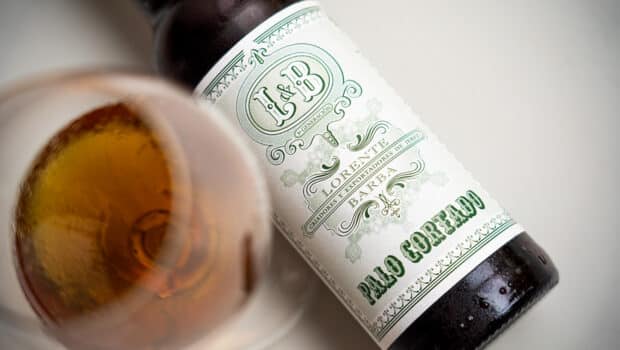 Published on August 4th, 2022 | by Ruben
0
Palo Cortado (Lorente & Barba)
After their initial Fino and Oloroso, the tiny Bodegas Lorente y Barba released a Pedro Ximénez, an Amontillado and this Palo Cortado. All of these wines come in very limited editions, some were even exclusive to Club Contubernio if I'm not mistaken. Unfortunately, the bodega doesn't give a lot of information, the wines aren't even on their website.
Luckily Contubernio gives us a little more background info. Like most of the other wines from this bodega, they claim an age of around 20 years. I suppose it comes from Mauricio Lorente's family soleras.
Apart from the 37,5cl bottling for Club Contubernio (Spring 2022) I believe this wine is occasionally bottled in full bottles as well.
Palo Cortado L&B (20,5%, Lorente & Barba for Club Contubernio 2022)
Nose: a very aromatic nose, on caramelized nuts and toffee, with hints of polished wood in the background. Orange peels. Roasted hazelnuts stand out after a while. Some fig sweetness as well? It certainly has the creamy side of a Palo Cortado, but it also gets rather close to an Oloroso in my opinion.
Mouth: again a bit more on the Oloroso side, although it's showing a lighter, elegant structure and a piercing side. It shows plenty of caramelized notes and dried fruits, before it moves towards drying walnuts and hints of cold coffee. I find the fairly high acidity really great, it gives hints of sour berries and fresh citrus. Together with the typical lactic character of the Palo Cortado this leads to a hint of yoghurt as well.
Availability: around € 35 in Spain (check Licores Corredera for instance).
Summary: A lovely Palo Cortado with a high acidity and an oxidative character. A light Oloroso really, but highly drinkable and very high quality. Worth looking for.