Fino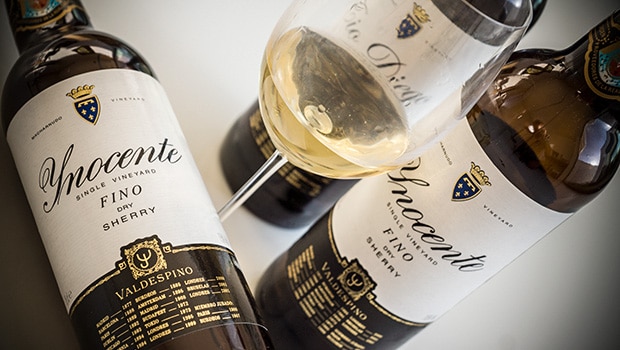 Published on January 27th, 2014 | by Ruben
0
Fino Inocente (Valdespino)
Fino Inocente is the flagship wine of Valdespino and the last Fino to be fermented in oak barrels
Fino Inocente is quite a unique Fino, for different reasons. Bodegas Valdespino is one of the oldest bodegas in the area, and they stick to traditional methods. The Inocente name was trademarked in 1894 but it had been in use much longer. Originally it was the name of a specific vineyard in the pago Macharnudo.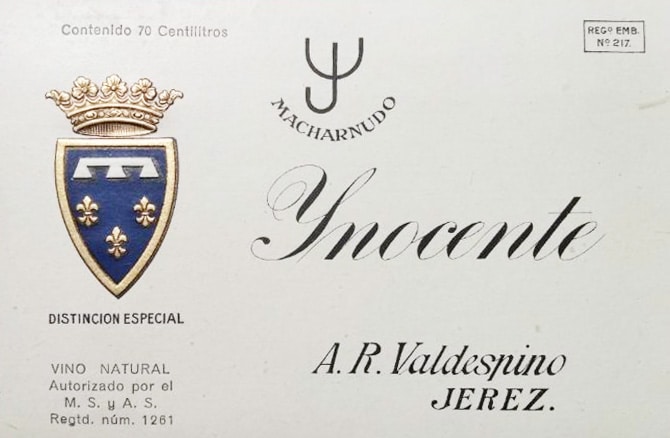 First of all, Inocente is of one only Fino wines still to be fermented in wooden casks, 600-liter American oak butts. Moreover Valdespino is using indigenous yeasts, whereas since the 1970's all other bodegas have been using stainless steel fermentation tanks and many of them switched to cultured yeasts. While these modern techniques are less labour-intensive and result in a more consistent fermentation, they also takes away a bit of the traditional character and the diversity of a large array of casks.
A second unique feature is the fact that the Palomino grapes for this wine come from one single vineyard. Where all other Finos are blended from multiple sources, this one uses only grapes from Macharnudo Alto, a high-altitude area renowned for its pure Albariza soil. The vines are 25 years old.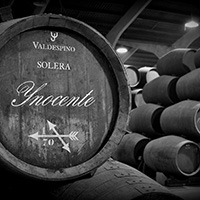 After fermentation, it stays in the casks for 2 to 3 months. The base wines are then classified and fortified to 15,5%. They are stored as sobretabla for at least a year, until they enter a solera with ten criaderas (an unusually high number for a Fino of Jerez). Each scale consists of 70 barrels. At the moment of bottling, Inocente is a wine of about ten years old, which is taken out of the solera system twice a year (sacas in Spring and Autumn). Mind that Inocente is not entirely drawn from the oldest row of barrels: it is a mix of the solera row and the previous criadera, in order to achieve the same profile regardless of the season.
Besides the Inocente solera, a parallel solera (equal number of criaderas) produces the Amontillado Tio Diego. Its production is very similar (same vineyard, same fermentation), but Tio Diego loses its layer of flor in the last few scales due to slower rotation of the solera and adds an additional five to six years of oxidative aging. It is also related to the Palo Cortado Viejo CP.
Fino Inocente (15%, Valdespino)
Nose: a very wide and rich nose for a relatively large-scale Fino, with a little more oak as well. It shows all the qualities of pure Albariza soils: mineral notes of warm chalk and ocean breeze. Dried hay. Light toast. Salted almonds. Some farmy hints and balanced notes of flor – you can easily imagine a damp cellar. It's nice to see there are a few fruity hints as well, especially when the wine gets a little warmer. Even soft touches of vanilla. High complexity.
Mouth: full-bodied yet elegant. Mineral, zingy and quite briny. Again slightly more oak than in other Finos. Some fruitiness but a very dry one, with low acidity. Apples and grapefruit. Lemon peel. Quite zesty, maybe a tad more bitter than a standard Fino. Growing saltiness. Hints of green olives and ever more herbal notes. Very long finish, with a nice balance of saltiness and bitterness and increasing Amontillado notes (nuts and the faintest hints of caramel).
Availability: check my list of online sherry shops. I've paid around € 15. Also available in half bottles. If you can't find it, check The Whisky Exchange for instance, they ship around the world.
Summary: A benchmark Fino: mineral, elegant, complex and yeasty. But still very drinkable. Slightly older and slightly more intense than the others. One of the best (widely available) Finos.