Amontillado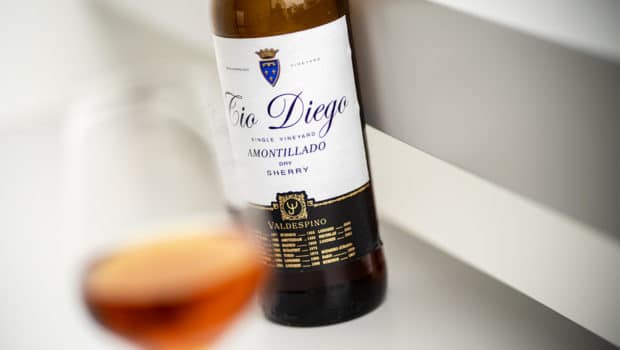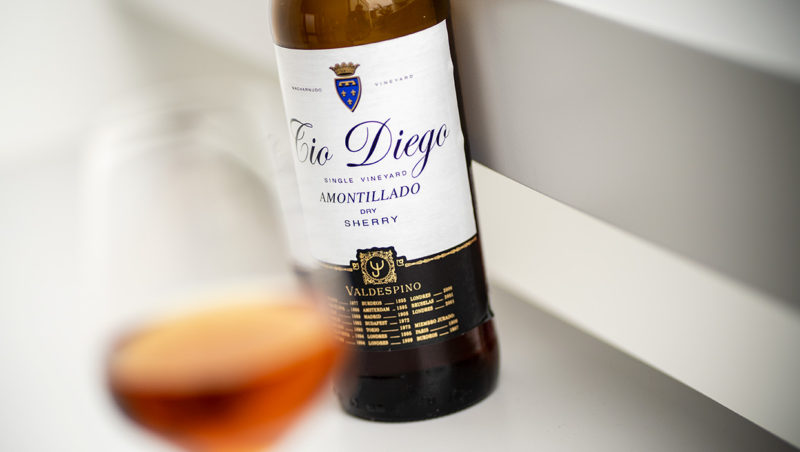 Published on September 26th, 2019 | by Ruben
0
Tio Diego Amontillado (Valdespino)
An older version of the famous Fino Inocente, slowed down and partly aged oxidatively
Tio Diego is the flagship Amontillado from Bodegas Valdespino, directly related to the Fino Inocente.
Both wines are made with must from 56 ha of vineyards in Macharnudo Alto, fermented with indigenous yeasts in old oak casks instead of temperature-controlled stainless steel like all other sherry producers nowadays. They fill around 200-300 casks per year, giving them a large array of slightly different wines. Once fortified to 15% and aged under flor for at least one year, the casks are all tested and enter the solera of either the Fino Inocente or the Amontillado Tio Diego. Mind that one is not exactly a longer aged version of the other, they are separate wines, made from the same must.
Both parallel solera systems have a similar set-up (10 criaderas + solera row) but the rotation is different: while the Fino is bottled twice a year (spring and autumn) and refreshed with new sobretabla, the Amontillado is only bottled once a year by the end of autumn. Slower rotation results in a higher average age: while Inocente is 10 years old upon bottling, Tio Diego is around 18 years.
As a side note, specific casks from both soleras are taken apart and are used to feed yet another solera of the Palo Cortado Viejo CP. Three wines with a unique character, all from the same must. The whole system is made clear in this scheme from Julian Jeff's Sherry book.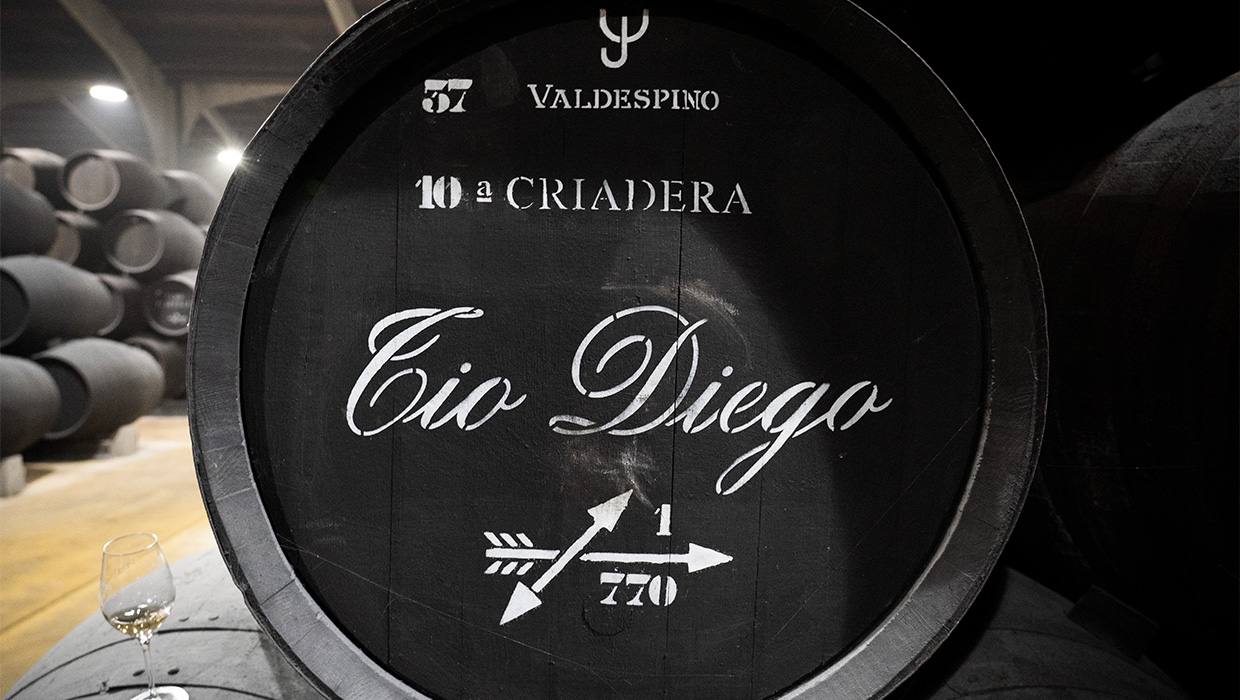 Tio Diego ages under flor from the tenth up to the third criadera, when it is over 10 years. When passing from the third to the second, it is fortified again, up to 17,5% ABV. The flor dies and it ages oxidatively in the last three stages. That means the biological ageing period is much longer than in other Amontillados.
This wine will be part of the #SherryTT 2019 Twitter tasting, in which we'll have five Amontillado wines and explore the wide range of characters that exists in this category. You can still apply and try it with us during Sherry Week.
Amontillado Tio Diego (18%, Valdespino, Saca 2018)
Nose: rather wide and aromatic, with plenty of nutty notes (hazelnuts, almonds), caramel and hints of linseed oil. Quite rounded, even slightly buttery. Some bready notes. Still these (old) flor notes: hay, shrubland, sea breezes and hints of wet sheep, but obviously less punchy and less nervous than its Fino counterpart. A great balance of biological and oxidative hints, spot on.
Mouth: medium-bodied and very dry. Starts crisp, even slightly sharp for an Amontillado, close to the tangy character of the Fino Inocente, but it picks up nutty notes (almonds, walnuts) and hints of old barrels along the way. Fairly high acidity. Lemon zest. Mediterranean herbs, along with a slight bitterness and burnt almonds.
Availability: around € 20 from The Nectar (Belgium). A few options with international shipping: Bodeboca or The Whisky Exchange.
Summary: One of the more racy Amontillados on the market, with mostly the biological ageing having its say. You can really feel the Macharnudo minerality and the prominent flor on the nose. A sharp, powerful wine and a great advocate for terroir. Must-try sherry.