News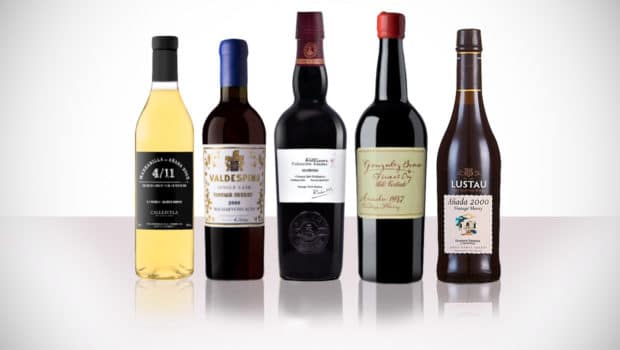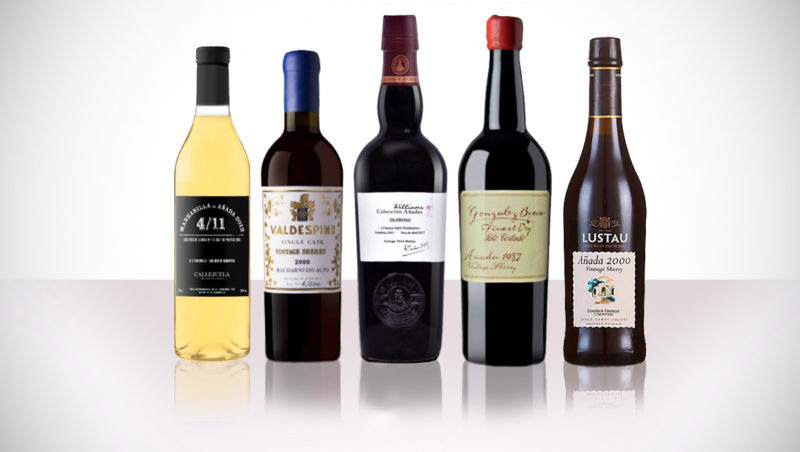 Published on August 27th, 2018 | by Ruben
0
Sherry Twitter Tasting 2018 #SherryTT
As a yearly tradition, I can announce the fifth edition of the Sherry Twitter Tasting #SherryTT which will take place during the Sherry Week 2018. This year the theme will be vintage sherry.
The vintage edition
Vintage sherry or Jerez de Añada is a rare type: nowadays virtually all sherry is matured in a dynamic solera system. However there used to be a time when sherry – like other wines – was made in vintages, vinified and aged separately without blending. In the past few years there has been a small revival of this concept, with a steadily growing list of premium vintage sherry bottlings. In this tasting we'll put them in the spotlights. As they are all highly limited, this is a rare opportunity to try them.
By now you probably know the concept: I've put together a selection of five excellent vintage sherries, the bottles are poured into 6 cl samples and packages are distributed to sherry lovers all over the globe. The participants will open the samples on Tuesday 9th of October (19h00 CEST, which is UTC+2) and try the wines together while communicating via Twitter (including the hashtag #SherryTT in every message). I will introduce the wines and give some background information. Representatives of the bodegas will sit together at the Consejo Regulador in Jerez and will be available to answer your questions.
#SherryTT wines
This is the line-up I composed:
Manzanilla de Añada 2012 4|11 (La Callejuela) This comes from a selection of 11 botas filled in 2012 with the same must from old Palomino vines in El Hornillo. Each year one barrel is bottled, which allows us to follow the evolution of the wine – we're trying the fourth edition from Bota #5. Made by winemaker Ramiro Ibañez, this is the first vintage Manzanilla of modern times.
Palo Cortado 'Macharnudo Alto' Vintage 2000 (Valdespino)  A vintage Palo Cortado released by Valdespino in June 2017 (just 500 half bottles), made with barrel-fermented must from the Macharnudo Alto vineyard that also feeds the Fino Inocente. Single vintage, single vineyard, single cask!
Oloroso Vintage 2001 (Williams & Humbert)  Williams & Humbert has been laying down vintage sherry since the 1920s. This is the most recent 2017 release from the Colección Añadas.
Palo Cortado 1987 (González Byass) Another expert on vintage sherry, González Byass released an impressive range of vintage sherry going back to the 1960s. Less than 1000 bottles were released of this exceptional Palo Cortado.
Añada 2000 (Lustau) Made from Palomino grapes from the Carrascal area. As the fermentation was halted early, this is slightly sweet. It matures in barrels which previously contained Oloroso.
Co-hosted by François Chartier
I'm happy to announce that Canadian sommelier, author and food pairing expert (as well as sherry lover) François Chartier will join us on Twitter. He'll look at each wine from an aromatic (molecular) perspective and suggest the best pairings with food. You can follow him through the handle @PapillesetM
How to participate?
Five cracking wines that are hard to come by. You can be part of this unique event and try the wines with us!
Thanks to the generous participation of the bodegas and the Consejo Regulador, the packages can be offered free of charge. Free wines and free shipping. The only requirement is that you're available 9th of October and that you're willing to make some noise about it on Twitter, Facebook, or perhaps a blog that you manage. Sadly only 15 places are available. You can register until 8th September 2018.
Note that postal services don't allow us to send alcohol to countries like the USA, Austria, much of the Middle East, etc. If you hesitate, simply apply and we'll check the possibilities.
Registrations are now closed. Even if you weren't selected, be sure to follow the event on Twitter 9th October 2018 with the hashtag #SherryTT.