Palo Cortado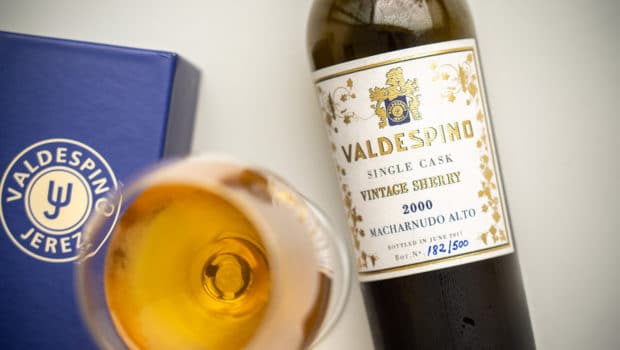 Published on September 4th, 2018 | by Ruben
0
Palo Cortado Macharnudo Alto vintage 2000 (Valdespino)
Back in June 2016 Valdespino presented samples of their first two vintages wines, from the 2000 and 2001 harvests. As vintage sherry is often difficult to put into a certain corner, they were simply named Macharnudo añada after the pago where Valdespino owns around 50-60 hectares of vineyards.
A year later in June 2017 the Añada 2000 was officially released as a vintage Palo Cortado. This is a single vintage, single vineyard and single cask sherry! Rare, rare, rare. Only 500 half bottles were available.
The Estevez group bought Valdespino in 1999 and these statically aged vintage wines were one of the special projects that were initiated in that period (I believe they are setting aside one cask each year). The wine started as Finos, maturing under flor and made from the same gently pressed mosto as Fino Inocente, Amontillado Tio Diego or Palo Cortado Viejo CP, fermented in casks like in the old days. When the flor started to disappear it was re-fortified to 17%. After seventeen years or so without refreshing, it ended at 20% ABV and its character was somewhere in between Fino, Amontillado and Palo Cortado.
This wine will be part of the #SherryTT 2018 Twitter tasting, you can still apply and try it with us during the Sherry Week 2018.
Macharnudo Alto 2000 Palo Cortado (20%, Valdespino, June 2017)
Nose: a complex and aromatic nose, which presents itself in a very elegant, smooth way. There's a Fino side to it (hay, minerals, bread crust) as well as Amontillado (soft beeswax, orange oil, apricots and other fruity echoes) and Palo Cortado (a little tobacco, hazelnuts, caramel). It reminds me of Viejo CP but it seems a little more delicate and feathery – the balance is just excellent.
Mouth: a gentle entry. I'm struck by the delicate glyceric / buttery touch, making it seem a little sweet (toffee, apricots again). However it becomes sharper and deeper over time, with a gentle saline tang and balanced acidity. Soft herbal notes. Some lemon and olive brine. Roasted almonds and walnuts. Hints of old polished wood. Very long finish with the toffee and praline notes lasting forever.
Availability: difficult to find, and only in export markets. Some bottles went to the US, some to the UK. Each hand-numbered bottle is around € 150…
Summary: An exciting hybrid wine again. It could be described as a particularly buttery Fino with subtle traces of Oloroso, but it's more complex than that. Absolutely lovely: a rare gem - let's hope there are more casks like this in the bodega.