Background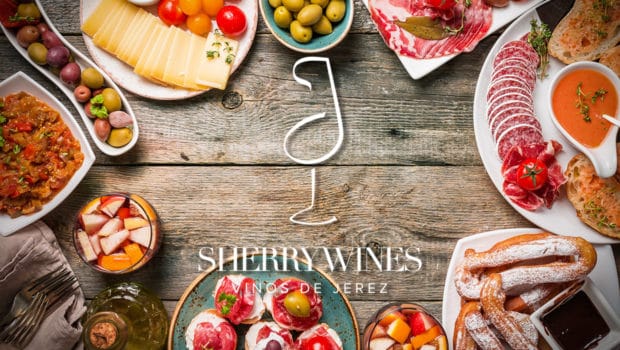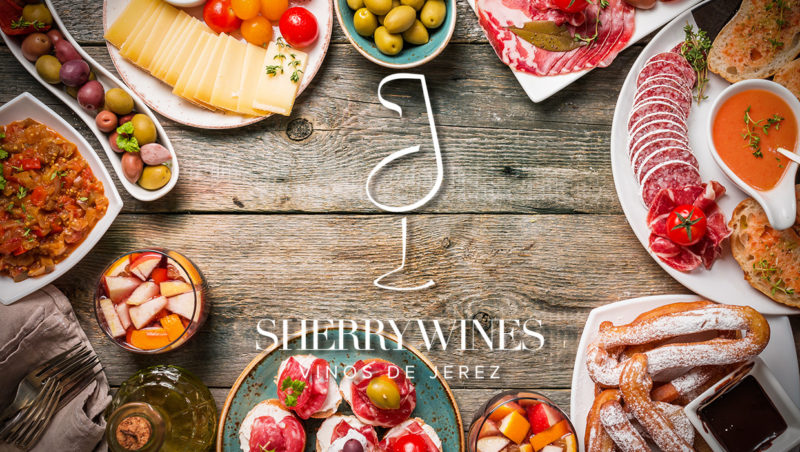 Published on August 14th, 2018 | by Ruben
0
Wine pairing: sherry with food
Wine pairing with sherry is a topic I haven't written about much until now. However sherry is a real 'food wine', so I feel this article was critical. Here's my guide to sherry food pairing, including some of my favourite recipes to try with Fino and Manzanilla, Amontillado, Oloroso and Pedro Ximénez.
Always a suitable sherry pairing
As sherry comes in so many styles, from light and dry to rich and sticky sweet, there is always a suitable sherry wine to pair with your dish, whatever it is. Sherry covers a huge array of flavours and is an incredibly versatile chameleon when it comes to wine pairing. It has very complex molecular attributes that subtly mesh with the aromas in food, supporting and enhancing the dish. Even ingredients that are traditionally tricky to combine (asparagus, artichokes, chocolate, tomatoes, sushi…) have a perfect solution in the sherry spectrum.
The key idea here is that sherry is the most umami-rich wine (not counting the very sweet ones of course). Its savoury and nutty notes are quite unique, and the rich texture makes it even better to pair with food. We should also see the lack of fruity aromas and flavours as a huge asset too – fruity notes in a wine can work against a combination with food and you'll never have that problem with a dry sherry.
Sherry is the result of over 300 aromatic molecules, each providing a possible link to an ingredient in your dish. Some of the volatile compounds in sherry are also present in other categories of wines, but some are unique. This kind of molecular matchmaking is the base principle for wine and food pairing and makes sherry one of the only wines that can be served with an entire meal, from aperitif to dessert.

Sherry wine pairing: rule of thumb
The sherry council is promoting this rule of thumb for pairing food with sherry wines:
If it swims – Fino. If it flies – Amontillado. If it runs – Oloroso.
This is a great suggestion to keep in mind. Fino and Manzanilla are perfect with fish and seafood (things that you'd also pair with white wine). Amontillado goes well with chicken or other birds. Oloroso pairs best with pigs, cows, sheep and other meat. These are traditionally red wine combinations. However this advice is basically just aimed at the main component of a dish so we'll need to dig deeper to find combinations with vegetables, cheese, sweets and other ingredients.
Food pairing with Fino or Manzanilla sherry
Fino sherry is fresh and dry, and although it is the perfect aperitif to have before a meal, its complex palette of aromas also make it the king of food and wine pairings. Manzanilla is similar: often a bit lighter still but also a bit more coastal. Always drink these styles chilled in a relatively wide glass, just as you'd do with a white table wine.
To get an insight in possible pairings, we should remember that Fino and Manzanilla revolve around acetaldehydes (also found in walnuts, apples, ham or fennel), terpenes (citrus, chamomile), lactones (apricot, coconut) as well as diacetyl and acetoin (buttery notes, yoghurt, but also found in cabbages, asparagus or strawberries for instance).
Pair Manzanilla with:
sushi and sashimi (a classic pairing that you should try)
fish and seafood: prawns, fried sardines, baked anchovies, oysters, mackerel, smoked salmon, pasta vongole, squid, octopus…
Pair Fino with:
all kinds of tapas: tortilla, gildas, patatas bravas, pan con tomate with jamón (try adding avocado as well!)
anything deep-fried / fatty or tempura
all kinds of nibbles: olives, dates, nuts, croquettes, salty chips (although any style of sherry goes well with salty snacks)
Spanish ham and other cold cuts
cold soup, like gazpacho or salmorejo
white asparagus
mild, young cheese: feta or young Manchego
Some recipes and pairings
Here are a few of my favourite recipes with Fino and Manzanilla:
Food pairing with Amontillado or Palo Cortado sherry
Amontillado sherry is an older form of Fino, if you like. It has increased levels of vanillin and phenols, as well as compounds extracted from the oak given the longer maturation. This gives way to more nutty aromas. In terms of pairing, Amontillado is halfway between Fino and Oloroso, while Palo Cortado can be seen as a lighter style of Oloroso which works particularly well with spicier food.
Pair Amontillado with:
chicken and turkey
mushrooms and truffle
rice dishes: paella or risotto
grilled tuna
soups
albóndigas (meatballs with tomato sauce)
anchovies on toast
green asparagus
artichokes
ripe cheese: parmiggiano, Pecorino, cheddar…
Pair Palo Cortado with:
pheasant, quail, partridge
duck liver
curries or spicy Asian foods
chocolate
sweet sauce
Favourite recipes with Amontillado or Palo Cortado:

Food pairing with Oloroso sherry
Oloroso means fragrant: this oxidatively aged sherry has twice the amount of phenols (which come from wood interaction) and volatile acidity of Fino sherry, and has a rich glycerol content which results in a rich mouthfeel. There's also piperonal (vanilla), benzoic acid (almonds), cinnamic acid (cinnamon), coumarin (hay, vanillin, tobacco) and sotolon (walnuts, maple syrup, roasted fenugreek seeds) that make up its aromatic signature. This is typically a wine for main courses with meat.
Pair Oloroso with:
pork meat
pigeon and duck
lamb or beef
stews and casseroles
Foie gras
mature cheese: gruyère or Comté
Favourite recipes with Oloroso:
Food pairing with Medium / Cream or Pedro Ximénez sherry
There's a whole array of sweet styles of sherry, from just off-dry Olorosos or medium-sweet blends over slightly floral Moscatel to thick and gooey Pedro Ximénez that can easily contain half a kilo of sugar per litre. When it comes to food pairing, I tend to prefer lighter styles that have some acidity and don't overpower the dish, but obviously dark chocolate or blue cheese can withstand a fair amount of sweetness in wine.
Pair sweet sherry with:
Tiramisu
Dark chocolate: brownies
Vanilla ice cream
Strawberries, banana, citrus
Sweet Oloroso or Medium sherry also works well with a curry or other oriental, spiced food
Blue cheese and paté
Favourite recipes with Cream or Pedro Ximénez:
Suggestions from other sources
Lustau has a great website with pairing suggestions and recipes. It includes all the basics but also 'Lustau's favourites'. The official Sherry.wine website also has a concise pairing wheel.
Author Fiona Beckett wrote a small e-book 101 great ways to enjoy sherry, with the support of the sherry council. It has traditional and innovative food matches in different categories.
If you're interested in the molecular composition of different styles of sherry and their match with food components, get François Chartier's book Taste buds and molecules which has specific chapters on food pairing with sherry.
---
This article was nominated for the 2018 Born Digital Wine Awards in the category 'Best Wine and Food Content'
---