Amontillado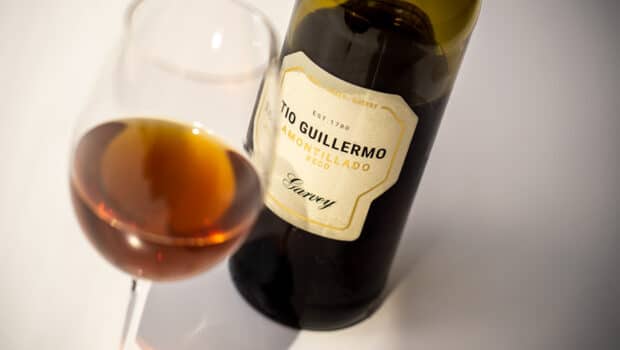 Published on May 26th, 2023 | by Ruben
0
Tio Guillermo Amontillado (Garvey)
I've writeten several times about Garvey's tumultuous past. Once their Fino San Patricio was the most succesful Fino on the market, then the company kept growing and had the largest warehouse in the whole of Jerez. They became a cornerstone of the Rumasa story and later Nueva Rumasa. Then in 2017 Garvey was taken over by Emperador Distillers, a Philippine group owned by the Tan family.
Andrew Tan imported a lot of Spanish brandies into the Philippines (a stronghold for Brandy de Jerez). He now owns Brandy Fundador, Domecq, Terry, Harveys and the Espléndido brand. At first the takeover seemed positive, with investments in the Garvey sherry brand and the new labels that we have on our bottle of Tio Guillermo.  However their focus is mostly on brandy so by 2019 they let go most of the staff related to the wines. Now wine production only seems incidental – after all you need proper sherry casks to produce good sherry brandy.

If you go to the Garvey website, they only talk about the brandy Espléndido, with the Manzanilla Juncal and the Fino San Patricio under 'other products'. There's no trace of this Amontillado Tio Guillermo any more. Some retailers are still selling it, but that's probably leftover stock. I fear they may have sold the wine to other houses.
Tio Guillermo Amontillado Seco (18,5%, Garvey, +/- 2018)
Nose: the wine has quite a dark colour so I expected an oxidative, caramelly version. However it's nice to see its Fino origins are easy to note. Hints of hay, with some lemon peel and apple in the background. Fine herbal notes too. Then orange peels and hints of caramelized nuts come out, as well as some dried apricots and almonds. Exactly the kind of aromatic intensity and balance I'm looking for in an Amontillado.
Mouth: perhaps a slightly thin structure, rather high-pitched with a nice lemony acidity and hints of flor, leading up to some peppery notes and herbal echoes. Light vanilla and toffee, with almonds, walnuts and a few glyceric touches, but the biological side is slightly bigger, showing a nice saline edge. Again the balance is the main asset here. Medium finish with delicate nut aromas.
Availability: this used to be around € 10-12. Now it seems it has been phased out, with bottles becoming hard to find.
Summary: I know winemaker Salvador Real did a good job upgrading all the Garvey wines while he was working there. Tio Guillermo certainly deserved a place among the better Amontillados in this price range. Too bad it didn't work out.