Bodegas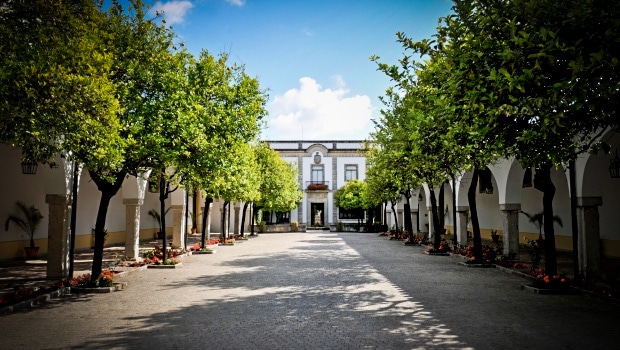 Published on April 10th, 2014 | by Ruben
2
Harveys
Bodegas Harveys is one of the big businesses in sherry. Even when you're not really into sherry, the name may sound familiar. This is mostly because of one top selling product: Bristol Cream. But let's start with the beginnings.
In 1796, William Perry starts shipping sherry, Madeira, Port and other wines to Bristol. At that time thick, sweetened Oloroso was already popular in the UK – it was known as milk sherry or Bristol Milk. In his company, Perry was later joined by John Harvey who eventually took over the business with his brothers. Around 1860, they had the idea of creating an even richer version of Bristol Milk. It included older Oloroso, and the name Bristol Cream seemed appropriate. This blended sherry became popular throughout the whole sweet sherry era.
Since the early 1950's, and until this very day Bristol Cream is the number one selling sherry in many markets. In the US, every other bottle of sherry sold is a characteristic Bristol blue bottle. It has been sold on such a massive scale that later the entire category of sweet / blended sherries was called Cream. So not the other way round as you may think.
Bristol Cream
The company name became John Harvey & Sons at the end of the 19th Century and the Harvey family managed the house until 1966. In 1970 the company's main premises were moved to Jerez. The blend was produced in Spain rather than shipping casks to Britain for blending in Bristol. Given its popularity, Harveys needed around 100.000 butts of sherry a year to fulfil its needs.
At the end of the 1950's, a certain Jose Maria Ruiz Mateos started making proposals to provide the sherry they needed. Several years after, under slightly uncertain circumstances, Ruiz Mateos managed to sign an exclusive 99 year contract (!) to supply all the wines needed for Bristol Cream. Ruiz Mateos was a descendant of a small almacenista, but he had nowhere near the capacity needed for this contract. He rushed out to buy other bodegas – the start of the Rumasa empire – a long and sad story for the whole sherry region.
During the 1970's, Harveys was owned by Allied Breweries and had deals with Garvey and Barbadillo to get access to vineyards. At the end of the 1970's, Harveys acquired the renowned Bodegas Terry and Bodegas Palomino & Vergara. In 1994 the Allied group merged with Pedro Domecq and a bit later Allied Domecq was taken over by Pernod Ricard.
Bodegas Harveys today
They split the company again, held Domecq for themselves (the brand at least, the soleras are scattered) and sold Harveys to Beam Global (later Beam Suntory) along with the associated brands Bodegas Terry and the brandy Domecq Fundador. After years of mergers and splits, it was yet again sold in 2015, to the Philippines-based Emperador Inc. group (through White & Mackay) which already owned the Bodegas San Bruno and Bodegas Las Copas (together with González Byass).
Harveys owns about 10% of the vineyards around Jerez. Their wines are being matured in one big bodega called El Brigadier, which holds around 6000 butts destined for Bristol Cream (wines ranging from 2 to 20 years), and an additional 25 smaller bodegas around Jerez.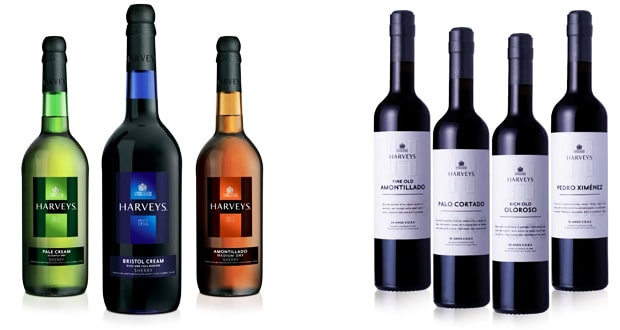 Harveys sherry range
Bristol Cream, the sweet, commercial blend (a mix of all types of sherry) that is still hugely popular but mostly among our grandparents. Better forget the name unless you think Baileys equals quality coffee.
Harveys Fino, the only dry sherry in the entire range
Harveys Pale Cream
Amontillado Medium Dry
Fine Old Amontillado V.O.R.S.
Palo Cortado V.O.R.S.
Rich Old Oloroso V.O.R.S.
Pedro Ximénez V.O.R.S.
Four rare wines that can still occasionally be found in their V.O.S. version (in larger bottles) although they achieved the V.O.R.S. label in April 2008. They are now sold in tall 50cl bottles (just +/- 1500 bottles a year are made available of each). All of these wines are matured in soleras founded more than 100 years ago, so their average age is probably well beyond 30 years. They're all sweetened slightly by the addition of +/- 10% Pedro Ximénez.
Contact
Bodegas Harveys
C/ San Ildefonso, 3
Jerez
Visits possible by appointment.