Oloroso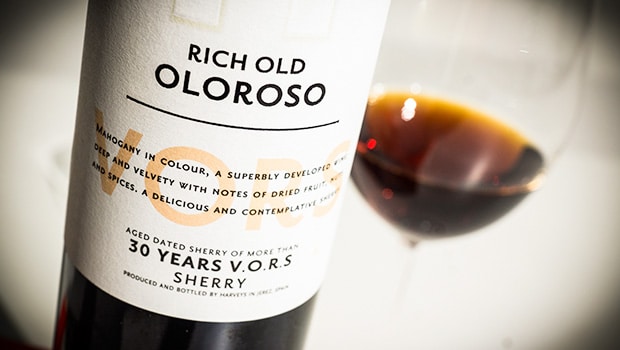 Published on April 8th, 2014 | by Ruben
1
Harveys Rich Old Oloroso V.O.R.S.
Harveys may be known primarily for their blended sherry Bristol Cream, a slightly outdated worldwide bestseller (more than 50% of all sherry sold in the U.S. is Bristol Cream). By the way, did you know the Cream sherry category was called after Bristol Cream and not the other way round? In the shade of this commercial success, they also possess some of the oldest soleras in the D.O. Jerez / Xérès / Sherry.
This is a 30 year-old Oloroso blended with a dollop of Pedro Ximénez
The Harveys VORS range consists of four sherries that have been aged for more than 30 years in soleras founded more than 100 years ago. The Oloroso solera was founded in 1909. Note that three of these wines were previously classified as V.O.S. and sold in 75 cl bottles. In April 2008, they gained the V.O.R.S. classification and they were relaunched in stylish, minimalist 50 cl bottles. Beltran Domecq, the current president of the Consejo Regulador, was Master Blender at that time and responsible for the makeover.
Except for the Pedro Ximénez, all Harveys VORS wines are blends, softened by the addition of a sweeter style of sherry. My bottle says Rich Old Oloroso V.O.R.S. but recent releases mention Very Old Oloroso Blend – Medium because of new regulations from the D.O. Jerez-Xérès-Sherry. This wine contains 90% of Oloroso, blended with 10% Pedro Ximénez to round off the rough edges of spending so many years in wood. The wine contains 50 grams of sugar, therefore it falls in the Medium sweet category (5 – 115g).
Rich Old Oloroso V.O.R.S. (20%, Harveys 2011)
Nose: rich indeed. Lots of dark aromas, like molasses and caramelized sugar. A whiff of smoke alongside roasted nuts. Hints of cigar boxes. Also a clear sweet side of raisins, dried apricots and Belgian pear syrup. Mellow spices, mainly cinnamon. Very nice touches of beeswaxed furniture.
Mouth: sweet (sweetened) but nicely integrated. A lively acidity helps not to make it cloying. Dried figs, raisins, fresh citrus peel. A deep base of 'oldness' as well, old oak. Getting drier towards the finish, as well as slightly bitter, with a long, much more savoury end.
Availability: I bought my 50 cl bottle for around € 30-35 in the UK (try Master of Malt or The Drinks Shop). That's basically a bargain. Difficult to find outside of the UK or US.
Summary: This is a great Oloroso: there's hardly any sweetness (except some roundness around the corners) and it still shows the smokiness and herbalness of a dry version. It's easy to see its age and complexity. I love it.