Background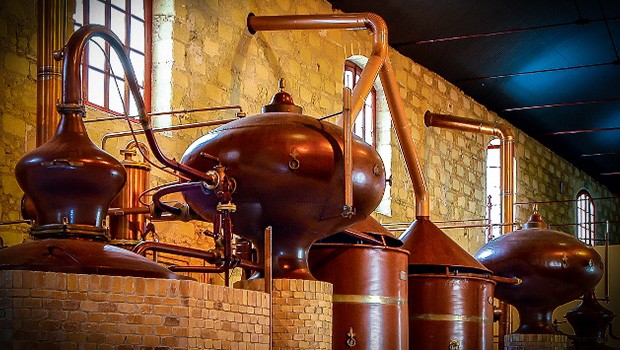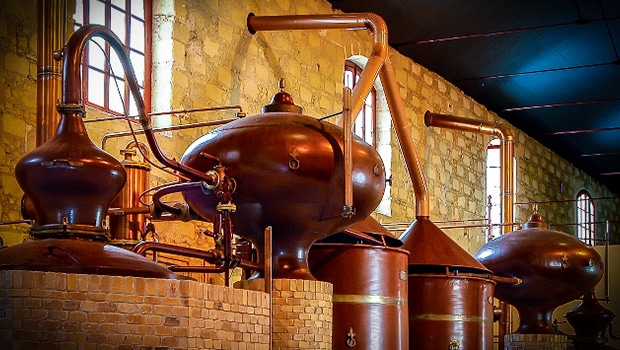 Published on March 25th, 2015 | by Ruben
1
Brandy de Jerez
Brandy de Jerez or Sherry Brandy is a spirit produced by distilling wine, just like cognac, armagnac or grappa. You could say it's a side product of sherry production as the barrels in which the brandy ages are first seasoned with sherry wine.
Like sherry, it needs to be produced within the sherry triangle formed by the cities of Jerez de la Frontera, Sanlucar de Barrameda and El Puerto de Santa Maria. Sherry brandy is protected by the D.O. Brandy de Jerez which has its own Consejo Regulador (regulatory council). In fact it is one of just three regulated kinds of brandy in Europe, together with cognac and armagnac in France.
The distillation techniques used to produce alcohol from wine are a legacy passed down to us from the Moors. They settled in Jerez around 711 until the town was later re-conquered by King Alfonso X in 1264. Although the Moors used alcohol to make perfumes and medicins, the local population also started drinking it. Old references to a "Spirit Tax" go back as far as 1580. Brandy de Jerez began to be traded in large quantities in the mid 19th Century. Keep in mind though that Brandy de Jerez is not distilled sherry.
Base wine from Airén
The production of sherry brandy starts with a young, neutral, white base wine. Well, neutral is already a positive description. They are rather course wines with a high acidity, not exactly enjoyable on their own.
Nowadays this wine is usually produced from the Airén grape in the provinces of La Mancha and Extremadura. This may seem surprising when you consider there is so much Palomino in vineyards around Jerez. However it is simply a cost issue: Palomino grapes are generally considered too precious for brandy. González Byass Lepanto is the only commercial brandy that is still produced entirely from Palomino, as far as I know. However some producers add a small portion of Palomino (or PX) base wine to the blend before distillation.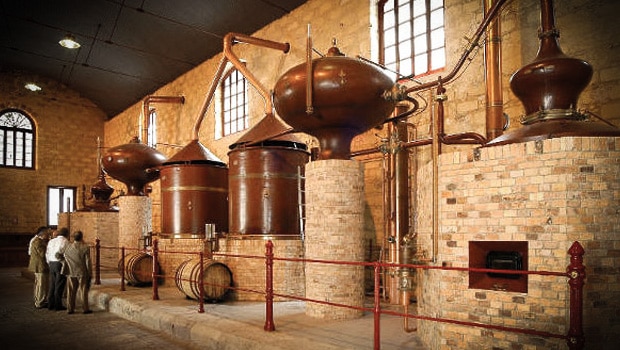 Single distillation
After the leas (bits of skin, pips, etc…) have been decanted, the base wines were traditionally double-distilled in copper pot stills, called alquitaras. The stills were heated directly by a holm-oak fire. Nowadays most of the distilling is done using column stills which is more efficient (continuous distillation).
Only one distillation run is required, making it more similar to Armagnac than Cognac, which is distilled twice. Although double distillation produces a smoother spirit, it will also take out some of the aromatics. The result of this single distillation are wine spirits of 60-70% alcohol, called holandas. This refers to Holland, the home country of brandy (brandewijn). In order to obtain one litre of brandy you need to distill around three litres of wine (which comes down to four kilos of grapes).
Holandas / Aguardientes / Destilados
In Jerez they make a difference between three types of spirits based on their strength and volatile aromatics:
Holandas have a strength below 70% vol. and contain 200-600 grams of volatile substances per hectolitre of pure alcohol
Aguardientes are between 70% and 86%, containing 130-400 grams of volatile substances
Destilados are between 86% and 94,8%, containing below grams of volatile substances
So a higher alcohol strength means less flavour congeners. To create a Brandy de Jerez you can use all three types of spirits. However the lower strength (less pure) holandas must always represent a minimum of 50% of the final brandy to guarantee enough typical flavours.
Gonzalez Byass Lepanto uses a double distillation process in copper pot stills, like in the old days.

Maturation in sherry casks
Although the distillation is certainly important, most of the typical character comes afterwards. Maturation is what turns a regular brandy into sherry brandy.
The holandas are matured in wooden casks, botas, that have previously contained sherry. These are not necessarily the same casks that are used in bodegas for the maturation of sherry (which are old, fairly neutral casks). Instead, usually newly made American oak casks are impregnated with sherry for a couple of months until the wood has soaked up the flavours of the wine. When the holandas are matured in these casks, the sherry and oak flavours will slowly be released into the brandy. The older the brandy, the smoother it will become and the more sherry flavours it will take in.
All sherry types are used for brandy maturation, but the most common are Oloroso and Pedro Ximénez which have the richest flavours. Often multiple types of casks are used to give the brandy a complex mixture of flavour profiles.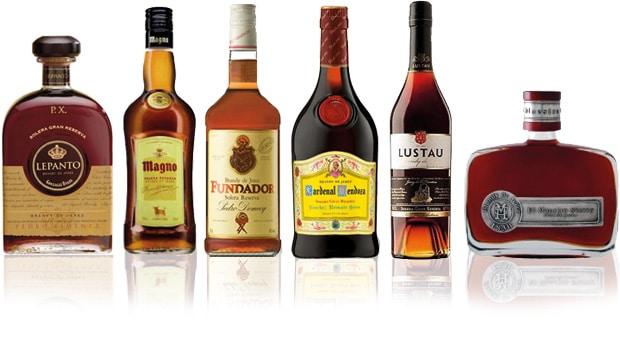 Maturation in a Solera system
Just like sherry in general, Brandy de Jerez is matured using the traditional system of Soleras and Criaderas. By periodically topping up casks with slightly younger brandy from the previous row, the bottom row will contain a consistent blend of brandies from different ages.
In order to use the name Brandy de Jerez, all spirits must be aged for a minimum of six months. Some are aged much longer, and depending on the period that a brandy spends in a solera, different age statements can be used:
Solera has a minimum average age of six months (150+ grams of volatile substances)
Solera Reserva has a minimum average age of one year (200+ grams of volatile substances)
Solera Gran Reserva has a minimum average age of three years (250+ grams of volatile substances)
So there are rules about the minimum average but also the levels of volatile compounds (aromatic esters, aldehydes, acids…). In practice, the best Reservas and Gran Reservas on the market are aged much longer than required, in order to gain more character and smoothness.
Famous brands of Brandy de Jerez
Nowadays almost all bodegas are producing one or more types of brandy. Some of the best known brands are Cardenal Mendoza, Terry Centenario, Gran Duque de Alba or Osborne Magno (which gave us the iconic bull image).
A lot of bodegas also have ultra-premium brandies of very high ages, e.g. El Maestro Sierra Brandy Gran Reserva (40+ yo), Romate Cardenal Mendoza Non Plus Ultra (50+ yo) or Bodegas Tradición Brandy Platinum (50+ yo).
Recent struggle of Brandy of Jerez
In 2009 the brands Veterano (from Osborne) and Soberano (from González Byass), once market leaders in the category of Brandy de Jerez, decided to lower their alcohol volume below the required minimum of 36% set by the Consejo Regulador. First to 33% and then as low as 30%. This strategic decision placed them outside of the denomination of origin and meant they could no longer use the name. Instead they are now simply spirit drinks which have totally different rules and therefore a much lower production cost. They're not necessarily pure wine spirits and they're much younger than the original Brandy de Jerez.
Together Soberano and Veterano were responsible for roughly half of the production figures of Brandy de Jerez, so suddenly the D.O. faced a major decrease of their market impact. The problem however is the fact that brand names and labels remained almost identical, so the general public still thinks of these popular brands as proper Brandy de Jerez. Moreover they are distributing different strengths to specific markets, causing even more confusion. As a result it became increasingly difficult for artisan producers to underline their own high quality standards and explain why their products have a higher price.
The current annual production of Brandy de Jerez is around 20 million bottles per year (2014), of which around 35% are exported. Ten years earlier, the sales volume was still over 80 million bottles. Although it's a drink in decline, mostly appreciated within Spain, it's certainly worth discovering. It works nicely on its own, with chocolate or a cigar, or mixed in cocktails.
For more information on brandy, see the official website http://www.brandydejerez.es/en
Brandy reviews