Brandy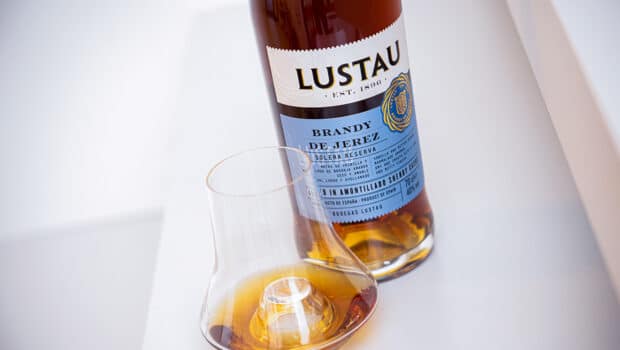 Published on June 7th, 2021 | by Ruben
0
Brandy de Jerez – Solera Reserva (Lustau)
The Brandy Solera Reserva is 3 years old and uses Amontillado casks for maturation
This Solera Reserva is the youngest Brandy de Jerez in the portfolio of Lustau. It is matured in casks that were previously seasoned with Amontillado sherry. The seasoning means that new oak casks are first filled with a young Amontillado sherry, which takes out the rough edges of the virgin oak and impregnates the wood with the Amontillado flavour, so to speak. After that the Amontillado is poured out and the young brandy goes in. Like sherry, Brandy de Jerez is aged in a solera system which gradually blends and ages spirit of different ages.
Like most Brandy de Jerez, this Brandy Solera Reserva is distilled from Airén grapes (not Palomino), harvested and distilled in central Spain before it moves to Jerez for ageing.
Besides this 3 year-old, Lustau also has a Solera Gran Reserva of 10 Years (Oloroso casks), a Solera Gran Reserva 'Finest Selection' of 15 Years (Oloroso + PX casks) and a Solera Gran Reserva Familiar of 25 Years (Oloroso + PX casks).
The brandy range was recently given a makeover, with beautiful textured labels that wouldn't misstand on a Scotch whisky. It gives the bottle a more premium appeal. More info is found on the website of the Grupo Caballero.
Brandy de Jerez – Solera Reserva (40%, Lustau)
Nose: a nice mixture of toffee, grilled apricots and sweet vanilla pastry. Later it shows slightly more ethereal notes of orange peel and some blossomy hints. Toasted oak underneath, as well as some nutty notes (mainly walnuts and almonds).
Mouth: fairly sweet and smooth, focusing on oranges and marmelade. Toffee and caramel sweetness again, as well as some rum-like molasses and hints of golden raisins. Subtle oak spice in the background (pepper, vanilla), which leads to a drier, warming finish.
Availability: fairly good. The retail price is around € 13 in Spain: great value for money. In the rest of Europe, expect to pay around € 20-25.
Summary: A nice entry-level Brandy de Jerez. It's not very complex and the toffee sweetness tends to take the upper hand, but it's easily drinkable and at this price you'd be hard-pressed to find better value for money in other brandy regions.