Brandy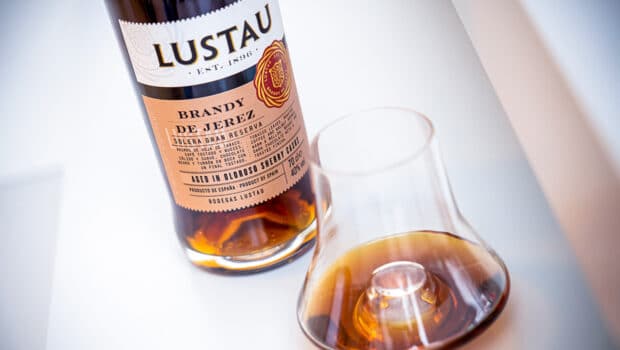 Published on June 9th, 2021 | by Ruben
0
Brandy de Jerez – Solera Gran Reserva (Lustau)
The Brandy Solera Reserva is 10 years old and uses Oloroso casks for maturation
This Solera Gran Reserva is a significant step up in the Brandy de Jerez portfolio from Bodegas Lustau. This is aged for 10 years (average age because of the solera ageing) in casks that are seasoned with Oloroso sherry before the brandy goes in.
The Oloroso is clearly noticeable in the colour of this brandy, which is darker and redder than that of its younger sister, the Brandy Solera Reserva.
Brandy de Jerez – Solera Gran Reserva (40%, Lustau)
Nose: definitely in a darker, weightier register than the Solera Reserva. There's less of the vanilla and orange aromas – instead more figs, chocolate and molasses. More spices like cinnamon. Beautiful hints of tobacco leaves. A toasted edge. Hazelnuts. This seems more mature, and the Oloroso profile will certainly appeal to whisky lovers. In fact you could almost mistake it for a sweeter version of a Macallan for instance.
Mouth: same impressions as on the nose. A sweet Oloroso profile, even a little sweeter than the Solera Reserva, but it finds a nicer balance of sweetness and more grippy oak. More (dark) chocolate flavours, with mixed nuts (walnuts, chestnuts) and perhaps a hint of crème brûlée and turrón. The alcohol is very well integrated. The roasted notes mix with black Corinth raisins and some oak spice in the finish.
Availability: fairly good. Around € 20-25 in Spain, from Lustau's online shop, Vinissimus or Licors Grau for instance. Expect to pay around € 30-35 in the rest of Europe.
Summary: This is a very rich brandy, sweeter but certainly more complex than the Solera Reserva. In fact this is my favourite brandy in their core range (never had the Reserva Familiar). I think they should do a special edition of this brandy at 43% or 46%, which would really convince whisky lovers.