Brandy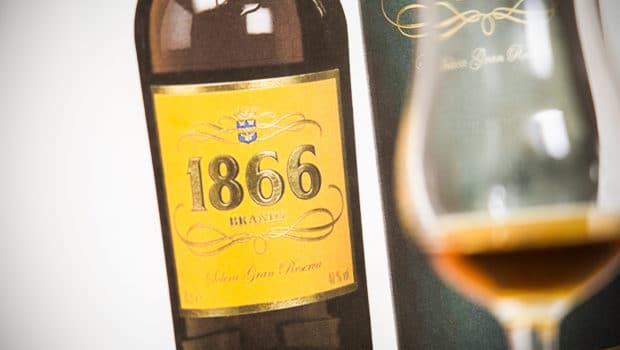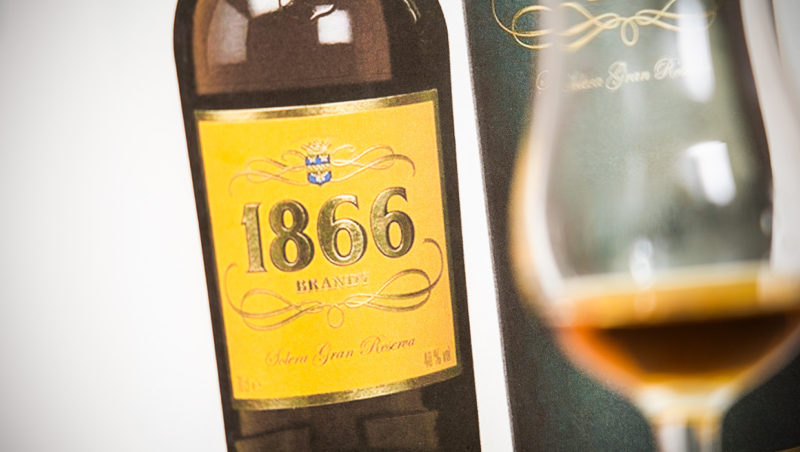 Published on August 22nd, 2019 | by Ruben
0
Brandy 1866 (Osborne)
Brandy 1866 originated in Malaga but is now marketed by Osborne
Over the years Osborne has accumulated a whole range of sherry brandies. Some of them originated in the firm (like the iconic Veterano and Magno), but many brands were taken over from other bodegas, such as Domecq or Agustín Blazquez.
Nowadays their portfolio exists of the younger Veterano and Magno (sometimes Brandy de Jerez, sometimes simple spirit drinks depending on their ABV and age), the lower-end Carlos III and Felipe II (Brandy Solera Reserva, under 3 years of age) and the more up-market Carlos I, Alma de Magno and Conde de Osborne (Brandy Solera Gran Reserva, aged for 3 years or more).
However they also have this Brandy 1866 which does not originate in Jerez but in Malaga. It was created by Bodegas Jiménez y Lamothe in the late 19th century. As one of the biggest distilleries of Spain at the time, they exported brandy, triple sec, anise and other liqueurs all over the world, becoming a provider of the Royal House of Spain. Back then they were already using wines from La Mancha as the basis for their distillates. The bodega was acquired by Larios in 1918, was later passed on to Pernod Ricard and then – with the dismantling of Domecq – to Osborne in 2008, along with Carlos I, Carlos III, Felipe II and a dozen of other brands.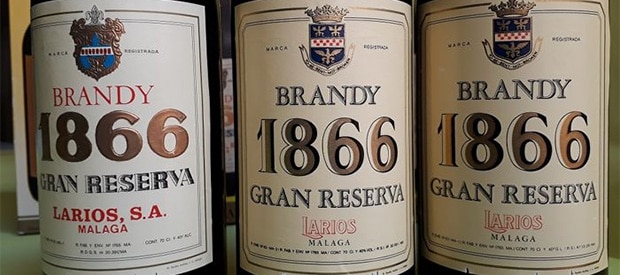 Larios Coñac
Two of the well-known Larios brandies were Tres Estrellas and 1866. Back then it was still called Coñac 1866, obviously long before the protection of geographical indications under EU law in 1989. Jerez and other regions of Spain have often tried to ride on the wave of other popular drinks, producing their own cognac or even 'vermouth estilo Champagne'.
Little is known about the product itself, except that it is produced from Airén grapes from La Mancha and aged in a system of criaderas and solera.
Brandy 1866 becomes Brandy de Jerez
In 2022 an updated design was presented with a clear Brandy de Jerez statement on the label. They claim Osborne has been able to conserve and maintain the essence of this brandy intact under the Brandy de Jerez designation. I understand it is now a new product with the "same essence"? The new website says it is aged in a solera system of 16 scales, now with an average age of 12 years for the final product.
I find it a little strange that a Málaga-based brandy that wasn't certified to be a Brandy de Jerez can be "transformed" into a premium sherry brandy with certification. Let's assume they have greatly upgraded the liquid itself too. Mind that this review was written based on the old version (bottled +/- 2016).
Brandy 1866 Solera Gran Reserva (40%, Osborne, Brandy)
Lighter in colour than most other brandies from the sherry region.
Nose: rather oaky, with pencil shavings and peppery notes. Hints of vanilla, orange peels and brown sugar. Underneath is an alcoholic note, making it a bit rougher than I'd like.
Mouth: medium body, fairly sweet and oaky. There's a vague fruity note (maybe orange or peach candy), light hints of Oloroso (dried fruits, raisins, light nuts) and plenty of caramel and cocoa. Some mintiness from the wood as well.
Availability: can be difficult to find. Around € 50 in Spain, closer to € 60 in other markets.
Summary: Probably meant to be a good mixer, but it lacks depth and refinement to be enjoyed straight. I prefer their similarly priced Carlos I Imperial for instance, but maybe I should look for a new bottle and see whether it has been improved.