Oloroso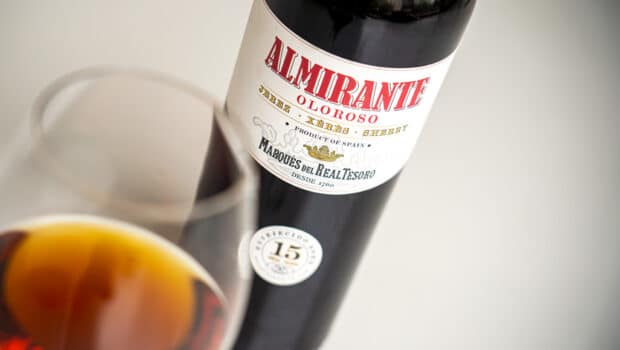 Published on February 24th, 2022 | by Ruben
0
Oloroso Almirante (Marqués del Real Tesoro)
A round, silky Oloroso aged for 15 years
The origin of the Marqués del Real Tesoro winery dates back to 1897 when the grandson of the first marquis took over some soleras from the Count of Villacreces. These wines were already well aged at the time so the bodega could quickly build a name for itself, eventually becoming a supplier of the Royal House of Spain. In the mid 1980s the brand became part of the Estévez group, which also includes La Guita and Valdespino.
The Oloroso Almirante is one of the older wines in the line-up (together with the Amontillado del Principe of similar age). It ages in a traditional system of one solera and five criaderas.
It has been given an upgrade in 2017, with a nicer looking label and of course the 15 Year Old age statement. The price also increased a little.
Oloroso Almirante 15 Years (18,5%, Marqués del Real Tesoro, L20)
Nose: rather classic Oloroso aromas, perhaps slightly rounder (apparently sweeter) than others. Hazelnuts and walnut cake. Fruit pastry with prunes and dried pears, as well as cinnamon and toffee. I also find a brighter side, with candied orange peel and a nice minty aroma. Later it comes back to the nutty notes, with hints of nocciola and tobacco in the background.
Mouth: medium intensity and fairly low acidity at first. It's dry but it feels nicely glyceric with an (imaginary) hint of sweetness. Raisins, red berry jam, figs, dates and toffee. The fact that there is very little oak spice or tannins make this come accross a little younger than it actually is. An increasing acidity over time, with a subtle saline touch. Toasted nuts, leather and some umami flavours in the finish, slowly drying out.
Availability: definitely less available than Valdespino products, but you should still be able to get it in most European countries. A bottle goes for around € 18-22, which means it offers decent value for money. Try Bodeboca or Decántalo for instance.
Summary: This is a really good wine for people starting to explore the sherry universe. It's dry but fairly rounded and silky, I even found some Port-like flavours without the sugar of course. Always a pleasure to pair with cheese and other food.