Manzanilla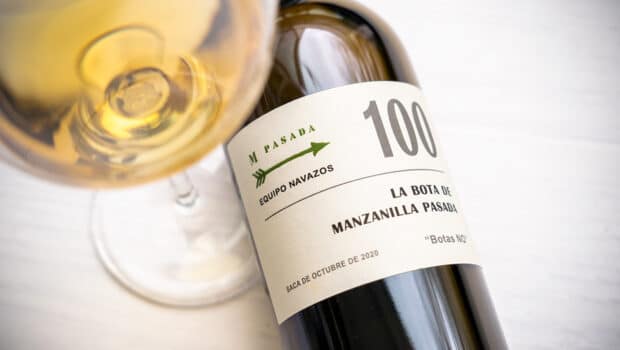 Published on April 9th, 2021 | by Ruben
0
La Bota de Manzanilla Pasada 100 (Equipo Navazos)
Equipo Navazos is celebrating its 15th anniversary with a cracking Manzanilla Pasada
La Bota 100 already! Equipo Navazos was founded 9 December 2005 (selecting the first La Bota de Amontillado) so they marked their 15th anniversary with this festive release No. 100.
Like all other editions ending in zero, it had to be a Manzanilla Pasada from the 1/15 solera of Rainera Pérez Marín, the bodega behind La Guita. This solera originated in 1986 when they acquired an old warehouse in the Calle Misericordia in Sanlúcar. Rafael Rivas, the cellarmaster of La Guita at the time, selected the 15 best butts of Manzanilla and set them aside as a private solera for the enjoyment of the family and as a back-up solera in case they would need to improve the final blend of La Guita at some point. In practice there were no sacas until La Guita was sold to the Grupo Estévez in 2007.
La Bota de Manzanilla Pasada 100 'Botas NO' is a combination of three casks from the 1/15 solera: the Bota Punta (see my review of La Bota de Manzanilla Pasada 50) and two other outstanding casks, all filled a tocadedos so without the usual 1/6th empty space, in order to lower the flor influence. They really wanted to bottle an exceptional wine but also a fairly large amount of bottles so that a lot of people could enjoy it.
The average age of this Manzanilla is around 14 years. As the layer of flor is thin and weak in these casks, you get some very mild oxidative effects and more concentration, climbing to 16,5% ABV.
La Bota de Manzanilla Pasada 100 'Botas NO' (16,5%, Equipo Navazos, Oct 2020, 2600 btl.)
Nose: great complexity. We get warm hay and sandy beaches, with some dried seaweed and a lot of dried fruits. Toasted almonds, even a sweetish hint of dried apricot and caramelized hazelnut. When presented blind, I could have thought this was a young Amontillado, although there's still a firm saline backbone, with iodine, resinous notes and traces of flor.
Mouth: very full and potent, very saline and umami. Big briney notes, buttered toast, a lot of walnuts and salted almonds again. A racy wine with a high level of salty and bitter notes, but with a nicely mature side and the first hints of mellow Amontillado character. Think bruised apples, a hint of polished wood, citrus peels and very light toffee in the background. Despite the intensity and minerality, it finds a really balanced elegance in the end. Very long finish, with a great warmth.
Availability: less limited than some of the previous releases, but it's not cheap. Around € 60-65 for a 50cl bottle, see Coalla Gourmet or Bodeboca or Vila Viniteca for instance.
Summary: A rather sensational 100th release, totally in line with the previous high quality releases. A very intense wine, very much at a crossroads and a true Manzanilla Amontillada like in the old days. A fitting celebration, just grab a bottle if you have the chance.