Manzanilla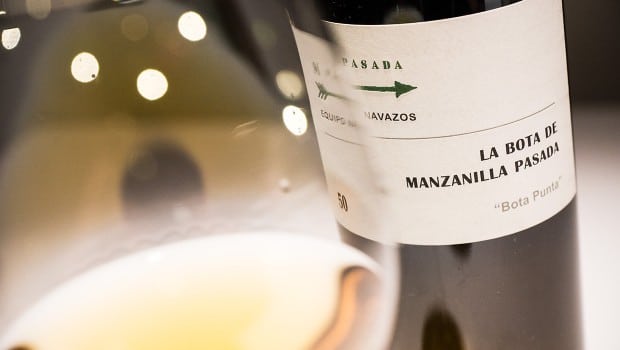 Published on December 18th, 2014 | by Ruben
0
La Bota de Manzanilla Pasada n°50 (Equipo Navazos)
Possibly the oldest Manzanilla you'll ever come across, and one of the most intruiging ones
This wine was first bottled by Equipo Navazos in 2008 as La Bota de Manzanilla Pasada #10 and then again as #20, #30 and so on.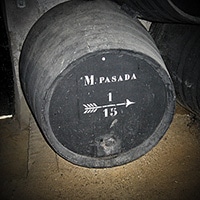 This is now the fifth saca of this wine and kind of a celebratory release, taken from a 15-butt solera which was started in 1986 by Rafael Rivas, who managed the La Guita cellars at Sanlúcar's Calle Misericordia until he recently resigned.
La Bota n°50 is a single cask release. The solera is located near the entrance of the bodega, and this specific cask is on the floor level, right next to the entrance doors. This means it's particularly open to sea winds.
A couple of things make this Manzanilla Pasada very special:
A low refreshment rate. Since the entire solera was meant to have a high average age, it only received the bare minimum of refreshments, just enough to keep the flor alive but nothing more.
It's a Bota Punta. As I've explained in my article about Bota Punta, this barrel at the end of a line is treated in a special way and contains the oldest wine in the entire solera. Also, being easily available for sampling, it's more susceptible to dust mites which add specific aromas.
A high filling level of the cask. It was not filled to 5/6th of the barrel (as common in the entire sherry region), but almost to the brim. This gives the wine less surface area to breathe, and the layer of flor will be smaller and thinner. Therefor it will not protect the wine entirely from oxidation.
La Bota de Manzanilla Pasada #50 'Bota Punta' 1|15 (16,2%, Equipo Navazos, 1000 btl.)
Nose: very sophisticated. Oats and hay at first, with hints of warm sand, chamomile and dried Mediterranean herbs. Big saline notes, with some iodine and medicinal touches around the edges. Also a clear citrus note, not so much the bright acidity of a lemon but a warmer, slightly dustier fruitiness that starts with grapefruit peel and moves towards dried apricot. Almonds. Some mineral and resinous notes as well. Lovely old, waxed wood as well. Highly complex, and lovely to witness the development as the temperature of your glass rises.
Mouth: a dry, complex ensemble of acidic, herbal and coastal notes. Hints of beeswax and butter. Salty liquorice. Bags of walnuts. Very warm, nutty aromas and something of toasted oak (even some whiffs of smoke). Both are not necessarily caused by the extensive ageing, but rather to the high fill level of the casks and the very light oxidation. It's impressive how all these aromas are integrated and displayed in the most elegant way.
Availability: very limited of course. Around € 60-70 for a 50cl bottle. That's probably the most expensive Manzanilla I've ever had, but kinda worth it. Keep an eye on future releases.
Summary: The intensity, width and the unique near-oxidative notes make this one of the most intriguing Manzanillas I've tried. I would buy a lot more if money was no object.