Oloroso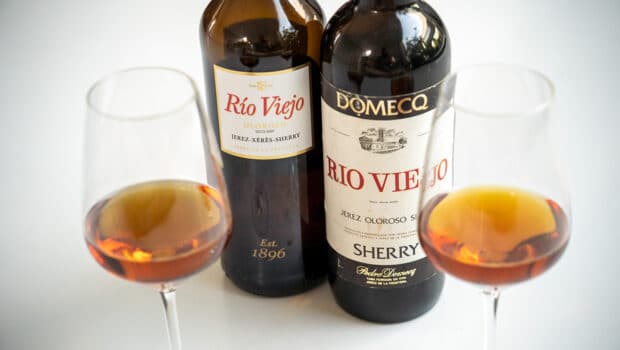 Published on September 17th, 2021 | by Ruben
0
Río Viejo Oloroso (Lustau vs. late 1970s Domecq)
Old Domecq wines always peak my interest, but old bottles are unpredictable…
Nowadays Río Viejo is one of the Oloroso sherries from Bodegas Lustau. They took over the solera from Pedro Domecq in 2008 together with some other wines like the Fino La Ina, Amontillado Botaina and PX Viña 25 (4000 butts in total). The wine is around 10 years of age.
Although everyone seems to know them as Lustau wines now, the wines don't actually include the name Lustau on their labels. At least not any more, they certainly did a few years ago (still at 19% ABV). Even on the back label it says Bottled for La Ina, Calle Arcos, Jerez. As if they don't want the old Domecq range to interfere with the brand Lustau in any way – the wines aren't mentioned on their website either. Hiding the producer is quite common for supermarket wines, but strange for such quality wines.
Rio Viejo from Bodegas Domecq
In any case the solera for Río Viejo was founded at Domecq in 1918. The name comes from an estate in Macharnudo where the grapes were sourced from. Back in those days Domecq had three well-known Oloroso wines: the dry Río Viejo as well as two semisecos Double Century and La Raza.
I bought two old Río Viejo bottles from the late 1970s in a wine auction. They had a very high filling level (always a good sign) and had perfect stoppers with a kind of plastic / fake wax seal. However one bottle turned out to be wrecked. It poured a dark latte colour and was totally cloudy, with lots of sulphury notes and boiled meat stock. Simply the risk of opening bottles this old. The other bottle (reviewed here) was much better, crystal clear with nice red hues instead of the brown tints.

Río Viejo Oloroso (20%, Lustau, L21)
Nose: classic nose on caramelized nuts (especially hazelnuts), prunes and toffee, followed by orange peels and brown sugar. Elegant top notes of oak polish and a puff of smoke in the background. Smooth and rather typical.
Mouth: technically dry but overall quite fruity and rounded, without any rough edges. Hints of red fruits, tobacco, almond and caramel. Nice flavours but it feels a little thin somehow. Some walnuts and dark chocolate too, as well as a light oaky note in the long finish.
Availability: quite good. Around € 10-15, see Vinissimus or The Whisky Exchange for instance.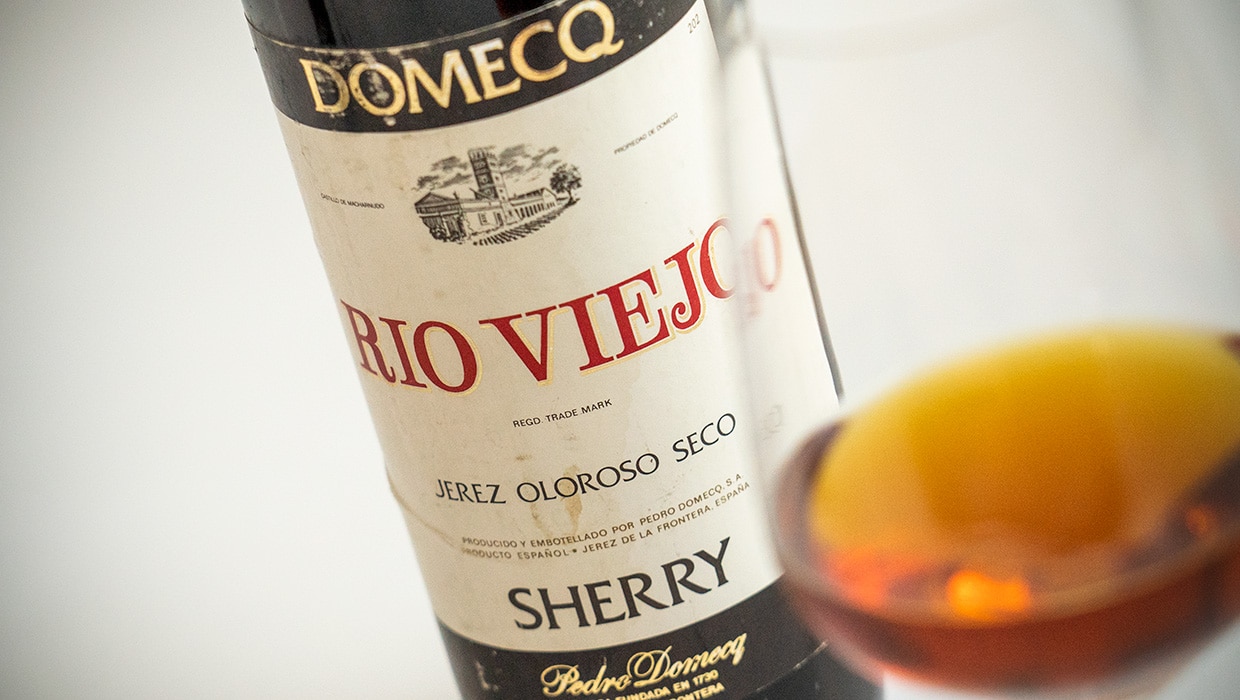 Río Viejo – Jerez Oloroso Seco (Pedro Domecq, late 1970s)
Nose: initially a slightly mushroomy profile as well, not flawed but not entirely fresh either. Some (lengthy) airing made it disappear. It grows a lot more nutty: hazelnuts, pecans and almonds, and still shows some of the volatile / varnished notes that you expect in fresh Oloroso as well. Then caramel, red berries and milk chocolate.
Mouth: even more roundness than the modern version, it wouldn't surprise me if this had a little sugar despite being Domecq's dry Oloroso. Toffee and chocolate, balanced by nice peppery hints. Fuller than the modern version, but also flatter, in a lower register and lacking the sharp edge of a fresh Oloroso. Still a slightly meaty hint in the background. Maybe not as exceptional as I hoped, but as always I'll revisit in a few weeks.
Summary: Rio Viejo is a fine Oloroso, even though it's a bit on the young side. Lustau's own Oloroso Emperatriz Eugenia certainly outclasses it. The 1970s version was fuller and richer, but also slightly flatter. It proves you never know what to expect from an old bottle.