Amontillado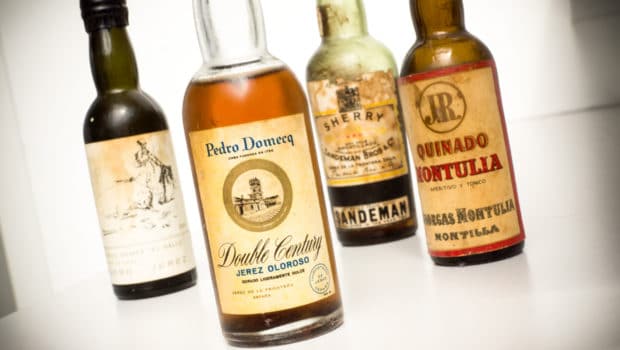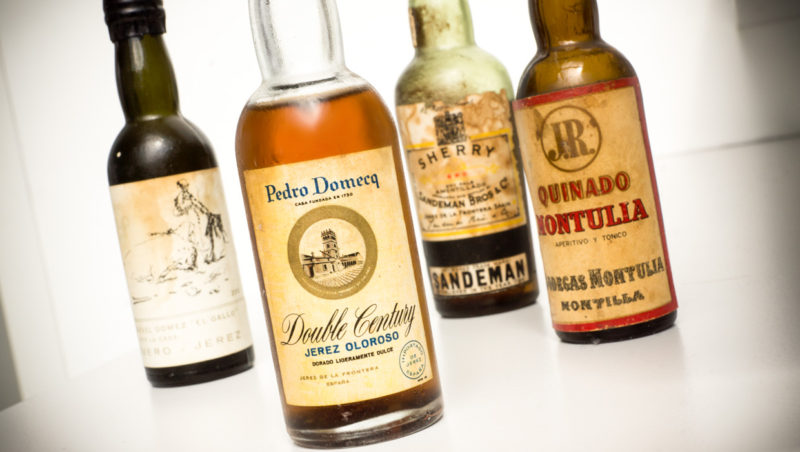 Published on August 3rd, 2017 | by Ruben
0
Old sherry miniatures (part 2)
Another bunch of tiny bottles released in the late 1960s
These are four more old sherry miniatures, all bottled in the late 1960s and part of a bigger lot I bought some time ago. See Old Sherry Miniatures – part 1.
We're seeing more big names: JM Rivero CZ, Pedro Domecq and Sandeman. Two Amontillados and an Oloroso, followed by something special from the neighbouring region Montilla-Moriles.
Mind that such old bottles will always contain some sediments: dark flakes at the bottom, black dots and often lots of stains on the glass. I would always try to decant the bottles and pour slowly, leaving the darkest sediments in the bottle. Some people prefer passing the wine through a cheesecloth or coffee filter, but I believe some of the flavours are in the sediments. If we are in favour of en rama sherry, then why would we be against some debris? In any case I was told they're not harmful.
Amontillado 'El Gallo' (JM Rivero CZ, +/- 1965)
Tiny T cork stopper with a lead foil cover. The cork seemed rather loose, but the filling level was pretty good and the liquid came out crystal clear.
This wine was made in honour of Rafael Gómez Ortega, nicknamed Gallito or El Gallo (the rooster), a famous Spanish torero (1862-1960).
Nose: excellent freshness, although it must have lost a bit of intensity. Great hints of almonds and polished woods, with some orange peel and caramel. Simply a high quality Amontillado, and very little indications of the fact that it was bottled such a long time ago. Perhaps a little rounder, sweeter, with more dried apricots.
Mouth: yes, this was a very good wine and it survived perfectly in this little container. The mineral backbone is quite powerful. Hints of ponzu sauce, with orange peel and salted almonds. A slight bitterness in the aftertaste, as well as a hint of burnt caramel.
Wines like this make it worth buying a couple of old bottles, once in a while. It may be a tad flatter than the original (I imagine) but still very good.
Dry Pale Amontillado (Sandeman Bros & Co, 1960s)
Small Jerezana bottle with a driven cork and lead foil cover. 
Nose: not so good. Quite musty and sulphury. Hints of stale water and tons of decomposing organics.
Mouth: medium dry  – this was a time when sherry had to be 'dry pale' regardless of its actual sweetness. Little to say, same organic, musty profile. Not pleasant.
You can't win 'em all…
Oloroso 'Double Century' (Pedro Domecq, 1960s)
T stopper with tin foil. The cork broke off so I had to pass it through a coffee filter.
Double Century used to be the biggest brand of Domecq. It was introduced in 1930 for the bicentenary of the company. It was lightly abocado (contrary to their dry Rio Viejo). Later versions say 'full golden Oloroso'.
Nose: medium intensity, with raisins and dates as well as some liquorice and cigar boxes. Hints of caramel coated nuts and milk chocolate. Honey. After some time it also shows an aromatic note that's close to a young PX. All good.
Mouth: quite good again, although it feels a bit capped. Lots of pear syrup (stroop), butter pastry and chocolate. Too bad there are hardly any spices to balance it. Just a smoky hint in the background.
A decent Medium, but based on its reputation, I figure it has lost some of its brilliance.
Quinado Montulia (Bodegas Montulia, +/- 1971)
Quinado is a liquorous wine aromatized with quinine, the extract from the bark of the Cinchona tree. It has a bitter taste but also positive medicinal effects like lowering fevers and stimulation digestion. Around Jerez it is usually named 'Jerez Quina' and it usually consists of PX blended with quinine and often other ingredients like gentian, honey… not unlike a vermouth or herbal liqueurs like Fernet-Branca. It was a kind of all-round medicine, very popular from the 1850s to the 1970s. Some bodegas like Valdespino still produce a modern version.
Bodegas Montulia was located in the Montilla-Moriles region. It had financial difficulties and closed at the end of the 1980s. It was taken over by Nacisa, they still have a range of wines called Montulia.
Nose: interesting, it has the usual dried fruits of a PX but also lots of coffee notes and something of green herbs.
Mouth: whoo, very acidic and bitter. As if you added dashes of PX to a bottle of grapefruit juice. Hints of tonic water indeed, but especially the acidity cuts to the bone.
I must admit I'm no expert in Quina but this was not really my thing.