Background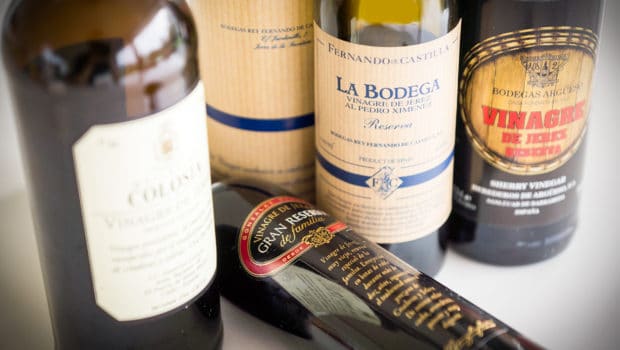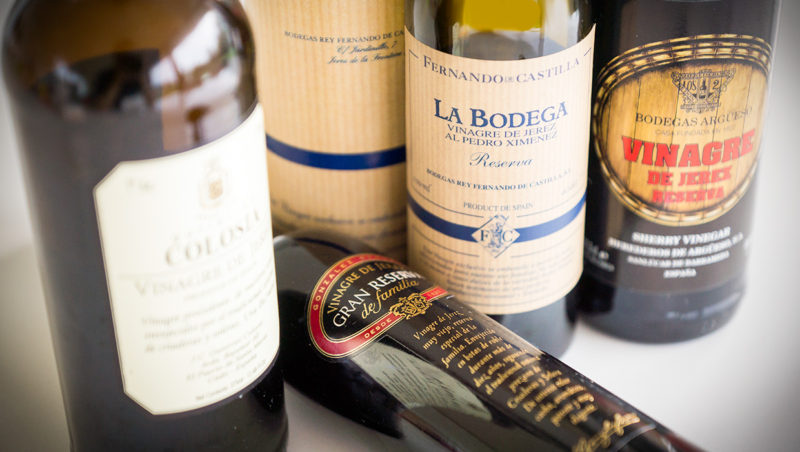 Published on May 27th, 2016 | by Ruben
0
Sherry vinegar – Vinagre de Jerez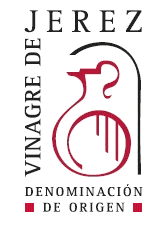 Surprised to see vinegar on this site? You shouldn't be. The production of sherry vinegar is an important business element for many bodegas, and its production shares some interesting similarities with sherry wines. It is renowned in the gastronomy world for its intense and complex flavors and should be in the cupboard of every (amateur) chef.
In the history of sherry production, vinegar (vin aigre or sour wine) used to be seen as a faulty product. Acetic fermentation is to be avoided in traditional sherry wines and sour casks were quickly removed from the bodegas to avoid spoiling the other stocks. Although it had been produced and exported since the 19th century, it wasn't until the 1940s producers like Páez Morilla and Pilar Aranda (now Alvaro Domecq) started to see the potential of carefully aged vinegar. Nowadays all major bodegas produce sherry vinegar (see a list of registered bodegas) by letting bacteria convert alcohol into acetic acid in (unfortified) wines.
D.O. Vinagre de Jerez
Since 1994, Vinagre de Jerez has its own Denomination of Origin (D.O.) so it can only be produced anywhere within the sherry triangle (the production zones of wines and vinegar coincide). Ageing is only possible within the municipalities of Jerez de la Frontera, Sanlúcar de Barrameda and El Puerto de Santa María. The solera system is also registered in the D.O., and while most sherry vinegars are produced this way, it's not obligatory. Sherry vinegar must have a minimum acidity of 7 degrees.
Sherry vinegar is loaded with complex aromas and flavours. The dried fruits, nutty notes and spices that are present in good sherry wine, can also be found in sherry vinegar. Around 60 distinct aromatic compounds have been identified (source), a unique fingerprint which clearly sets it apart from other vinegars. It's somewhere in between a white and red wine vinegar, which means it's hard to substitute with another type in recipes.
Types of sherry vinegar
There are three categories of sherry vinegar, based on the period of ageing in American oak casks:
Vinagre de Jerez has a minimum of 6 months of ageing
Vinagre de Jerez Reserva has a minimum of 2 years of ageing
Vinagre de Jerez Gran Reserva has a minimum of 10 years of ageing
Another categorization can be made based on the base wine / grape:
Palomino: the standard category for sherry vinegar. Sometimes this type is blended with P.X. to gain a bit of sweetness.
Pedro Ximénez: logically, this vinegar will be a bit sweeter than Palomino (although never as sweet as Balsamico), with more raisiny touches.
Moscatel: semi-sweet and quite rare.
Since 2012, it is allowed to sweeten sherry vinegar by adding a bit of Pedro Ximénez or Moscatel wine. This is called Vinagre Dulce.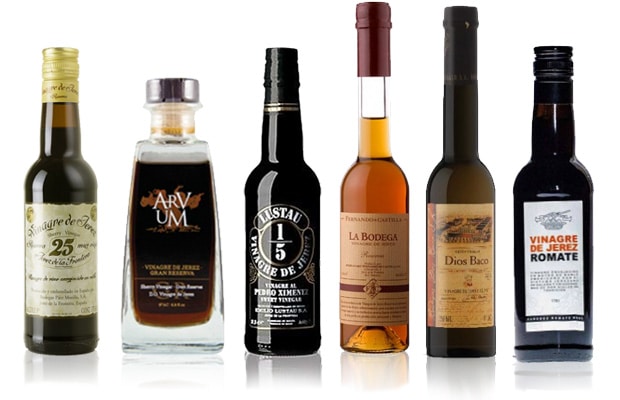 Let's have a look at four examples that I have in my own kitchen (left to right in the picture below):
Argüeso Vinagre de Jerez Reserva
From Bodegas Argüeso. Hints of musty oak on the nose. A bit sharp and burning. In between a classic wine vinegar and the more typical sherry vinegars. Around € 5 for a 37,5 cl bottle.
Gutiérrez-Colosía Vinagre de Jerez
From Gutiérrez-Colosía. Slightly darker with brown hues. Smoother on the nose, but also more vinous in the sense that there are more Fino or Amontillado-like aromas. Quite nutty. Similar thoughts while tasting: this is clearly from the sherry region. Nice nutty / woody aftertaste. Around € 5 for a 37,5 cl bottle.
Fernando de Castilla 'La Bodega' Vinagre de Jerez Reserva (Pedro Ximénez)
From Fernando de Castilla. I believe this is the same as their Reserva vinegar, with some PX wine added. Smooth and mellow. Very light hints of dried fruits. Sweeter indeed, especially on the palate. Subtle liquorice in the aftertaste. Around € 15 (smaller 25cl bottle).
González Byass Vinagre de Jerez Gran Reserva 'de Familia'
From González Byass. Aged for at least 10 years in a solera system. This used to be the family reserve of the bodega owners. Definitely more complex than the other. Very rounded nose with hints of old wood, spices. Almost drinkable, even though it's 10 degrees, with a real sense of old sherry wine. Touches of coffee in the aftertaste. A bit closer to Balsamico, but far more delicate. Around € 18 (smaller 25cl bottle).

Conclusion? I would always go for a properly aged Reserva or Gran Reserva. Complexity is much higher (especially with PX) and the smoothness is impressive compared to younger examples of sherry vinegar. I would also keep buying from established sherry bodegas that also produce wines, instead of the white label supermarket brands. Not because they're necessarily higher quality, but to support traditional bodegas in their entire production.
As a side note, although I understand that old Balsamico is a lot more expensive, it surprises me why you pay € 60-70 per liter for a 10 years old sherry vinegar. You can get 30 years old wines for that money. No wonder some bodegas were saved by their vinegar in times of low wine sales.