Vino de Pasto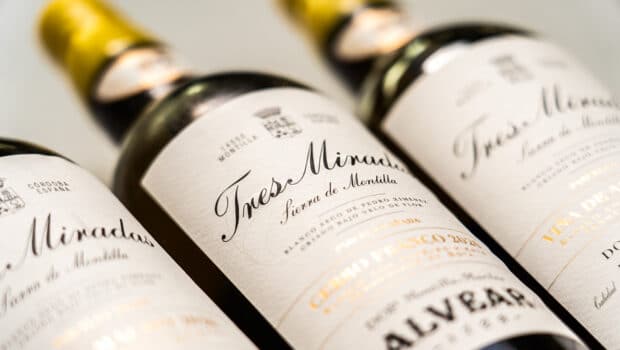 Published on September 29th, 2023 | by Ruben
0
Tres Miradas 2020 (Alvear)
Tres Miradas is a series of aged white wines made by Bodegas Alvear, supposedly the oldest winemaker in Andalusia. In the sherry region we've seen a surge of terroir-driven white wines in the past few years, but Montilla-Moriles always had a more continuous history of unfortified wines. In fact these lower-strength wines are part of the same D.O. Montilla-Moriles whereas the D.O. Jerez is exclusive to wines above 15% ABV.
Tres Miradas: exploring terroir differences
Tres Miradas offers an interesting insight in the different terroirs of the Montilla region. Each wine is made with Pedro Ximénez grapes from different plots. Albariza soil is a key element, but also marked differences in altitude and the use of tinajas. Alvear really understands the elegance and freshness of this mountain region, which is 200 meters higher than Moriles.
The series was first launched in 2017 as a collaboration between maverick winemakers Envínate and Alvear. In 2019, after two vintages, Ramiro Ibáñez took over as the winemaking consultant for the series. Since then the project is even more focused on terroir, leaving out the skin maceration experiment of the early years.
In Montilla this type of wine is often simply called a Vino de Pueblo. In Jerez you'd use the name Vino de Pasto but that doesn't have much traction in the Montilla-Moriles region.
The winery also started a Fino solera in 2019, with wines from the best vineyards, with the idea to create a new Fino and eventually an Amontillado wine based on Tres Miradas.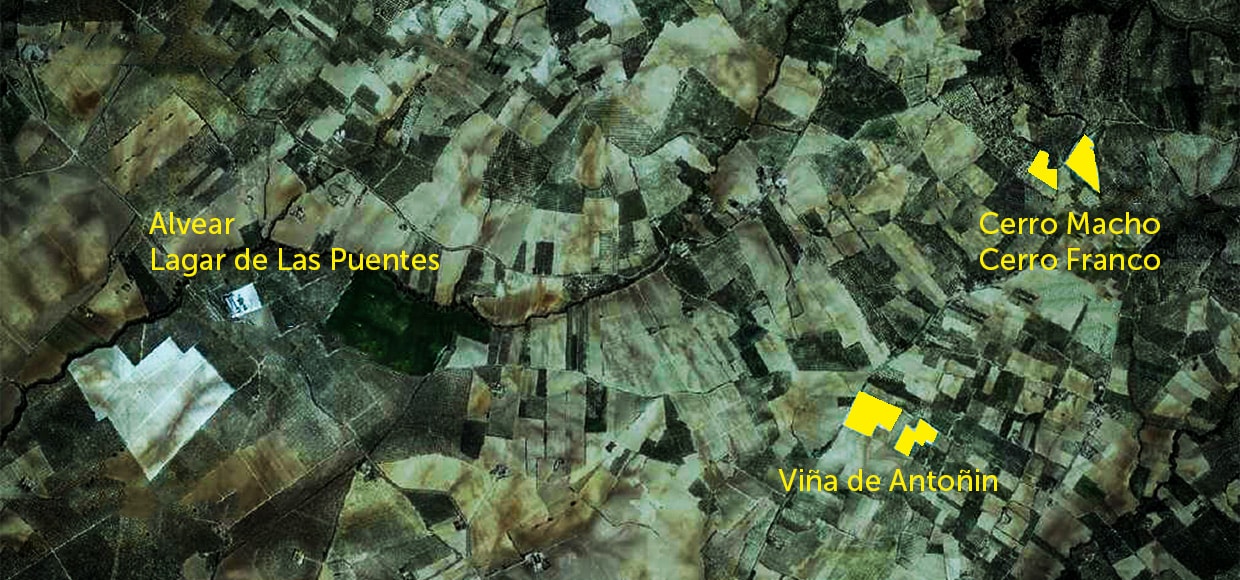 Cerro Macho / Cerro Franco / Viña de Antoñin
Cerro Macho and Cerro Franco are the highest plots in the Sierra de Montilla, near the edge of Riofrío Alto. Both are at an altitude of around 600 meters. While Cerro Macho is oriented to the east, Cerro Franco has a south-east orientation  The third plot is Viña de Antoñin, a bit more to the south and northwest-facing, around 525 meters of altitude. All soils are mostly limestone-based albariza. Grapes are taken from old vines, picked quite early to get more freshness.
Fermentation took place in old botas that used to belong to the solera of the Fino CB. After the malolactic fermentation the wine stayed on the same casks, under a light layer of flor, for 22 months.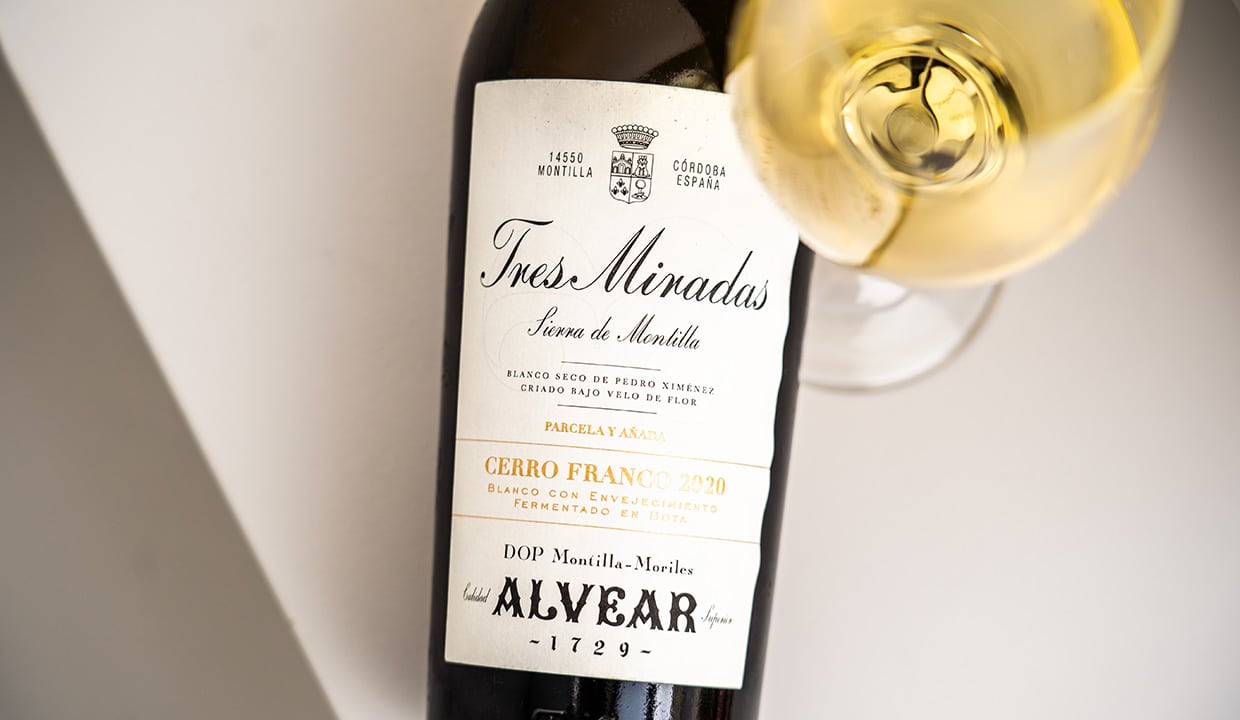 Tres Miradas – Cerro Franco 2020 (13,5%, Bodegas Alvear L21)
Nose: yellow apple, juicy pear and yeasty sourdough up front. Also stone fruits. Then dried herbs and traces of oxidation are coming out, as well as hints of Fino. Almond and walnut. Some of the chamomile notes of Manzanilla too, in a slightly floral way.
Mouth: even though this is a dry wine, the roundness and implied sweetness of Pedro Ximénez is noticeable. Quinces and ripe apple. Nice acidity and lemon zest to balance this character. In the background there is a mineral hint of gravel, hay and chalk. Hints of youngish Fino wine. Some leafy notes and saline elements in the end.
Availability: still available from the Alvear website or retailers like Lavinia or Xpertvinum. Around € 27.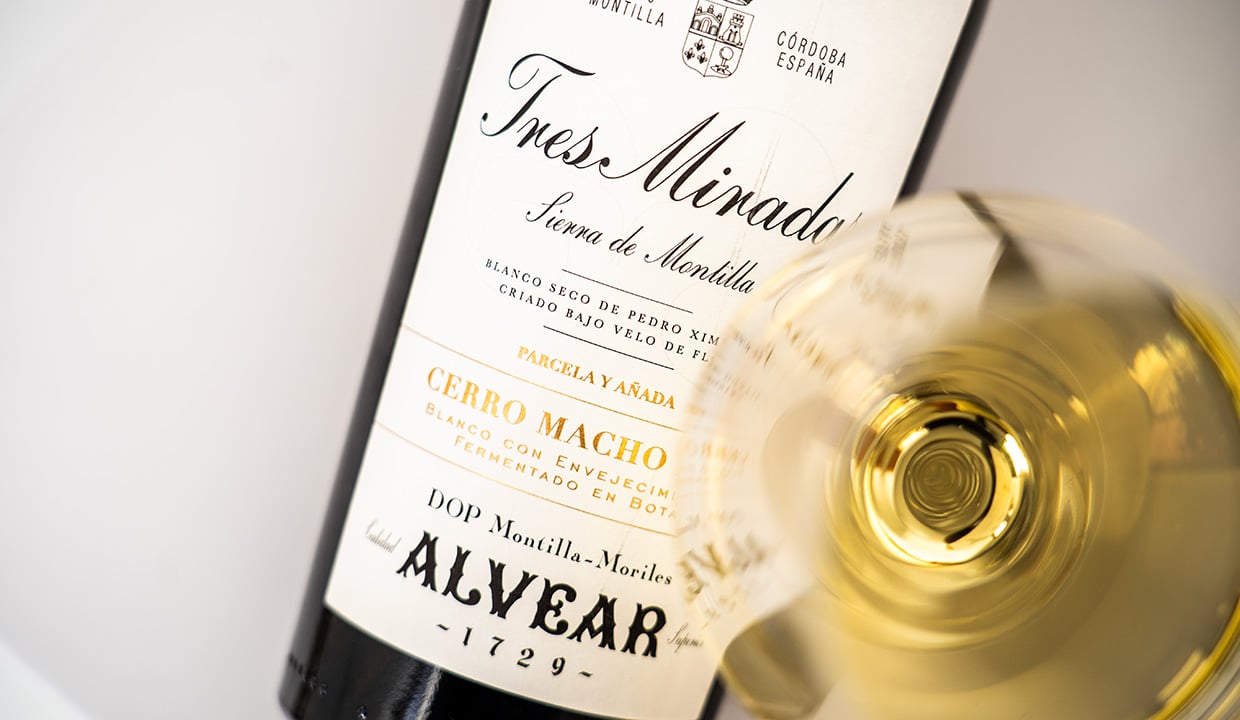 Tres Miradas – Cerro Macho 2020 (13,5%, Bodegas Alvear L21)
Nose: a slightly more dusty and earthy profile, in a nice way. Hints of broken branches, nice flor, minerals and whiffs of sandy bodega floors. Then more bread crust instead of dough. Yellow and green apples are clearly present, but there are less stone fruits here. Almonds and wild fennel.
Mouth: again a hint of quince and pear before the nuttier side appears. Roasted almonds. Lemon in the background – acidity seems a tad higher than Cerro Franco. There's more body and punch, bringing it slightly closer to a Fino in my opinion. It has a more vertical character than the others. A lightly salty touch in the finish.
Availability: still available from the Alvear website or retailers like Mi Sumiller or Xpertvinum. Around € 27.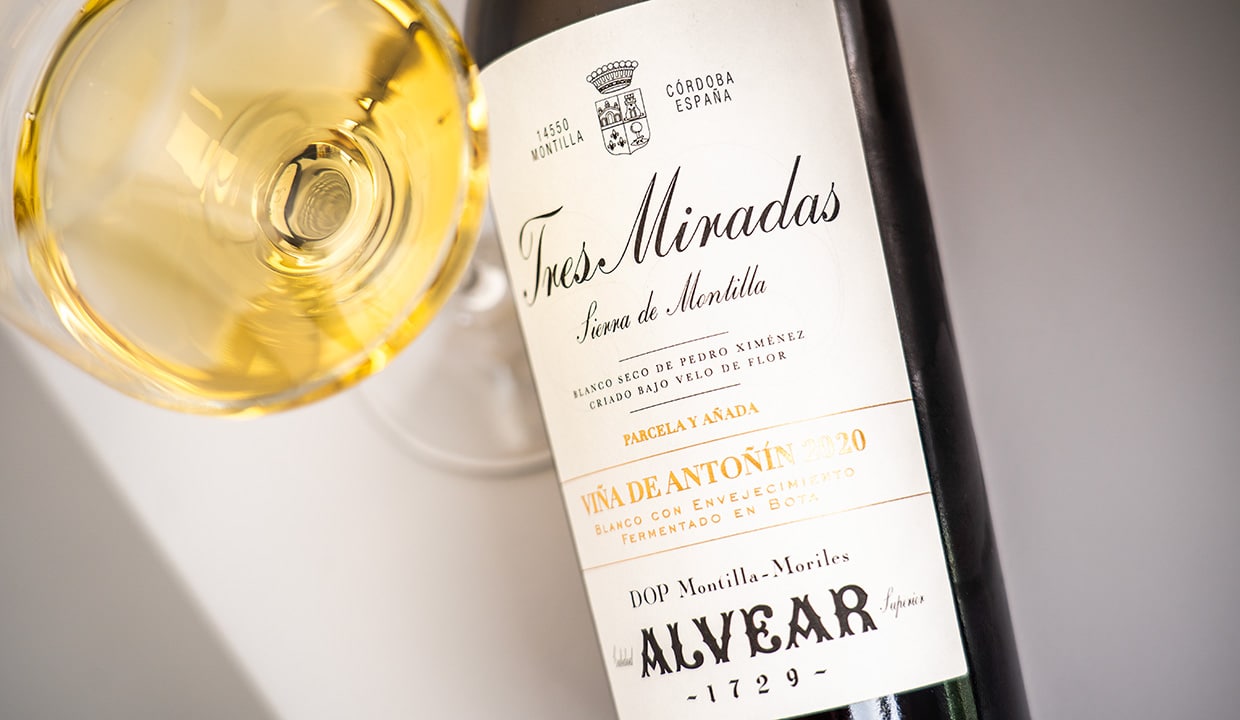 Tres Miradas – Viña de Antoñin 2020 (13,5%, Bodegas Alvear L21)
Nose: perhaps slightly more subtle than Cerro Macho, but very balanced and voluptuous. There's a sweet herbal quality (fennel and anise) that I like very much. Underneath there is the apple warmth, dried wildflowers, even a little herbal honey. The aromatic elegance is quite impressive.
Mouth: the roundness is close to Cerro Franco. Quinces, apples, pears, maybe a hint of membrillo. Then it moves towards citrus fruits, like lime and sweet grapefruit. Classic walnuts, herbaceous notes, fairly moderate acidity. The flor notes are beautiful here, never overpowering but clearly there. A hint of orange peel bitterness in the end.
Availability: still available from the Alvear website or retailers like Xpertvinum. Around € 27.
Summary: Viña de Antoñin is our favourite, while Cerro Franco and Cerro Macho are basically a choice between roundness and more intensity. Each wine is an interesting exploration of the Pedro Ximénez grape and how it expresses its terroir. High drinkability and decent complexity makes this a very successful trio.