Background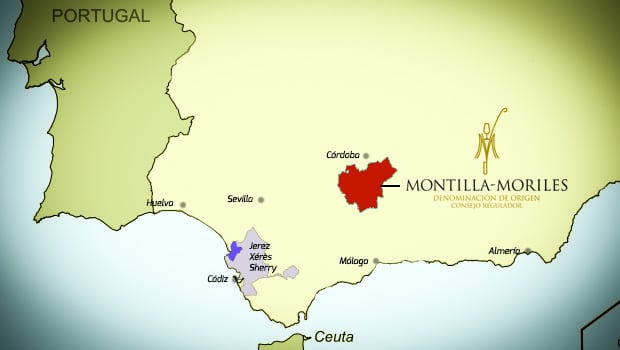 Published on July 23rd, 2015 | by Ruben
3
Montilla-Moriles
You could say the D.O. Montilla-Moriles is the cousin of the D.O. Jerez-Xérès-Sherry. It may be lesser known by the general public, but both regions have a common tradition. They produce similar wines in the same variety of styles and they share most of the production methods. It's impossible to avoid their resemblance, yet there are also a few interesting differences.
First of all, the wines from Montilla-Moriles cannot be called sherry – even though they can be virtually identical. The reason for this is simply because this name is protected by European law and can only be used for wines from the designated sherry area. Montilla-Moriles is about 150 km. away from Jerez. It lies to the south of Córdoba, with the small towns of Montilla and Moriles at its centre. The region is generally a bit drier than Jerez, with more drastic diurnal shifts, less rainfall and particularly hot summers.
History and characteristics of Montilla-Moriles
Winemaking in this region goes back just as long as in Jerez. In the 19th century, the wines from Montilla were already highly regarded (especially the ones from the town of Lucena) and they were generally sold as a style of sherry. Since 1932 the name Montilla-Moriles is protected by Spanish law and a Consejo Regulador was founded in 1944. For more background information, see the website of the D.O.
The best parcels in Montilla (especially in the zones Sierra de Montilla and Moriles Alto) also lie on albero, as albariza is called locally. The big difference is that the vast majority is planted with Pedro Ximénez grapes, used for both sweet and dry wines, rather than the Palomino Fino which is dominant in the sherry region. In general this is regarded as a slightly courser grape which holds more sugar. Therefore the juices have a higher potential in alcohol contents and a lot of wines that need fortification in Jerez, can be produced in Montilla-Moriles without fortification (especially the dry types). Other white grapes like Moscatel, Airén or Verdejo are also allowed.
Wines from the D.O. Montilla-Moriles
The wines are categorized in the same way as sherry: there is Fino, Amontillado (note that this name originally means Montilla-like), Oloroso and of course sweet Pedro Ximénez, the style on which the region built its fame. It is made from grapes that are partially dried in the sun before pressing.
There is an important interaction between the two regions when it comes to Pedro Ximénez wines. Nowadays virtually all of the wines used to refresh the PX soleras in Jerez, El Puerto and Sanlúcar are produced in the Montilla-Moriles region, as there is very little Pedro Ximénez grown in the sherry region.
The rules of the D.O. Jerez even have an exception for this practice, so PX wine from Montilla can legally be called PX sherry after spending at least two years in a bodega in Jerez. The underlying reason is the fact that Montilla-Moriles has better conditions to make this type of wine. It is more inland and has a lower humidity. If grapes are left to dry in the sun around Jerez, there's always a risk of rotting when the humidity sets in at night.
Solera system and tinajas
Most of the wines in Montilla-Moriles are produced by the system of soleras and criaderas, although the concept of vintage wines or añadas is still more common there than in Jerez. Especially Pedro Ximénez wines are often sold with a vintage indication. Some of them go back a long time, e.g. Bodegas Toro Albalá currently have vintage wines dating back to the early 1900s.
In the old days tinajas (large earthenware or concrete vessels) were used to ferment the wines, some of them up to 10.000 litres and partly below ground, but today most winemakers use temperature-controlled stainless steel tanks.

Differences between Montilla-Moriles and Jerez-Sherry
Fino and Amontillado from Montilla-Moriles also mature under a layer of flor, which grows more slowly and stays thinner than in Jerez because of the distance to the sea. It gives similar characteristics to the wine, but as it's less vigorous and consumes less of the glycerol, a Fino from Montilla-Moriles will generally maintain more of its body and structure. This also makes it appear a little fruitier and sweeter than a Fino de Jerez and makes them reach a higher age.
The fact that they are able to reach 15% of alcohol without additional fortification has some mixed results. Some say it adds to the complexity of the wines. Others prefer the spikey intensity of fortified Jerez wines, which is replaced by a more mellow profile in Montilla wines.
Bodegas in Montilla-Moriles
There are currently 63 bodegas listed in the region. This is definitely the top-3 in terms of visibility outside of Spain (in alphabetical order):
Other bodegas are also interesting but their wines are mostly available locally:
Delgado
Lagar Blanco
Navarro
Robles