News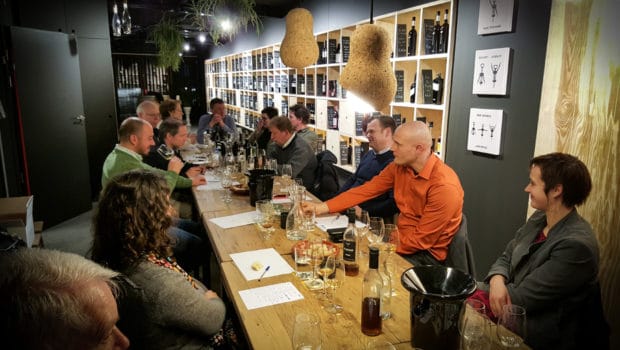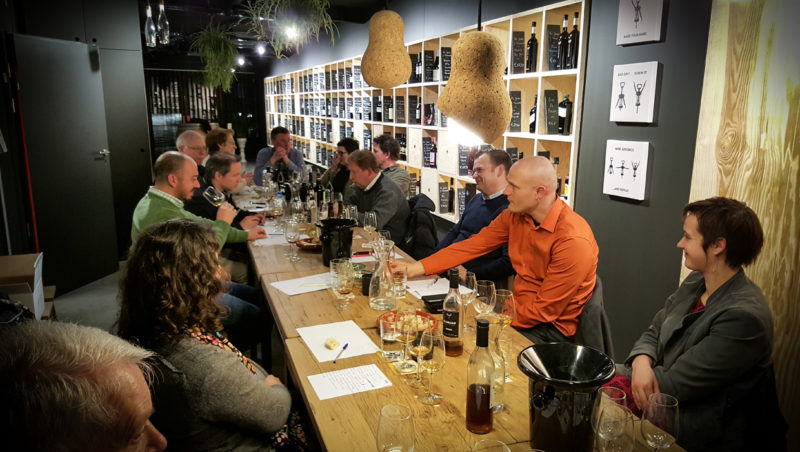 Published on February 22nd, 2016 | by Ruben
0
Ramiro Ibáñez at Xpertvinum
Last week-end I was invited to a private tasting in the beautiful wine shop Xpertvinum (near Mechelen, Belgium). It was a unique chance to meet with Ramiro Ibáñez, the whizzkid of sherry who works as a consulting enologist for different bodegas (La Callejuela, Juan Piñero, Primitivo Collantes) while at the same time working on his own experimental projects.
Recently he presented an essay (with his friend Willy Pérez) about vintage sherry and how this was replaced (fairly recently) with the solera system – a document which will get a second part soon, as well as an English translation by the way. It turns out the tasting at Xpertvinum was perfectly timed in this respect, because we would be comparing a lot of different (semi-)sherries, all matured as vintage wines (or season wines as Ramiro calls them).
Pitijopos: exploring different pagos
The first part of the tasting was going through the Pitijopos, a series of six unfortified table wines (six mostos if you like), produced in a similar way with just one big difference: the grapes were sourced from different pagos in the sherry triangle, each with their own characteristics. I'll dedicate a separate article to these wines, so I won't go into details, but let's say these wines were very different and a solid proof for the fact that the unique character of sherry starts in the vineyard and is not entirely shaped in the bodega, as they tend to say. Update: read more about this in my article Albariza revisited: Antehojuela, Tosca Cerrada, Barrajuela
UBE, Manzanilla de Añada and Encrucijado
The second part consisted of four pairs of vintage wines, each chosen to highlight differences within the sherry region.
UBE 2013, a white wine from a small parcel of pre-phylloxera Palomino vines near the sea, in the pago Carrascal. Not just Palomino Fino but different sub-varieties. A fruity wine on the nose, with a lot of freshness and acidity, and soft ashy notes. On the palate it's more clearly Sanlúcar, with almonds and more mineral notes.
This was paired to the La Barajuela Fino 2013 from Bodegas Pérez (which is yet to be bottled, we tried a recent sample). Contrary to UBE, which is made in a lighter Sanlúcar tradition, La Barrajuela was a more classic, powerful Fino in the Jerez tradition. Much more acetaldehydes (400+ mg/l), more alcohol too. A very impressive, highly concentrated Fino. It will be bottled in a few weeks and will be the first unfortified Fino of recent years. I love it!
Two wines (two "palmas") from the same season yet so different! Ramiro traces the differences back to the fact that Sanlúcar has always produced wines for local consumption whereas Jerez has focused more on export, which means other taste preferences and specific choices to ensure stability during transport.
The second pair started with the Manzanilla de Añada 2012 1|11 which we already reviewed. A very fine, rather mellow and unfortified Manzanilla. This was compared to a Fino de Añada 2012 from Williams & Humbert (cask sample). The Fino was a palma cortada, which received fortification and grew to become a Fino Amontillado, with subtle hints of caramel and praline.
Next we had two more wines from Williams & Humbert: the outstanding Fino En Rama 2006, which managed to blow away everyone at the table, and a cask sample from an Amontillado 2003. This Amontillado received a second fortification and while it was good, the Fino En Rama is better.
The fourth pair were two Palo Cortados. We had Encrucijado MMXII which is made from an assemblage of different grape varieties and compared it to the Oloroso vintage 2001 from Williams & Humbert (light Oloroso or Palo Cortado… tomato, tomahto). They were hard to compare directly: Encrucijado is a young wine still making the switch from biological to oxidative ageing, while the Oloroso 2001 had made that switch a long time ago. Both really good though.

After this, we had a small intermezzo. Xpertvinum has recently bought two barrels of very old Oloroso which they're bottling under their own label. The first one is around 42 years old, the other at least 70 years! Both are excellent wines, very profound yet easily drinkable. Especially the 42yo is an absolute bargain at less than € 30. Highly recommended. We'll give them an in-depth review soon.
We concluded the tasting with Pandorga 2014, a Pedro Ximénez made in a historic way, with slow, natural fermentation and no fortification. A great wine: sweet but with enough acidity, unlike any other PX I've had. This one is about pears and apricots, rather than raisins or figs. In between a Selection de Grains Nobles from Alsace and a Moscatel from Valencia. Truly excellent.
A memorable tasting, very advanced and technical at times – plenty of food for our #sherrylover brains. The wines were impressive but the knowledge of Ramiro even more. Thank you, Xpertvinum. Expect a few in-depth articles here in the next few weeks.