Pedro Ximénez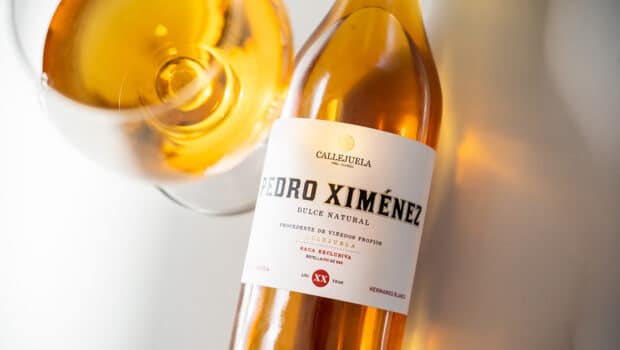 Published on September 23rd, 2022 | by Ruben
0
Pedro Ximénez 2020 (Callejuela)
Golden PX aged in stainless steel, without fortification
The vast majority of Pedro Ximénez wines from the sherry triangle are dark and deeply influenced by oxidative ageing. That's a shame, because I usually find younger examples of 'golden PX' very interesting. Examples of this style are rare, but from the top of my head I'm thinking Pandorga (Cota 45), Carrascal (Luis Pérez) or Ximénez-Spínola Delicado. As you know there is a Moscatel Dorado category – actually this is similar.
In 2021 La Callejuela in Sanlúcar de Barrameda released the Pedro Ximénez Dulce Natural 2020. It is made with grapes from young vines in the pago Callejuela. They are picked very ripe and are given a 15-day asoleo as well. Fermentation takes place with skins, in a slow way with native yeasts. After that, the wine stays in a stainless tank for a few months, without temperature control. The wine maintains around 165 grams of sugar per liter.
As this is not a fortified wine, which reaches only 12,5°, this is technically not a sherry wine either. Callejuela calls it a Dulce Natural.
Pedro Ximénez Dulce Natural XX (12,5%, Callejuela 2021, 50 cl, 880 btl.)
Nose: lots of ripe apricots, alongside tinned mandarins and candied orange peels. Plenty of honeyed notes and golden raisins. A faint vegetal note in the background (tomato stems), as well as a hint of caramel.
Mouth: within the PX spectrum, this is nicely clean and light. The acidity is higher than in classic PX sherry, which lifts the honey notes, candied pineapple and apricots. To sum up: pure grape essence. Really velvety but showing enough vivid character. Subtle herbs stay in the background.
Availability: around € 20-25 for a 50 cl bottle. Check Xpertvinum for instance.
Summary: A good example of this grape-forward 'primary' style of Pedro Ximénez. Lovely fruitiness, honey and subtle caramel. Not the most complex wine, but a great option when pairing desserts.