Pedro Ximénez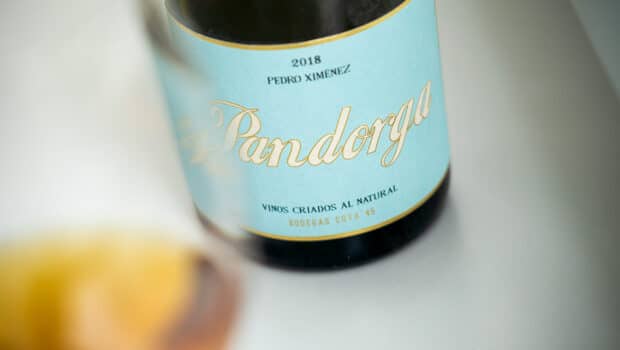 Published on February 18th, 2021 | by Ruben
0
Pandorga 2018 (Cota 45)
This is the latest 2018 vintage of Ramiro Ibáñez' Pandorga, the silky young Pedro Ximénez made with grapes from the La Panesa vineyard in Carrascal. The barajuelas and tosca cerrada soils here lead to concentrated sugars in PX grapes.
As in previous years this is made with old-school methods: slight over-ripening, a 10-day asoleo, slow fermentation in oak and no fortification which means it clocks in at only 11,5% ABV. Previous editions had around 200-300 grams of sugar per liter and while I don't have figures for this edition, I suppose it's quite similar. A naturally sweet wine that had around one year of ageing. For me it sits halfway between the aged, oxidative sweetness of a classic Jerez PX and a young, fragrant Moscatel from Valencia for instance.
The 2018 vintage was generally a bit cooler, with a blot of rain in springtime and a harvest that was later than in other recent years. Feel free to compare to my review of Pandorga 2014 which was the first edition.
Pandorga 2018 (11,5%, Bodegas Cota 45, 50 cl)
Nose: truckloads of juicy apricots, both fresh ones and jam. Grape juice and golden raisins. Flowery honey and orange blossom. Membrillo. Later some nutty touches come out and whiff of warm wood.
Mouth: very chewy and velvety, but also fresh despite the obvious sweetness. Now more on the jammy side of fruits. Apricots again, hints of orange juice and lovely tarte tatin. Mid-palate it seems to pick up sharpness: the acidity seems more volatile / balsamic here than in similar sweet wines, but somehow I often notice this in new wave Palomino wines. In any case it balances the sweetness nicely. Hints of grapefruit, maybe just a hint of chalk as well. Long finish.
Availability: very limited. Still available from Coalla for around € 40. Expect to pay up to € 55 in other countries, if you can find it.
Summary: Pandorga is intense and elegant at the same time, a simply a great naturally sweet wine which respects the character of the vintage. Its velvety texture, floral sweetness and huge notes of apricot jam make it different from all other Pedro Ximénez wines coming out of the sherry region.