Pedro Ximénez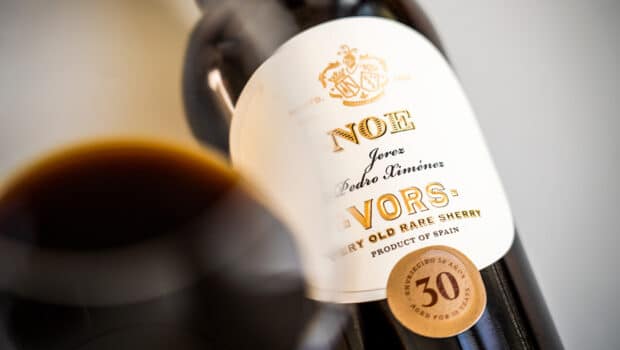 Published on November 8th, 2022 | by Ruben
0
Noe Pedro Ximénez VORS (González Byass)
Noe is the Pedro Ximénez in the VORS range from Bodegas González Byass. This wine won numerous awards and is a quintessential classic PX from Jerez.
Pedro Ximénez grapes are collected very ripe. After the harvest they're dried on esparto mats in the sun (a process called soleo). This way they're losing about 40% of their volume, with a higher concentration of sugars. The end result is around 400 grams of sugar per liter in the finished wine.
González Byass has a standard PX wine called Nectar, which is at the base of Noe. A small proportion of Nectar goes into the top barrels of the Noe solera. There the wine ages further until it reaches 30 years of age.
Last year the entire VORS range underwent a visual update. The new image includes classy white labels with embossing and gold print. This really fits the quality. Nowadays regular bottles have become quite rare (and expensive): half bottles seem to be the standard.
Noe Pedro Ximénez VORS (15,5%, González Byass, L21, 37,5 cl)
Nose: truckloads of apple or pear syrup (Sirop de Liège). Teacle or molasses, dried dates and figs. Sultanas and hazelnut cake. Brown sugar. Then orange peels, Dutch liquorice and a hint of volatile iodine and herbal notes at the top. Overall a classic, mature PX nose, albeit a bit more vinous than most others thanks to its age and refinement.
Mouth: very viscous with a velvety mouthfeel, again really rich and syrupy. Quite low in alcohol too. There is some acidity but let's not beat around the bush, the sweetness is much bigger. Then back to chocolate coated cherries, toffee and hints of sweet coffee. A hint of burnt caramel and cinnamon pastry too. In the finish it develops a slightly varnished note.
Availability: quite good. Typically this will cost around € 25-35 for a half bottle. Check The Whisky Exchange or Bodeboca for instance.
Summary: This is not a dessert wine, it is a dessert on its own. It's rich and velvety, with all the markers you'd expect from a mature Pedro Ximénez. The high age also adds the elegance and volatile touch it needs to stay light. A highly indulgent benchmark for this style.