Palo Cortado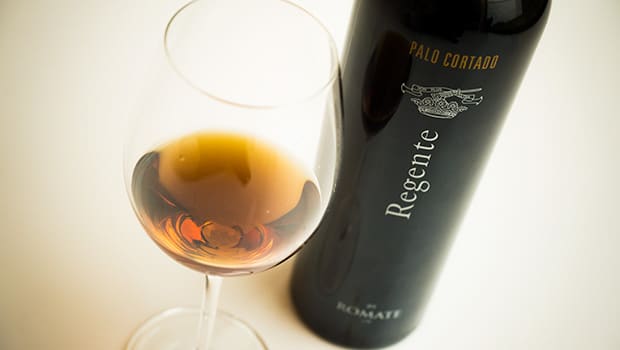 Published on September 9th, 2013 | by Ruben
0
Regente Palo Cortado (Sánchez Romate)
One of the unique things about Bodegas Sánchez Romate is the fact that their primary profits come from brandy rather than sherry. I think this is actually beneficial for their sherry range: they have the luxury to be very relaxed about their soleras and haste is never a good thing when it comes to winemaking.
Sánchez Romate Regente is said to be over 15 years old, nearly 20 years.
Romate Regente is the only Palo Cortado produced by this house. It is part of the Reservas Especiales or Special Reserves range which combines their middle-aged sherries. It comes in a distinctive dark bottle with minimalist typography.
Regente Palo Cortado (20%, Sánchez Romate 2011, 75 cl)
Nose: close to Amontillado. Different kinds of nuts: almonds, cashews, walnuts… Raisins and dried apricots, fresher orange peel as well. Quite some varnish notes (polished oak), I love that. Very subtle hints of dusty bodegas and gentle saline notes in the background. Elegant and aromatic.
Mouth: a bit closer to Oloroso now. Dry, velvety and rich, with a relatively subdued acidity. Quite 'punzante'. Citrus notes (oranges and lemon zest). Roasted coffee beans, hazelnuts and the bitterness of dark chocolate. Hints of tobacco. Starts fresh but evolves towards more oak tannins, the oak becomes slightly astringent in the very end.
Availability: Around € 25-30  from foreign distributors (around € 20 in Spain). Check The Whisky Exchange for international shipping.
Summary: A very solid Palo Cortado, combining the brightness of an Amontillado with the nutty profile of an Oloroso. Especially the nose deserves a high score. Good value for money.