Palo Cortado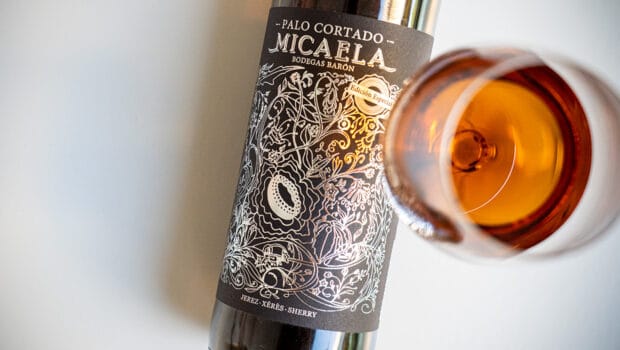 Published on July 13th, 2021 | by Ruben
0
Palo Cortado Micaela (Barón)
The black label in the Micaela series is a Palo Cortado
Like most modern Palo Cortado wines, this is made from the finest Palomino musts, initially fortified to 15% ABV for the development of flor but later classified as potential Palo Cortado. In this case it ages biologically for one year before proceding to oxidative ageing. I believe it is aged in large toneles (approximately 800 litres). The total average age is around 25 years according to the bodega website, although other reputable sources claim a younger age.
I believe this wine was first released late 2016 – it came slightly behind the rest of the Micaela range which was given a makeover in 2014. It quite limited and the yearly saca of this Palo Cortado is highly anticipated.
Micaela Palo Cortado 'Edición Especial' (19%, Bodegas Barón, L20)
Nose: rather caramelly, with plenty of toasted hazelnuts and toffee. Also turrón, hints of honey and orange peels. There are some pungent coastal notes and hints of hay in the background, which are the result of the period of flor, but the oxidative side is slightly bigger. Just a hint of butter, as well as some oak char in the distance.
Mouth: ample and rounded. There's a big toasted side again: roasted hazelnuts and cashews, slightly burnt walnut cake and dried fruits. Tobacco leaves. It's gently bitter (dried herbs) and it shows a nice lemony acidity throughout. Saline echoes as well. Long, drying finish on warm oak.
Availability: around € 22 from the bodega shop. I ordered my bottle cheaper from Encopa.es
Summary: A fairly rounded Palo Cortado with plenty of oxidative notes and a certain plump character, A good wine but it doesn't feel like 25 years.