Palo Cortado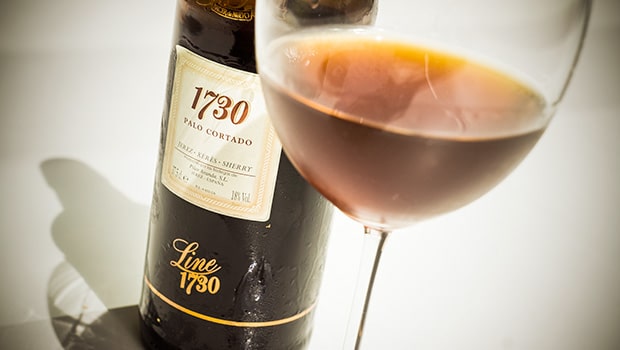 Published on July 30th, 2014 | by Ruben
0
Palo Cortado 1730 (Pilar Aranda)
An extinct wine from the late almacenista Pilar Aranda
This Palo Cortado 1730 is an extinct wine, so to speak, it's not bottled in this form any more. I bought it in a Belgian wine store, which – like many others – had some old stock that it struggles to get sold.
The label says it is produced by Pilar Aranda, an almacenista bodega which supplied wines for González Byass, Lustau and others. I believe this wine was bottled around 2003-2004, when the bodega was already sold to Álvaro Domecq, but he was still using the old name because of a copyright dispute with the owners of the Pedro Domecq brand.
At the time of bottling, the wine was said to be around 25 years old, which makes sense, as nowadays the brand 1730 is still in use, but most of the wines (except the P.X. 1730) have been classified as V.O.R.S. wines (30+ years). They are only bottled sporadically so you may have to look around a bit to find a bottle.
Palo Cortado '1730' (18%, Pilar Aranda)
This Palo Cortado is quite dark, with lots of chestnut brown hues and less red hues. It's rather hazy as well.
Nose: really aromatic. Initially dominated by caramel aromas, toffee and dried fruits. Figs, dates, dried prunes. Then some sugared almonds and marzipan. Subtle tobacco and leather. A hint of polished oak as well. It's really nice and rounded.
Mouth: while you almost expected a sweet wine based on the nose, this is completely dry. Quite spicy, with some peppery heat coming out. Hints of tobacco again. Slowly the dried fruits return (apricots mainly) and it even displays a hint of sweet toffee, before it moves towards a lemony acidity, some briny notes and a subtle bitterness. Overall closer to the weight of an Oloroso, I'd say. Medium finish, with some drying oak and spices.
Availability: only found in 'forgotten' stocks. I've paid € 20 for a half bottle (37,5 cl) at the Belgian importer Dobbels-Lefevere.
Summary: A very nice Palo Cortado. Very aromatic on the nose and easy to like on the palate with its implied sweetness. You probably won't find it in stores any more but you may find its VORS counterpart.