Palo Cortado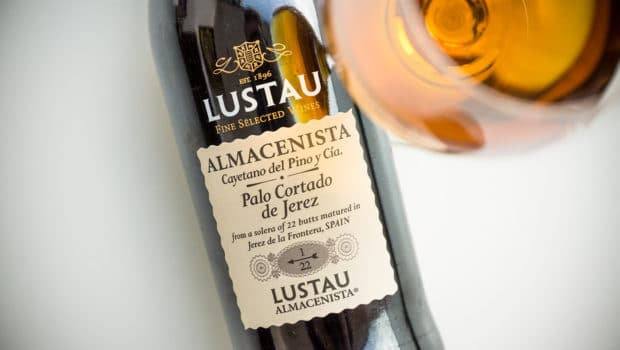 Published on January 17th, 2018 | by Ruben
0
Almacenista Palo Cortado Cayetano del Pino (Lustau)
When it comes to Palo Cortado, the almacenista Cayetano del Pino is considered one of the experts. This small bodega dates back to 1886. It was established by Don Cayetano del Pino Vázquez and became an official supplier to King Alfonso XIII. At the beginning of the 20th century it was a huge, modern bodega with its own cooperage, printing and distilling force. However by the end of the 1970s the sherry market was shrinking and the company was forced to make a restart in a downsized form.
It is now operating as an almacenista, focusing on stockholding and ageing wines that are sold through larger bodegas. It is still a family business and stocks are in a bodega at Plaza de Silos, bought from Domecq (next door to El Maestro Sierra).
Most of the Palo Cortados from Cayetano del Pino were commercialized through Sánchez Romate who took care of the bottling process and distribution. They have a Solera 1|15 (around 15 years), a Solera 1|10 (around 20 years) and the oldest Solera 1|5 (around 40 years of age) – some of which are exclusive to the UK.
However before they teamed up with Sánchez Romate their wines had also been available in the Almacenista range from Bodegas Lustau. In 2017 this partnership was revived with this Palo Cortado de Jerez 1|22 which I first tried while visiting Lustau in Jerez.
This Palo Cortado is over 20 years of age and it is bottled with the lightest filtration. Curiously the solera of this wine is inverted: the oldest butts are at the top (the warmest location) and the younger criaderas are below them, towards the floor. Although this is highly uncommon, it makes sense as the younger barrels (having only recently lost their layer of flor) are kept in the most humid area (thus benefiting the biologically aged character of the wine). At the same time the older wine (towards the ceiling) will be increasingly concentrated due to higher temperatures and evaporation at the top level.
Palo Cortado de Jerez – Cayetano del Pino (21%, Lustau Almacenista 2017, 1|22, 50 cl)
Nose: love it, love it. It has this unique aroma of freshly polished oak (or perhaps cedar), beeswax and a heady hint of nail polish. There are also hints of dark fruits, dates and dried apricots. Caramelized roasted nuts. Bright citrus notes. Almonds. Leather and hints of tobacco. Delicate floral notes and candied ginger. Although subtle, the biologic ageing is still noticeable. Overall so velvety but at the same time so wide and aromatic.
Mouth: a certain glyceric roundness which feels off-sweet at first, but becomes really dry and almost racey after a while. Walnuts and hazelnut. Hints of crème brûlée. Peppery sensations and other spices. Still a waxy feel. After a while it shows a lightly bitter edge of dried herbs. Roasted coffee beans in the end. Very long, rather mineral finish with a pinch of salt.
Availability: around € 20, even down to € 15 in Spain. A bargain.
Summary: Such a great, intensely aromatic and polished nose! I love these volatile waxy notes. A Palo Cortado with an overwhelming personality. A complex, luscious wine and one of my favourite examples of the Palo Cortado category. Highly recommended.