Visits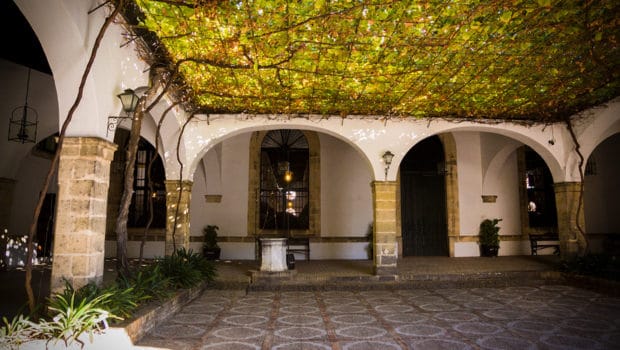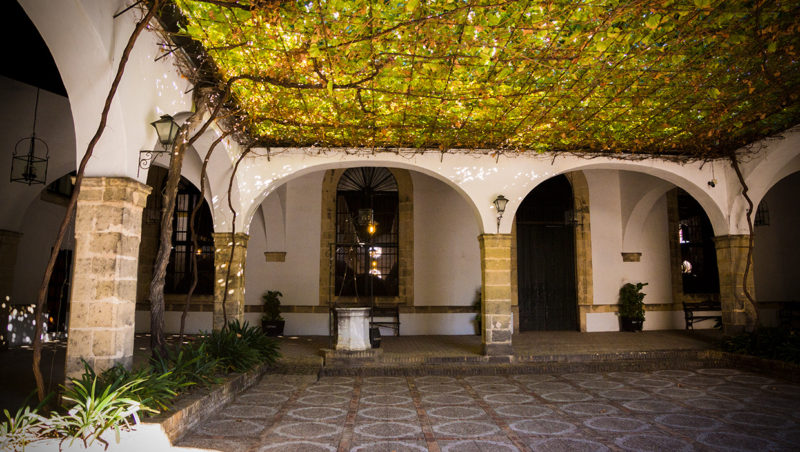 Published on November 22nd, 2017 | by Ruben
3
Visiting Bodegas Lustau
Last week I had a short break in Sevilla with my family. A very last-minute decision, at first I didn't even realize that I would have to host this year's Sherry Twitter Tasting from Spain… We would only have a rental car for one day and the beach had to play a big role (little daughters, you know), so one bodega visit was the best I could get this time.
I contacted Bodegas Lustau for different reasons: they have impressive buildings, they have a few new wines that I wanted to try, and they are also involved in seasoning barrels for the whisky industry. I've been intrigued by the relationship between sherry bodegas and whisky distilleries for a long time and I wanted to clear up a few things.
Juan Mateos and Sergio Martinez
We arrived late (rental cars, always a joy…) but we were warmly welcomed by Juan Mateos Arizón, head of sales, and Sergio Martinez, their winemaker since 2016. Juan is amazing at telling the history of the company and the buildings, and he has a thorough knowledge of the wines. Also, he has three kids so he knows how to handle my daughters, who need to be entertained the whole time. For more background information on the bodegas itself, the Caballero group, etc. head over to my Lustau bodega profile.
Juan explained that Lustau owns two vineyards, one with Palomino Fino (Montegilillo vineyard to the North of Jerez, in the pago Carrascal) and a second vineyard Las Cruces in Chipiona where they grow Moscatel grapes. 
After an introduction in the beautiful courtyard covered with bougainvillea, we started off with the Almacenista Amontillado de Sanlúcar sourced from Manuel Cuevas Jurado, one of the small producers that is featured in the Almacenista range. This wine didn't really convince me on previous occasions but I have to say I liked it much better this time. Sometimes the freshness of the bottle makes all the difference. Juan explained that he likes to start a tasting with Amontillado rather than Fino, which often scares or disturbs people.
As we were in the beautiful Bodega Los Arcos we also tried the benchmark Fino La Ina, a wine that originated at the iconic Bodegas Domecq and is now managed by Lustau. The quality of the wine is as good as ever, if not improving over the past few years. Great work.
Lustau winery in Jerez
Lustau now occupies the former Domecq buildings in the Calle Arcos in Jerez. When Allied Domecq broke up in the early 2000s, Lustau purchased six bodegas that were used by Harvey's (a part of Allied Domecq and still printed on the bodega next door), dating back to 1835. Once restored in 2002, all of Lustau's wines were carefully moved from their original location to the Calle Arcos, a difficult operation but it was executed without problems.
They even 'planted' the original yeasts in the new buildings so that the flor would not be disrupted. In 2008 Lustau acquired some of the well-known Domecq brands like La Ina, Botaina and Rio Viejo, all of which are now brought together in the Calle Arcos.
After La Ina we moved next door to the bodega that houses the solera of the Fino Jarana. Trying the same wine from the mature solera row and from the 2nd criadera (directly from the barrel) is a great experience. Although Jarana is basically a lighter and younger style of Fino, there's plenty of green apple and salinity in this wine, and the yeasty (gueuze) notes in the 2nd criadera are striking. I should review this wine in depth later.
Lustau Almacenista wines
In the Bodega La Campana we tried one of the latest additions to the famous Almacenista range: the Palo Cortado Cayetano del Pino 1|22. Cayetano del Pino is a real expert in this type of sherry and it's good to see this +/- 20 years old wine gets more exposure through Lustau. It's superb, with an elegant, slightly heady and acetone-driven nose and a sikly, glyceric palate on vanilla and caramelized oranges. One of my favourite Almacenista bottlings already.
We then tried the classic Oloroso Emperatriz Eugenia, one of their flagship wines that shows great depth and intensity. It is housed in the highly atmospheric bodega with the same name, underneath a beautiful stained glass window. In the same building there is the solera of Amontillado Los Arcos and Escuadrilla and Palo Cortado Rafael (available on the market as Palo Cortado Peninsula).
The Sacristía and añada sherry
In the annex Sacristía (a former street in between bodegas, that has been covered by a roof) we were offered a special treat: a glass of the Moscatel Viejísimo 1|3. This consists of three barrels that were taken out of the solera of Moscatel Emilín a few years ago. Since then they have been ageing statically in the Sacristía, without refreshments, making it around twenty years old. It's not widely available but a small amount has been bottled for Vila Viniteca earlier this year.
I asked about the upcoming Lustau Añada 1998 and Añada 2000, two new vintage Oloroso that replace the excellent Añada 1997, but sadly all of it had been shipped and there wasn't a bottle available to try. They should arrive in stores soon.
We ended the tour in the shop / museum, where all wines are displayed. As it was nearly lunchtime, we decided to end with the recent Vermut Blanco, a fairly herbal, almost medicinal take on a white vermouth, so much better than the commercial brands. Vermouth has a long history in Jerez and Lustau played a significant role in its revival. As a blend of Fino and young Moscatel, this is the first white vermouth coming from this area.
Book your own visit
You can find them in the Calle Arcos 53 in Jerez de la Frontera.
The bodegas can be visited Monday to Saturday, with guided tours in Spanish and English. They have a Basic tour (1 hour, tasting 8 wines) and a Full Tasting tour (1,5 hour, tasting 12 wines). Reservation required, tours can be booked online: www.lustau.es
---
This article won the Millesima 2018 Blog Awards in the category 'Wine Travel EU'.
It was also nominated for the 2018 Born Digital Wine Awards in the category 'Best Tourism Content'.
---