Palo Cortado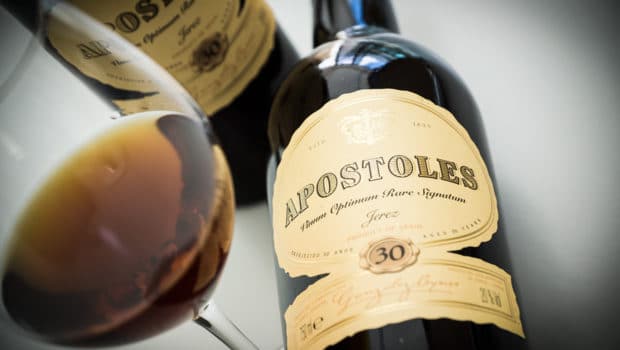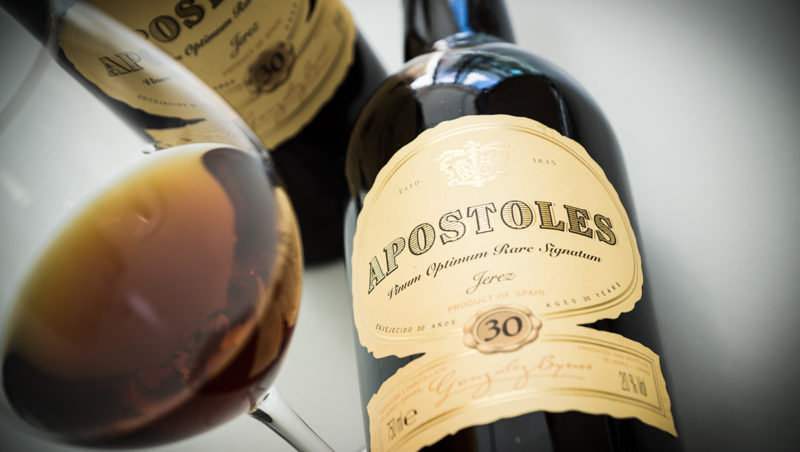 Published on October 6th, 2015 | by Ruben
1
Apostoles Medium VORS (González Byass)
Apostoles is one of the VORS sherries from González Byass. It used to say Palo Cortado Muy Viejo on the label, but with the latest list of official categories, it now says Medium on the back label. They also add elaborated with Palo Cortado and PX which is only allowed if the main portion is over 85% of the final wine (in this case 87% is Palo Cortado). The PX adds around 50 grams of sugar per liter to the originally dry Palo Cortado.
All grapes are sourced from the pagos Carrascal and Macharnudo. Both the Palo Cortado and Pedro Ximénez wines age separately for about 12 years (essentially the Palo Cortado Leonor is at its base). At this stage they are blended and enter the Apostoles solera for another 18 years or more. Some sources claim the PX sweetness comes from storing the Palo Cortado in casks that previously held PX, but I believe at least some PX wine is added as well.

The solera was created in 1862 in honour of a visit by Queen Isabel II (which also induced the construction of the bodega La Concha, designed by Gustav Eifel). There is a story that says Isabel II wanted to see the traditional pressing of the grapes by foot. However at the time of her visit, the harvest had long passed and founder Manuel María González had to improvise. He bought (rejected) grapes that farmers used to adorn their homes with. The resulting wine was stored in 13 botas, one for each apostle (except Judas, which is used for a butt of vinegar) and one big butt (that sounds strange in this context) dedicated to the Queen. You can still see these casks when visiting the bodegas.
Old bottlings of Apostoles have 'Oloroso Viejo' on the label. Once again it indicates that the difference between Palo Cortado and (light) Oloroso can be a bit arbitrary, and that the character of wines can change over time.
Apostoles Palo Cortado V.O.R.S. (20%, González Byass)
Nose: nicely balances the characteristics of Palo Cortado with Pedro Ximénez. There are dark, caramelized notes and molasses with a clear smoky side, but also more mineral and tangy notes. Nice tobacco. Orange peel. Saline hints. Toffee. Roasted almonds. Also quite a lot of peppery touches.
Mouth: same impressions, it's full-bodied and off-dry, and provides plenty of spicy notes, chocolate coated nuts, figs and toffee. Then again there's this tangy, salty note behind it, slightly muted by the Pedro Ximénez. Sweet Turkish coffee. Hints of bread crust. Hazelnuts and a whiff of smoke in the aftertaste.
Availability: easy to find considering its premium status. Full bottles are around € 50, half bottles around € 25. If you can't find it, check The Whisky Exchange for instance, they ship around the world.
Summary: Some would say a Palo Cortado doesn't need PX to shine. While that's true, this is simply a different style and it's a very balanced example. It's rich, intense and works particularly well with cheese or chocolate.