Palo Cortado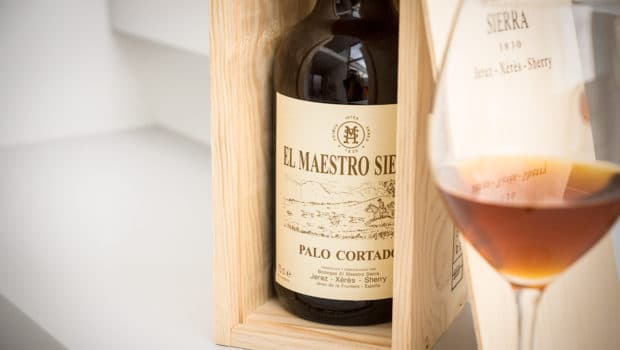 Published on November 1st, 2017 | by Ruben
0
Palo Cortado (El Maestro Sierra)
This is the only Palo Cortado available from El Maestro Sierra, and it's a gloriously old one. Sourced from 4 barrels of an unknown age, the solera is estimated to be over 70 years old.
This wine started as a Fino, but at some point it naturally started deviating. It shows the elegance of an Amontillado and the aromatic roundness of an Oloroso.
This Palo Cortado is part of the Vinos Viejos series, although the name doesn't seem to be mentioned any more on the typical dumpy bottles.

Palo Cortado (20%, El Maestro Sierra)
Nose: highly expressive. There's cinnamon pastry, roasted chestnuts. Light cedar oak, dried mushrooms, walnuts, tobacco and traces of maple syrup. What's really great about this nose, in my opinion, is a subtle farmy side, hints of wet dogs after the rain, as well as the light engine / diesel aroma. It adds to the character of this already impressive wine.
Mouth: warm, balancing between (almost) sweet notes, gentle acidity and some clove bitterness. Dry, with a generous peppery (curry) side and some coastal hints. Dark roast coffee beans, roasted hazelnuts, walnuts and almonds. Orange peels, subtle herbal / leafy notes. A very deep, persistent profile. Very long aftertaste, dry and slightly salty.
Availability: around € 100 in Spain, or € 60 for a half bottle. Only around 300 bottles are released each year and a big part of the allocation seems to go to the US.
Summary: I adore the nose of this Palo Cortado, it's perfectly balanced and it shows a few unique touches. A tad fierce and dry on the palate perhaps, but on the other hand this gives it some tension. A very complex and impressive wine. One of the gems from El Maestro Sierra.