Palo Cortado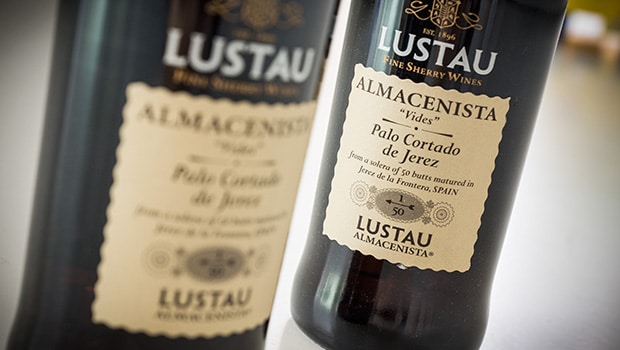 Published on May 7th, 2014 | by Ruben
0
Almacenista Palo Cortado 'Vides' (Lustau)
The Palo Cortado Vides is said to be just under 20 years of age
Bodega Vides was founded by Don Tomas Domecq Rivero in 1958. Today it is managed by his grandson Don Fernando Leon Manjon Domecq. They are part of a noble family with a long history.
The firm has cellars and offices in the old Santiago quarter of Jerez de la Frontera, and they produce their grapes at one vineyard "Esparta" in the Carrascal district north of Jerez. Vides is especially renowned for Palo Cortado wines (this one is from a small solera of 50 butts), but they also produce impressive Oloroso.
Vides is an almacenista – a company that doesn't have a license to commercialize their wines. Instead they sell them to larger bodegas like Bodegas Lustau. This is the only Palo Cortado in the Almacenista series, a range of sherries which honours the work and dedication of these subcontractors, whose number is declining steadily. In the current climate, most of the almacenistas choose to buy a commercial license or to stop their business altogether.
Palo Cortado de Jerez – Vides (19%, Lustau Almacenista 2013, 1|50, 50 cl)
Nose: a rich profile. Dry, but rounded in such a way that there seems to be a hint of sweetness. Toffee. Marzipan and dried apricots. Roasted chestnuts. Bright citrus top notes. Lovely leathery notes and hints of pipe tobacco. Even a hint of truffle. Nice polished oak. It's a wide, complex nose but so elegant and inviting!
Mouth: plenty of acidity – it seems a lot more tangy than on the nose. Lemon and orange peel in the first row. Some briny olive juice. After the initial sharpness, it turns towards roasted hazelnuts and coffee beans, with subtle wood and spices. Still a certain sweetness (dried fruits) around the edges. Long finish with soft pepper and a lingering saltiness.
Availability: usually quite easy to find from one of the many Lustau distributors. Nowadays only available in 50 cl bottles, around € 20-25.
Summary: I'm a big fan of this Palo Cortado Vides, it has the sharpness of an Amontillado but there's always a hint of sweetness around the corner. Always one of my recommendations for people who want to experience the Palo Cortado character.