Palo Cortado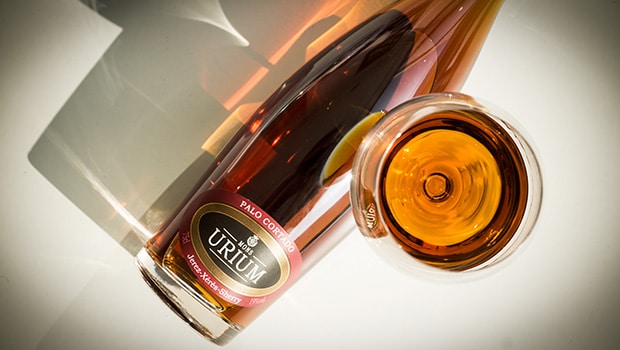 Published on March 18th, 2014 | by Ruben
1
Palo Cortado Clásico (Urium)
Mons Urium is the Roman name for Moguer, the hometown of the Ruiz family
Bodegas Urium is the newest bodega in Jerez. In 2009 the Ruiz family took over an existing bodega with a stock of 500 botas and started selling the wines. Given the age of the existing sherries, they were able to offer a whole set of V.O.R.S. wines. It was not until 2011 that they presented a series of younger wines called Clásicos.
This Palo Cortado Clásico is between 15 and 20 years old whereas their V.O.R.S. Palo Cortado is around 40 years of age. Note the unique oval shape of the bottle, which comes in a cardboard gift box. It surely sets it apart from other bodegas.
Palo Cortado Clásico (19%, Bodegas Urium 2013)
Nose: very open and extrovert, with fragrant orange peel. Lots of almond notes. It also contains a lot of pastry-like notes, say fresh croissants and butter cake. Toffee and caramel as well. Really nice. Hints of red fruits in the very back and a fine layer of polished oak and leather on top. Overall a very seductive nose, with most of the sharper Amontillado edges being rounded off.
Mouth: intense but fairly rounded again. Nuttier than an Amontillado but not as heavy as an Oloroso. Dry but with a virtual hint of sweetness. Dried fruits, salted almonds and hints of citrus. Nice hints of oak and coffee beans in the aftertaste.
Availability: you may not find it easily, but it's worth looking out for. My bottle was € 27.
Summary: A very luscious, attractive Palo Cortado. This is definitely my favourite expression within the Clásico range and excellent value for money altogether.