Palo Cortado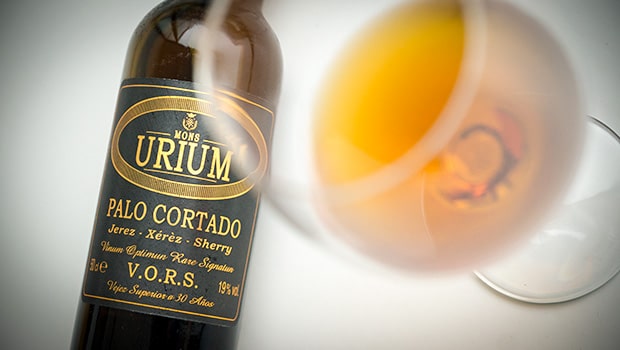 Published on November 13th, 2014 | by Ruben
0
Palo Cortado VORS (Bodegas Urium)
Bodegas Urium started in 2009 with a series of four V.O.R.S. wines, certified for being 30 years or older. Starting with only VORS wines is a tour de force not many bodegas have done before.
It's only after some time in 2011 that they also released younger counterparts for each wine (see the review of the younger Palo Cortado Clásico). Today we're focusing on the Palo Cortado V.O.R.S. which is said to be over 40 years of age.
Palo Cortado V.O.R.S. (19%, Urium 2013, 2nd series)
Nose: very complex. There's a turron-like sweetness mixed with almonds, as well as exceptional waxy notes. Orange peel and honey. Butterscotch. Also lots of dried apricots, as well as candied fruits and a nicely fragrant hint of raspberries. Hints of pipe tobacco and toasted oak in the background. One of the creamiest and most elegant noses of Palo Cortado I know.
Mouth: dry, wide and intense, it shows the typical sharp hints of Amontillado but also the weight of an Oloroso. Dried fruits and hints of caramel sweetness. Some earthy notes, as well as a soft smokiness. A little less complex than on the nose, slightly more marked by the oak as well, with a soft bitterness of pink grapefruit and orange peel, mixed with dried herbs. Slightly nervous, as if it's finding a balance between sharpness and roundness. Long finish, slightly peppery and piquant.
Availability: between € 35 and € 50 more or less, for a 50 cl bottle. Not widely available though. I got mine from Xpertvinum
Summary: Urium's Palo Cortado VORS is highly respected, for good reasons. The nose is impressively aromatic and complex. On the palate it combines a steely backbone with rounder notes. An impressive example of a mature Palo Cortado.