Bodegas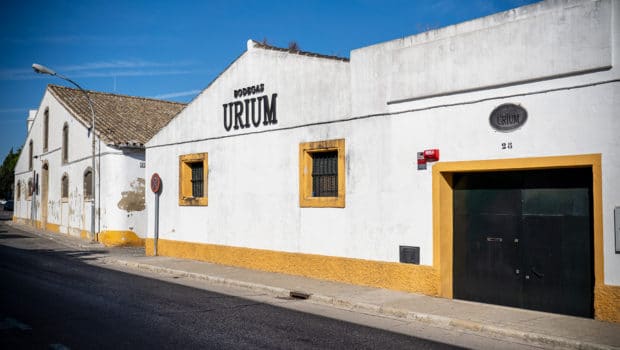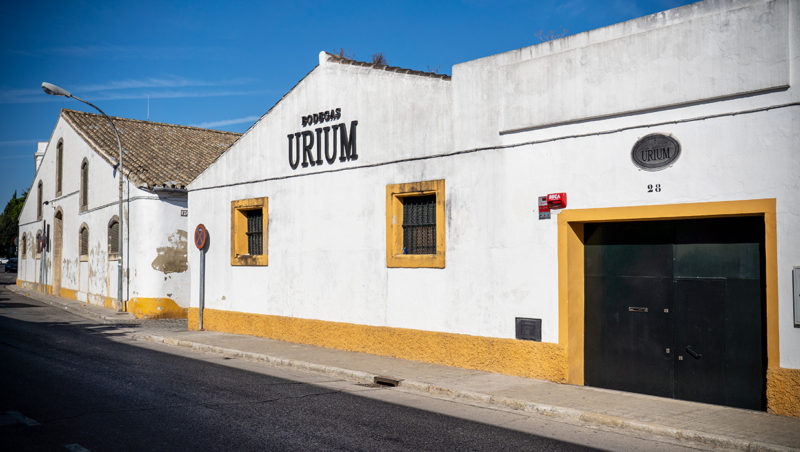 Published on March 20th, 2014 | by Ruben
0
Urium

Back in 2006, businessman Alonso Ruiz Olivares fulfilled a lifelong dream by purchasing a relatively small and forgotten bodega from the former almacenista Josefa Pérez Rosado. With the help of his daughter and oenologist Rocío Ruiz, he started remediating the stocks and selecting the best wines.
In September 2009, Bodegas Urium – or more completely Mons Urium – was registered with the Consejo Regulador, making it the youngest bodega in Jerez. In case you're wondering where the Latin name comes from: Mons Urium ("golden hill") is the Roman name for Moguer, the hometown of the Ruiz family in the province of Huelva.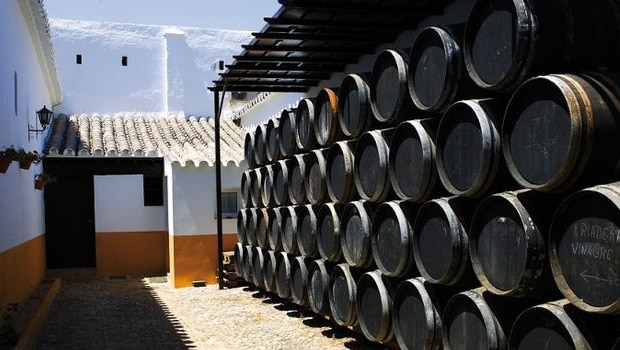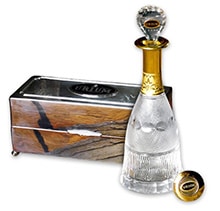 Urium winery in Jerez
While the company is young, its stocks are very old. The 500 butts that were purchased with the bodega had been ageing for a very long time and allowed the commercialization of a whole series of V.O.R.S. sherries (over 30 years old). They also added a Fino solera and started selling Manzanilla, bought from an almacenista in Sanlúcar. In 2011 they added a range of younger wines, the Urium Clásicos.
Their most precious wine is the Gran Señor de Urium, a unique Palo Cortado coming from one single butt. It has been carbon-dated at over 100 years old. In 2010 just 15 bottles were made available, each costing over € 20.000.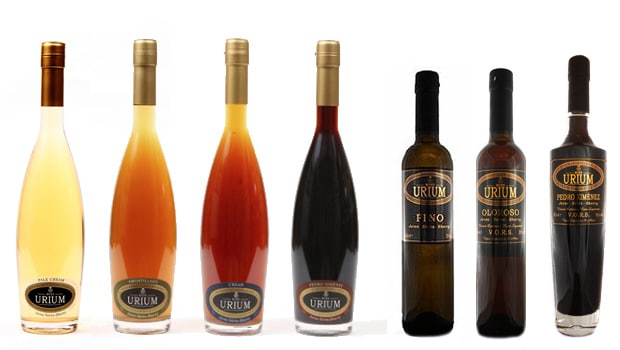 Bodegas Urium sherry range
Manzanilla Pasada Urium, an old Manzanilla, around 8 years old, bought from an almacenista in Sanlúcar
Fino En Rama Urium, also around 8 years of age
Urium Clásicos, a range of wines that average about 15 years of age: Amontillado Clásico, Palo Cortado Clásico, Oloroso Clásico, Pedro Ximénez Clásico (slightly younger), Pale Cream Clásico, Cream Clásico
Urium V.O.R.S., all 30 years or older: Amontillado V.O.R.S., Palo Cortado V.O.R.S. (around 40 years), Oloroso V.O.R.S. (around 50 years) and Pedro Ximénez V.O.R.S.
Gran Señor de Urium, over 100 years old
They also produce sherry vinegar in the courtyard that you see in the picture above.
Contact
Bodegas Urium
Calle Muro 28
Jerez de la Frontera
Visits possible by appointment. They also have a dedicated shop in the centre of Jerez (Calle Lancería).