Interviews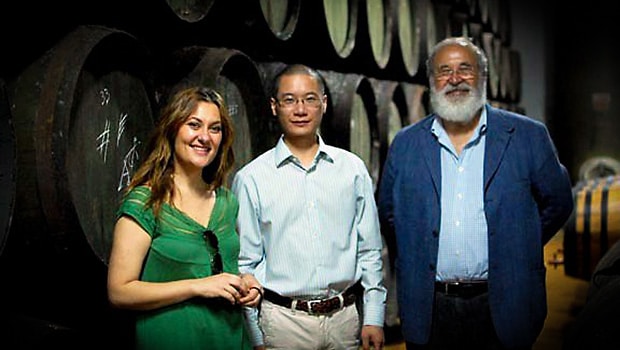 Published on November 12th, 2014 | by Ruben
0
Interview: Rocío Ruiz (Urium)
This is part of our series of virtual interviews with "sherry insiders", people working in the industry as a producer, capataz, brand ambassador, bottler… Obviously these people are the true heroes of the sherry region, they dedicate their time to presenting the best possible wines. We'll serve them a couple of questions about their work and their love for sherry.
Today the spotlight is on Rocío Ruiz. Her father Alonso Ruiz came from Huelva to buy a small bodega in the heart of Jerez's Barrio de Santiago. Rocío is looking after the wines and taking care of the daily management.
I don't know whether it's pure coincidence, but could she possibly have a more suitable name than Rocío? As you know, rocío is also the Spanish word for refreshing the casks in a solera with younger wine.
What's your official job description?
Manager of Bodegas Urium.
What are your day-to-day tasks?
Our bodega is very small and I share the day-to-day tasks with my father. My tasks are very diverse. Production work, like selecting the casks for sacas and rocíos. Marketing work, like designing catalogues and labels, or attending fairs and wine presentations, and keeping an eye on social media. Administrative tasks as well: invoices, taxes, export documents, etc. As you see, I do a bit of everything.
How did you start working in the sherry industry and why did you choose this particular sector?
I owe everything to my father. As long as I can remember I've smelled the old wines that he loves so much and I've been hearing him talk about his passion for vinos generosos. Over the years he collected various soleras, especially from the Condado de Huelva region (which is where we come from) to enjoy with friends, so the world of wine was always very familiar to me.
My father always kept good contacts with Jerez. It was his reference and he always dreamt of having his own little bodega there. Around seven years ago the opportunity came by to acquire the bodega complex in the Calle Muro and he suggested we would embark on this adventure together in a professional way.
Until that moment, my work had nothing to do with wine, I'm an economist and I was working as an auditor in a construction company. I was also running a business in the fashion world. After thinking it through, I decided to go for it so I became a Master in Viticulture and Oenology at the University of Cádiz. I attended oenology workshops, tasting courses, formation courses… but the most valuable knowledge comes from the daily experiences in the bodega. That's where you really learn!
In your opinion, what makes the unique quality of your bodega?
Two things make our wines special. On the one hand, being a small bodega allows us to pamper every drop of wine that goes into our bottles. It's a very careful and artisanal process. In the end you can feel this affection in a glass of Urium. On the other hand, there is the love and admiration that my father has for all types of sherries. That's where the typicity of the wines originates: each type is clearly differenciated from the others. A Fino should smell like a Fino, and when you taste our Oloroso there isn't the slightest doubt that it is an Oloroso.
Among the sherry wines of your bodega, which makes you the most proud?
Selecting just one feels strange of course, but I'll try and pick the Fino En Rama, because it has a lot of personality. It has nothing to do with the other Finos En Rama that I know. It's not necessarily better or worse, it's just different. Moreover for me it is the king of food pairing – it's an all-terrain wine if you like, the perfect combination with every dish.
What's your favourite pairing of food and sherry?
I'll mention two combinations that I really like, the first one being a classic and the second one slightly more surprising.
Classic combination: Fino En Rama + Jamón Ibérico de Bellota [the best of Spanish hams, from Iberian black pigs that only eat acorns]. There's no better wine for a good ham, it's just a perfect match.
Different combination: Amontillado + mango. I was really interested when I first heard about this and I must say I was quite impressed. Afterwards I tried other fruits and sweets with different kinds of sherry and I can only recommend it. If you're willing to experiment a little, you'll definitely find nice surprises.
What do you think the near future will hold for sherry? Which evolution or challenge seems most interesting to you?
Something is changing in the world of sherry, but a lot still needs to be done. We must strive to present our wines to a wide audience: our wines are authentic oenological gems and sadly many people still don't know them. However I feel it is starting to change, since I've started working in this business I've met so many people, from Spain as well as from abroad, that come to discover our wines. They are really interested and they're willing to keep on learning and discovering.
Everyone is looking for a way to differentiate, every winemaker is looking for its identity and for sherry wines this is quite easy: we are totally different from the rest of the wine world. The production methods of sherry, its organoleptic characteristics, its specific region, its ability to pair with food and its ability to be drunk at any time of the day… Authenticity and singularity is something we have in abundance.
I also notice that there is a tendency to go back to the roots and look at the classics (a tendency that's not only true for oenology). Nowadays being modern equals looking for traditions. The other day I was watching a French movie and a teacher wrote on the blackboard 'Classique = moderne'. I couldn't agree more.
Thank you so much, Rocío, and all the best in your work at Bodegas Urium.
On the picture above: Rocío with her father Alonso and Peter Liem, the author of Sherry, Manzanilla & Montilla.