Amontillado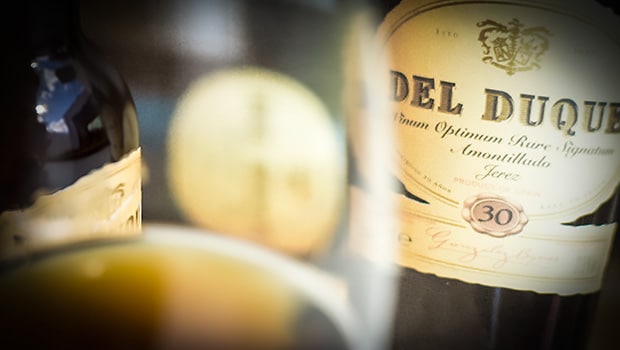 Published on July 22nd, 2014 | by Ruben
0
Amontillado Del Duque VORS (González Byass)
'Del Duque' refers to the Duke of Medinaceli, a small Spanish city in the province of Soria
González Byass has an affordable and accessible line of V.O.R.S. wines, probably the easiest to find old sherries outside of Spain.
Unlike its sibling Oloroso Matusalem VORS, which is sweetened by the addition of a bit of P.X., this noble Amontillado Del Duque is a naturally dry Amontillado with an average age above 30 years. Its solera is refreshed with the younger Amontillado Viña AB.
The solera was started in 1857 by the Duke of Medinaceli, who bought 16 sherry butts that formed the base of the current day sherry solera.
Amontillado Viejo Del Duque (21,5%, González Byass 2013)
Nose: a nutty, sweet expression. Salted caramel and hints of dried apricots. Honeydew melon, even some maple syrup. Toasted almonds, hazelnuts and golden raisins. Really elegant notes of polished oak and wax as well. Less spectacular than the Amontillado Cuatro Palmas for example, but definitely part of the same family.
Mouth: less powerful than you may think from the alcohol strength. Citrus, again a hint of toffee / peach sweetness. Light wood (cedar oak), nutty notes (walnuts) and a relatively soft salty tang. Cinnamon. Hints of leather. Long, nutty finish with more acidity and some heat from the alcohol.
Availability: very good, you're likely to find a couple of retailers in your country. Around € 23 for a 37,5 cl bottle or € 45 for a full bottle. If you can't find it, check The Whisky Exchange or Master of Malt for instance, they ship globally.
Summary: I really like the nose of this Amontillado Del Duque, it has a real sense of oldness and polished elegance to it. I'm less of a fan when it comes to the palate, it seems to lack a bit of complexity and sparkle compared to other V.O.R.S. wines. Also, it's probably the sharpest wine from this bodega. Good value for money though.