Amontillado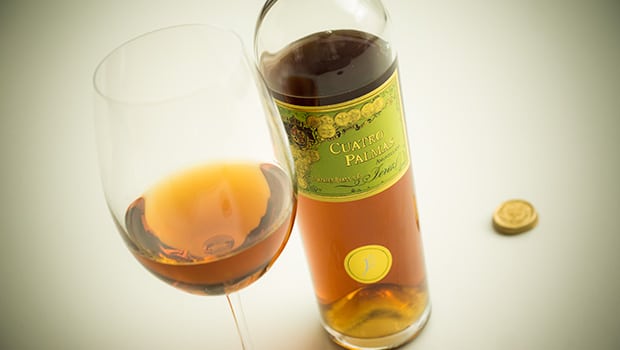 Published on November 20th, 2013 | by Ruben
0
Cuatro Palmas Amontillado (González Byass)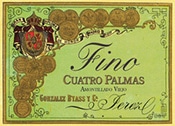 The Palmas series shows the evolution of a Fino, from the Una Palma (a young wine), over Dos Palmas and Tres Palmas all the way through to Cuatro Palmas (a mature Amontillado). In a way they are four still images, taken at different stages in the life of the same base wine that is Tio Pepe. The selection was made by Antonio Flores, the capataz of González Byass, and I think it's great to see a big and commercial bodega produce such innovatory, 'boutique' sherries as well.
Since the 1880's González Byass has used the Palmas system to classify quality Finos. The traditional 'palma' chalk mark was made on the barrel to indicate wines of exceptional finesse and delicacy of aroma. Over time they would earn more 'palmas' with the oldest and rarest casks bearing four marks.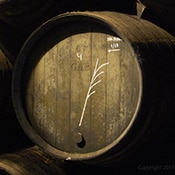 The Amontillado Cuatro Palmas was taken from a special solera called Solera Museo, located in one of their oldest bodegas called La Cuadrada, row 9. It contains only six barrels and the average age is 45 years. That's well beyond their Amontillado Del Duque VORS and the oldest 'drinkable' Amontillado in the house. In fact Cuatro Palmas is a single barrel release, which produced only 150 bottles, all filled en rama. Antonio Flores still refers to it as a Fino, stressing the continuity of the four stages and the fact that the Fino character is still present, but technically it is an Amontillado of course, so eventually they removed the word 'Fino' from the label.
Unfortunately the Palmas have been released exclusively in Spain and the UK so far. But even in those countries it was hard to find a bottle. Tomorrow we can witness the introduction of the new Palmas 2013 online. Hopefully they will be distributed to more markets this year.
Cuatro Palmas Amontillado (21%, González Byass, October 2012, 150 btl.)
Nose: intense, with quite a lot of exotic spices (aniseed, cardamom) alongside nutty notes (almonds, walnuts) and dark caramel. Dried prunes. Liquorice roots and tobacco leaves. Hints of waxed old furniture and oil paintings. Flax ropes and very light iodine. Cocoa notes as well. Huge complexity, all the way from bone dry to rounded aromas.
Mouth: elegant and silky smooth, but with an impressively powerful entry. Good salty / sour balance. Hints of dry Madeira wines. Quite some salty / maritime notes as well as some lemon. Ponzu sauce. Sultanas. A clear wood influence, but still within limits, especially if you consider its age. A spicy aftertaste, with a lot of varnishy notes again. Overall surprisingly round. Very long finish.
Availability: originally only Spain and the UK, now other select markets as well. Hard to find anyhow. Around € 95 for a 50 cl bottle. Check The Whisky Exchange or Bodeboca for international shipping.
Summary: An extraordinary glimpse of a 45 year-old Tio Pepe! A very deep nose with an endless array of micro-aromas, and a remarkable absence of woody astrigency on the palate. A supreme Fino-Amontillado.